Student Spotlights
Patrick Doyle
Undergraduate Program Coordinator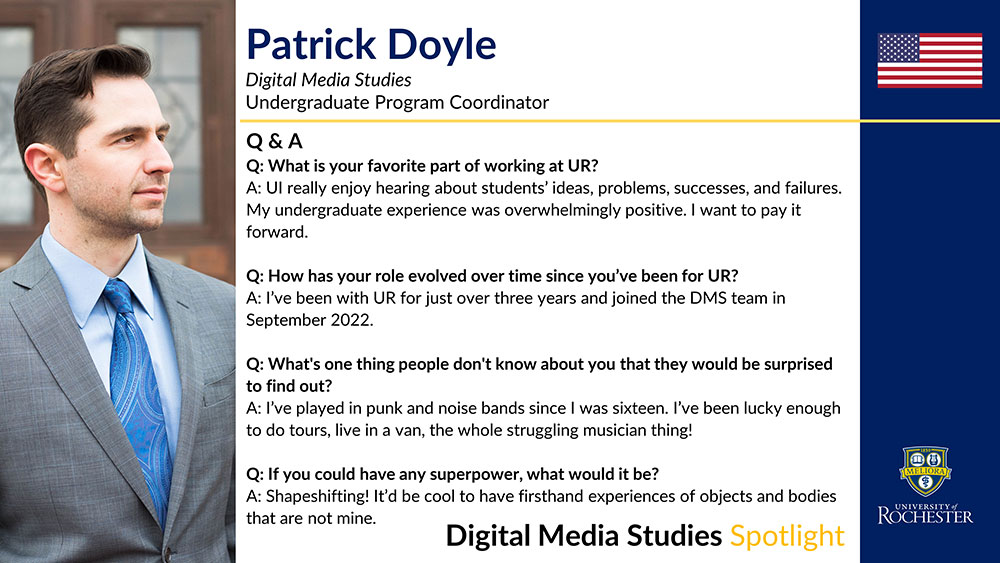 ---
Where is home/Where did you grow up?
I was born in the Albany metro area, but I moved a few times as a kid. My family finally settled in Rochester a couple decades ago and, except for a couple brief stints in other cities, I've lived here ever since.
What is your favorite part of working at UR?
I really enjoy hearing about students' ideas, problems, successes, and failures. My undergraduate experience was overwhelmingly positive. I want to pay it forward.
What are you most proud of in your career so far?
That I have a career at all is a source of pride. Ten years ago, I didn't have an undergraduate degree, nor a plan, nor a general direction. I was working at a grocery store butcher's block during the day while picking up restaurant/warehouse work on the side. While I found purpose in the work I was doing, it was not a tenable lifestyle.
Eventually, I made a multi-year plan—one that has been revisited and updated several times. I went back to school and changed my career path. I've found that there's nothing about my personality that's immutable. There's no expiration date on self-discovery.
What is the most interesting project you've worked on here at DMS?
I've only been with the DMS program for a couple months, but I'm sure I will have a compelling answer to this question by the end of the year!
How long have you been with UR/DMS? How has your role evolved over time since you've been here?
I've been with UR for just over three years and joined the DMS team in September 2022.
My previous role involved using research and data tools to help the Medical Center identify prospective donors. It was fun, yet challenging work—every day created a new puzzle to solve. But I missed working directly with people, so I joined DMS!
How did you get started in your professional life?
This phase of my professional life started when I became an operations and marketing manager at an ecommerce start-up in Los Angeles. I actually started in fulfillment—until the company needed a product photographer. So, I learned how to use a DSLR and Photoshop. As I learned more, the company gave me more responsibilities.
If you could have any superpower, what would it be?
Shapeshifting! It'd be cool to have firsthand experiences of objects and bodies that are not mine.
What's one thing people don't know about you that they would be surprised to find out?
I've played in punk and noise bands since I was sixteen. I've been lucky enough to do tours, live in a van, the whole struggling musician thing!
What, if anything, are you currently binge-watching? Or reading?
I'm currently reading Real Men Don't Sing: Crooning in American Culture by Allison McCracken and An Individual Note of Music, Sound, and Electronics by Daphne Oram. I'm watching episodes of Full House because I'm a glutton for punishment.
What's one thing on your bucket list?
Win the NBA dunk contest. I have a half inch vertical leap and struggle with lay-ups, but I can dream!