Student Spotlights
Mojin Yu
UX Designer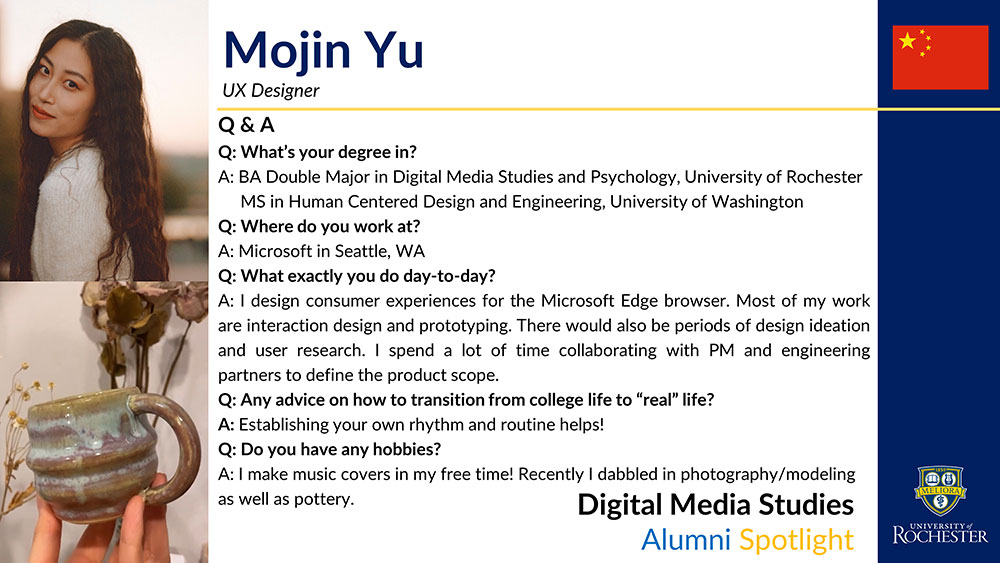 ---
Where is home/Where did you grow up?
I grew up in Beijing, China.
What is your degree?
I graduated in 2019 with a double major in digital media studies and psychology.
What was your overall UR experience like? What did it teach you?
I really enjoyed my time at the University of Rochester. It helped me discover my own blend of academic interests and lifelong passions. It taught me to be open-minded and to think critically about our past, present, and future.
Do you have any general fond UR memories you'd like to share?
Joining Vocal Point and the countless rehearsals, gigs, and concerts I did with the amazing people in the group! Pure joy.
Where do you currently work?
I'm currently a UX designer for Microsoft in Seattle, Washington.
What drove you to work at your current job?
Before starting full-time at Microsoft, I did contract work at the company for 18 months. I really enjoyed the design culture there and the opportunity to impact millions of users worldwide.
What is a typical day for you at work?
I design consumer experiences for the Microsoft Edge browser. Most of my work are interaction design and prototyping. There would also be periods of design ideation and user research. I spend a lot of time collaborating with PM and engineering partners to define the product scope.
What are some of the things you like most about your job?
I love designing consumer experiences because it is very relevant to our everyday life. My design team is awesome—peer critique sessions are always inspiring, and we also have social sessions where people gather to do crafts or other creative activities together. Last but not the least, free coconut water in the office. :)
What are some of the difficult things about your job?
As a designer I'm compelled to be the "user advocate" and design the best experience from the users' perspective—that's much harder to realize than it sounds. A UX designer in a tech company has to be an effective moderator. The most challenging part of my job is finding the sweet spot to design something that not only provides user value but also aligns with the business, strategy, and engineering considerations.
What has your career path been like? How did you end up where you are?
My career path started with an internship at an ecommerce startup. I was supposed to be the "digital marketing intern" but I discovered the term "UX design" after redesigning the company's website. After graduating from the University of Rochester in 2019, I went to grad school at the University of Washington and studied Human Centered Design and Engineering. I've been working in Seattle as a UX designer since then.
What are some skills that have served you well through your career?
The combination of graphic design skills and research skills is definitely valuable in the UX design field.
Do you have any cool hobbies/side projects you'd like to tell us about?
I make music covers in my free time! Recently I dabbled in photography/modeling as well as pottery.
What's your favorite thing about your job?
UX design gives me a sense of purpose that I'm creating something good for the world.
Any advice on how to transition from college life to "real" life?
Establishing your own rhythm and routine helps! Honestly, I'm not an expert on adulting yet—still figuring things out on my own ;) So my advice would be do not worry.