Alleghany River Dancers
Performance
Wednesday, April 27, 2022
5:30 p.m.
Wilson Quad (Rain location: May Room)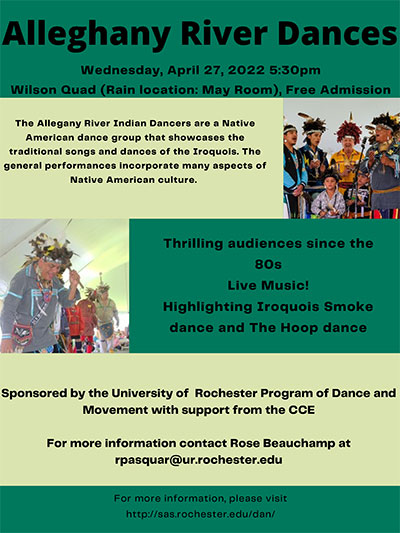 The Alleghany River Indian Dancers are a Native American dance group that showcases the traditional songs and dances of the Iroquois. The general performances incorporate many aspects of Native American culture.
The Seneca language and culture pertaining to the origin of the songs and dances are shared in the program narratives. All performers wear traditional Native American regalia. All the music is performed live.
The show is as educational as it is entertaining. Some of the highlights of the show include the Iroquois Smoke dance, a very fast contest dance. The Hoop dance is also featured. The hoopdancer uses hoops to make various designs and shapes to represent birds, animals and themes from nature in this beautiful story telling dance.