Trilogy of Dance Films by French Dance Artist Smaïl Kanouté
Friday, February 11, 2022
2 p.m.–3:30 p.m.
Spurrier Dance Theater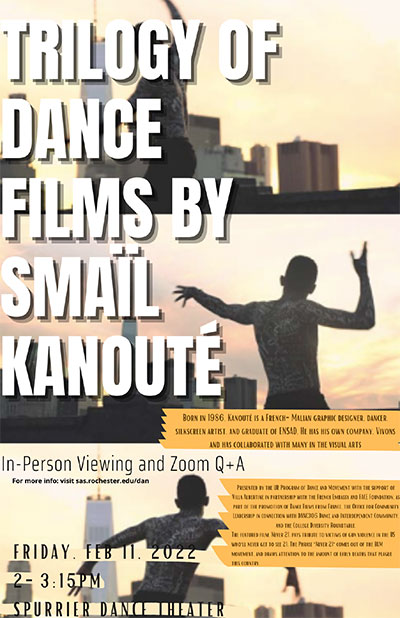 The trilogy features Never Twenty One, a short film co-directed with the ex-collective Racine, which pays tribute to the young victims of gun violence in the United States who will never get to see the age of 21. The expression Never 21, born out of the Black Lives Matters movement, denounces the early deaths that plague the country and neighborhoods like the Bronx in particular. Based on real testimonies, the film has three dancers breathe life into the words of the victims and their families.
Presented by the University of Rochester Program of Dance and Movement with the support of Villa Albertine in partnership with the French Embassy and FACE Foundation, as part of the promotion of Dance Films from France, the Office for Community Leadership in connection with DANC 305 Dance and Interdependent Community, and the College Diversity Roundtable.

Followed by a live Zoom artist talk/Q&A.
---
SMAÏL KANOUTÉ
Born in 1986, Smaïl Kanouté is a French-Malian graphic designer, dancer, silkscreen artist, and graduate of ENSAD. He lives and works in Paris. Among many projects, he has worked in fashion with the designer Xuly Bet and performed with Raphaëlle Delauney, Radhouane El Meddeb and others. Kanouté created his own company Vivons, and has since created several performance pieces including Les Actes du Désert. In visual arts, he has frequently collaborated with the street and visual artist Philippe Baudelocque, and for Tino Sehgal's major exhibition 'These Associations' at the Palais de Tokyo in 2016.