inspireDANCE Festival
Wednesday, February 19–Thursday, February 27, 2020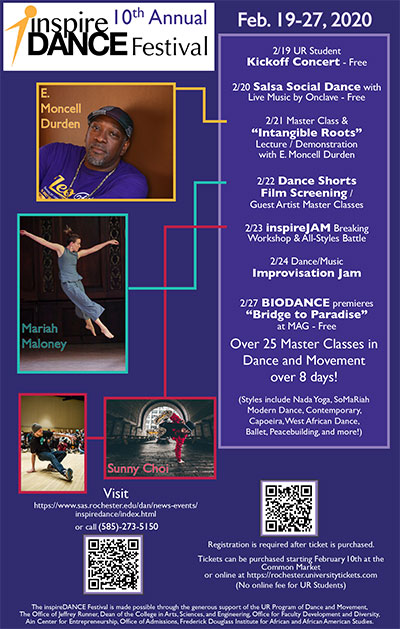 A festival of events, concerts and dance classes/workshops taught by the Program of Dance and Movement faculty and a roster of renowned guest artists.
Tickets and Registration
All-inclusive tickets (includes events listed below) will be sold at the Common Market and online for $18 through Wednesday, February 19. Registration is required and can be completed when purchasing your ticket online or at the Common Market after ticket is purchased.
All-Inclusive Festival Pass purchased starting February 20: $25 (sold online and at the door)
One-class Pass: $10 (sold at the door only, register at the door)
E. Moncell Durden Lecture/Demonstration Only: $10 (sold at the door or Common Market)
inspireJAM: $10 to compete and/or take the workshop, $5 to observe (sold at the door only)
Salsa Night: Free
Lessons in Becoming Unhindered: A Night of Dance on Camera Only, $5 to observe (sold at the door only)
Kickoff: Free