One of the key priorities to emerge from the department's 2021 DEI Days of Action was the need to sustain department-wide discussion of how multifaceted topics of diversity, equity, and inclusion relate to our department, the chemistry field, STEM disciplines, and society. Toward this goal, the DEI-O Committee is launching a continuing series of monthly DEI Forums. These forums will involve interactive, guided discussions based on articles, films, podcasts, or other media shared in the 1–2 weeks prior to each forum. These forums are open to all in our department community–including undergraduates, graduate students, postdocs, staff, and faculty.
In the spirit of Meliora, we hope that these forums will help to center DEI in our ongoing departmental conversations, growth, and pursuit of excellence. Please contact Rose at c.r.kennedy@rochester.edu. to volunteer to facilitate forums, to suggest future topics, and/or to provide any other feedback, questions, or comments.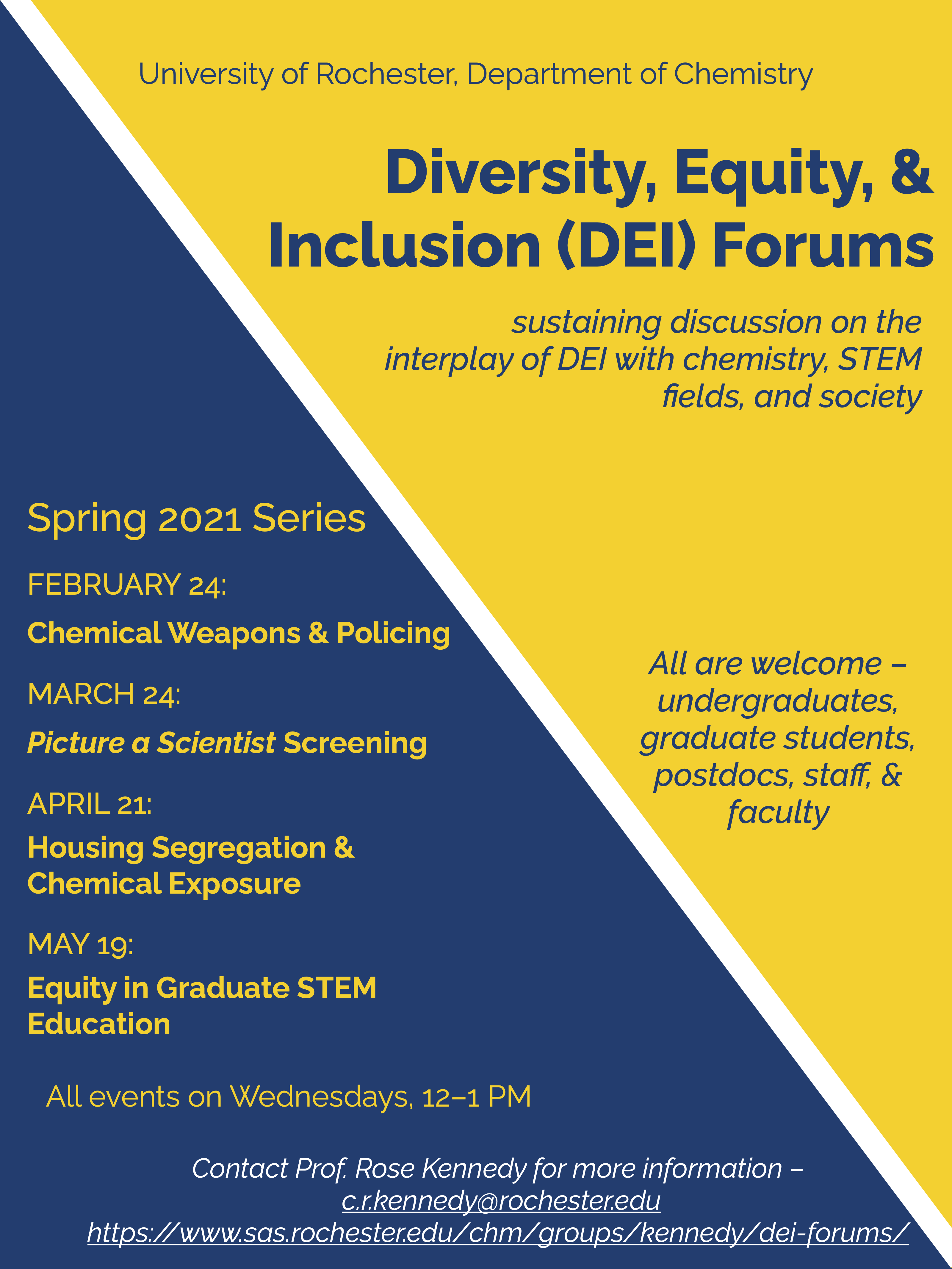 The May 2021 forum will focus on Equity in Graduate STEM Education. To help focus the discussion, we invite participants to read the article:
Moreira, R.G.; Butler-Purry, K.; Carter-Sowell, A. et al. Innovative Professional Development and Community Building Activity Program Improves STEM URM Graduate Student Experiences. IJ STEM Ed 2019, 6, 34. https://doi.org/10.1186/s40594-019-0118-x
As you read the article, consider the barriers to URM success that the article describes as well as the activities and practices that can executed at the University and departmental level to help circumvent these barriers. Which of these problems exist in the Chemistry Department? What practices suggested by the article might we adopt to address these problems?
The Chemistry DEI Forum will be held on Wednesday, May 19, 12–1 PM. We invite all to attend, even if you don't have time to read the article! Please register for an individual Zoom link at: https://rochester.zoom.us/meeting/register/tJItceCrrzMtE9BwJvXxK8iT40Fh0muV_T3-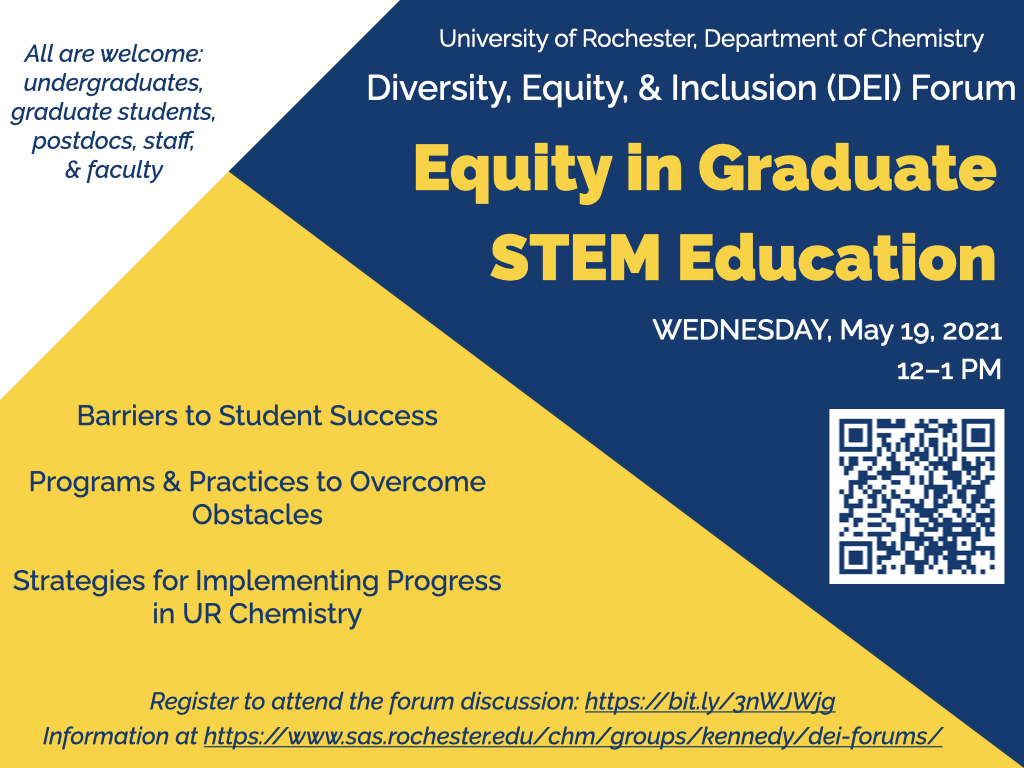 The April 2021 forum will address Housing Segregation & Chemical Exposure, with the goal of providing broader context for national trends and local experiences. The forum will involve interactive, guided discussions based on the following materials:
Elliott, M. R.; Wang, Y.; Lowe, R. A.; Kleindorfer, P. R. Environmental justice: frequency and severity of US chemical industry accidents and the socioeconomic status of surrounding communities. J. Epidemiol. Commun. H. 2004, 58, 24–30. http://dx.doi.org/10.1136/jech.58.1.24
Mohai, P.; Saha, R. Which came first, people or pollution? Assessing the disparate siting and post-siting demographic change hypotheses of environmental injustice. Environ. Res. Lett. 2015, 10, 115008. https://doi.org/10.1088/1748-9326/10/11/115008
Dawson, E.; Mack, M. How will the new housing section of Rochester City Court work? Connections Podcast. WXXI News, January 17, 2020. https://www.wxxinews.org/post/connections-how-will-new-housing-section-rochester-city-court-work (accessed 2021-04-02)
The Chemistry DEI Forum will be held on Wednesday, April 21, 12–1 PM. Please register in advance for an individual Zoom link at: https://rochester.zoom.us/meeting/register/tJUvcuyvpjwsH9GhIXGgII2jmPncbfIPbP55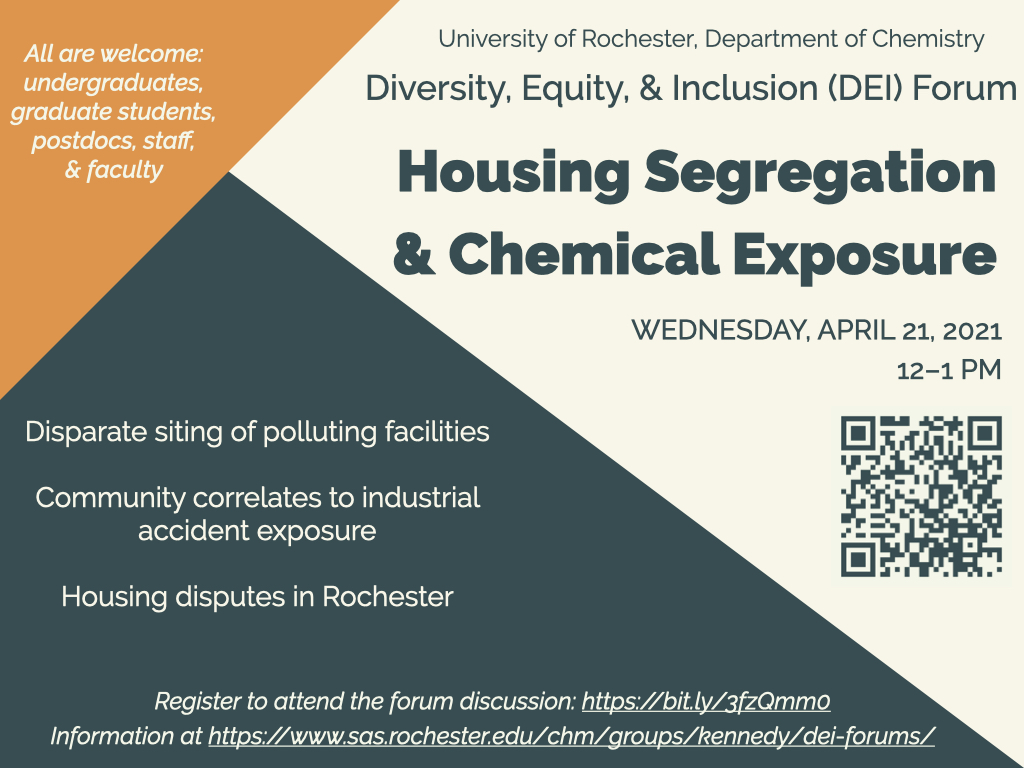 In honor of Women's History Month, the March 2021 forum will be a discussion based on the documentary Picture a Scientist. This film documents the journeys of women across disciplines while grappling with gender-based microaggressions, institutional discrimination, and harassment endemic in STEM fields. It simultaneously presents constructive opportunities to change the culture,  promotes equality of opportunity, and celebrates women and girls in science.
Please view the documentary before attending the forum by:
The Chemistry DEI Forum will be held on Wednesday, March 24, 12–1 PM. Please register in advance for an individual Zoom link at: https://bit.ly/3l0qRuR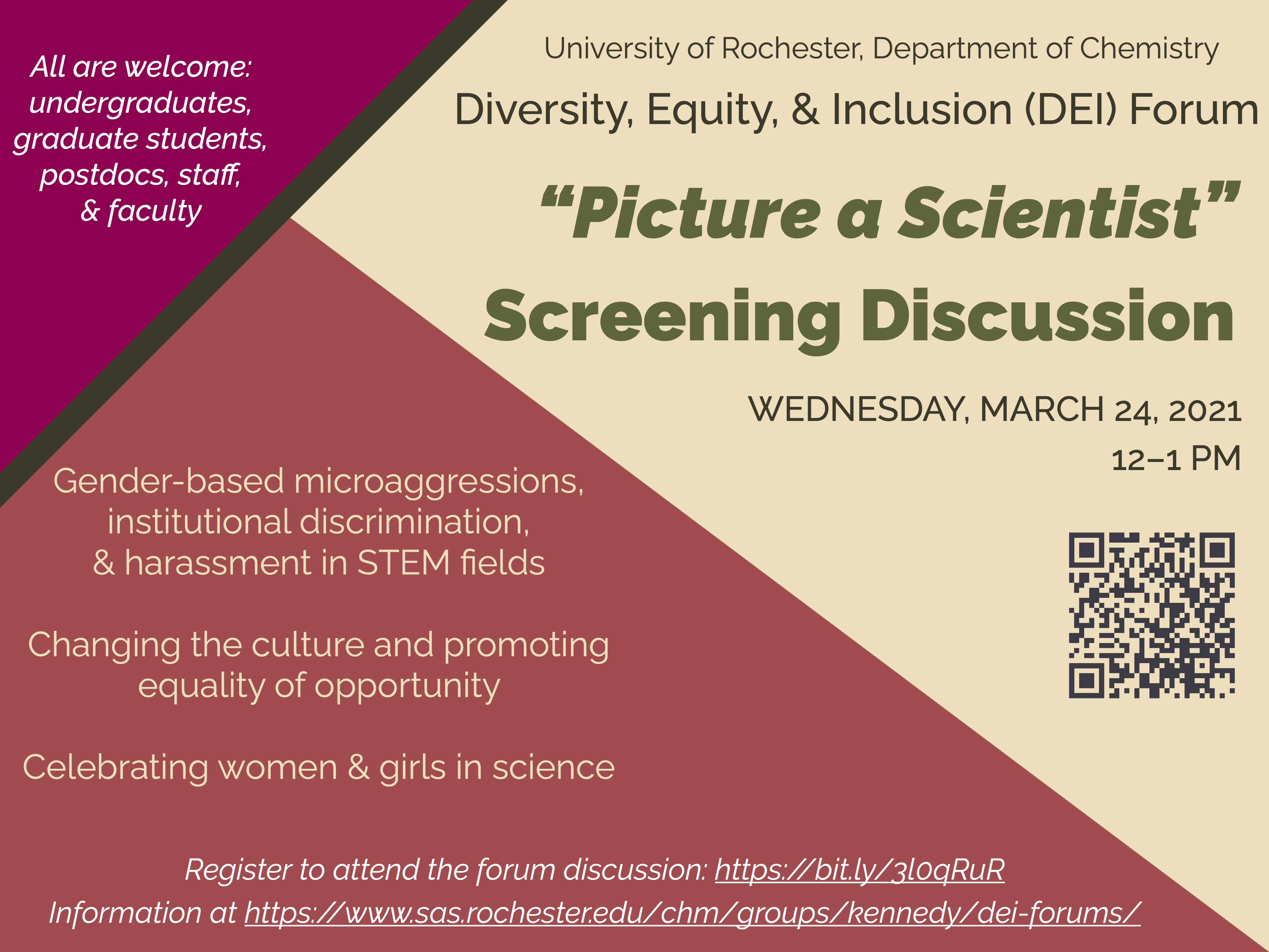 The February 2021 forum will address Chemical Weapons & Policing, with the goal of providing broader context for a recent, distressing incident in the Rochester community (https://youtu.be/iphOWjHUFWQ). The forum will involve interactive, guided discussions based on the following materials: