Term Schedule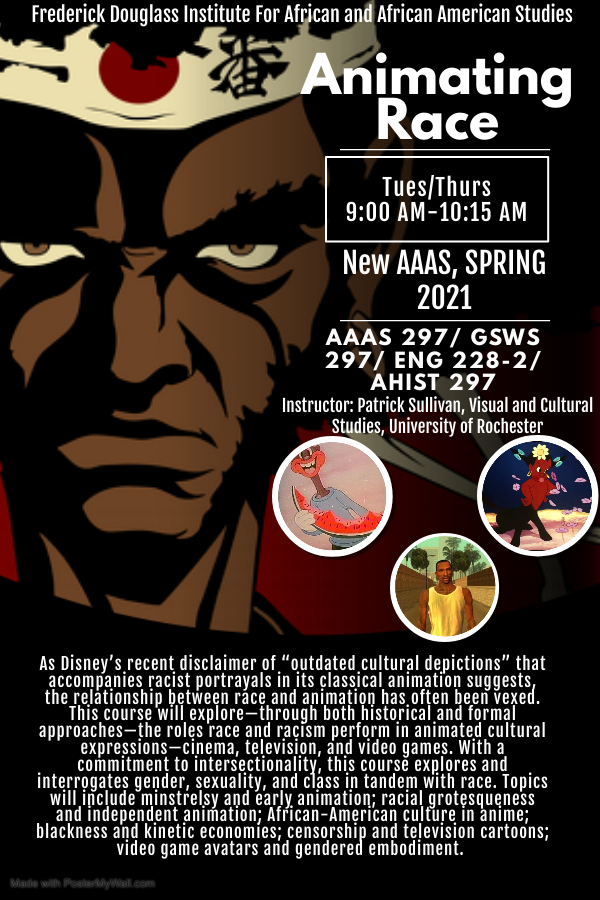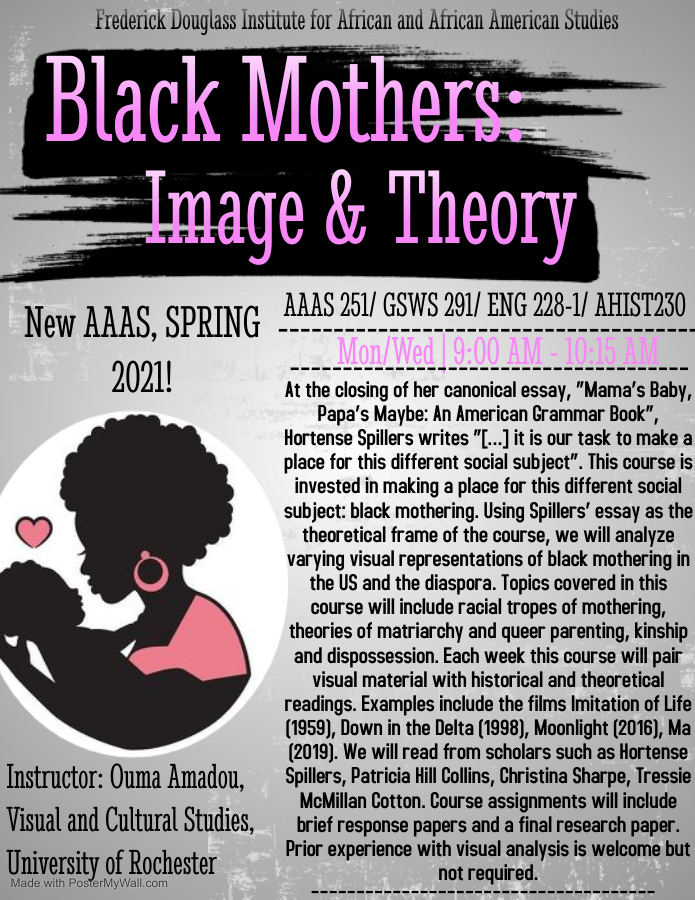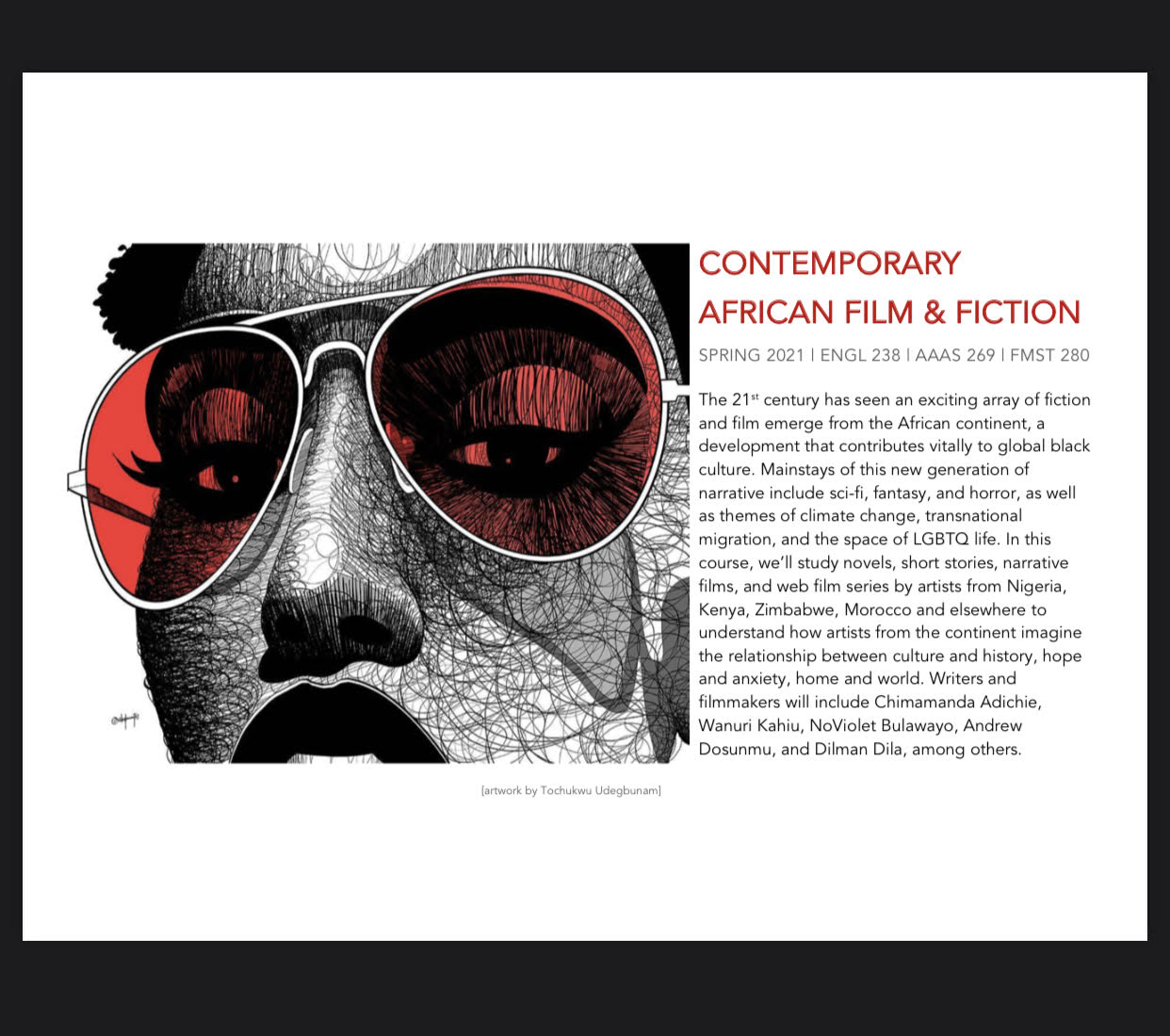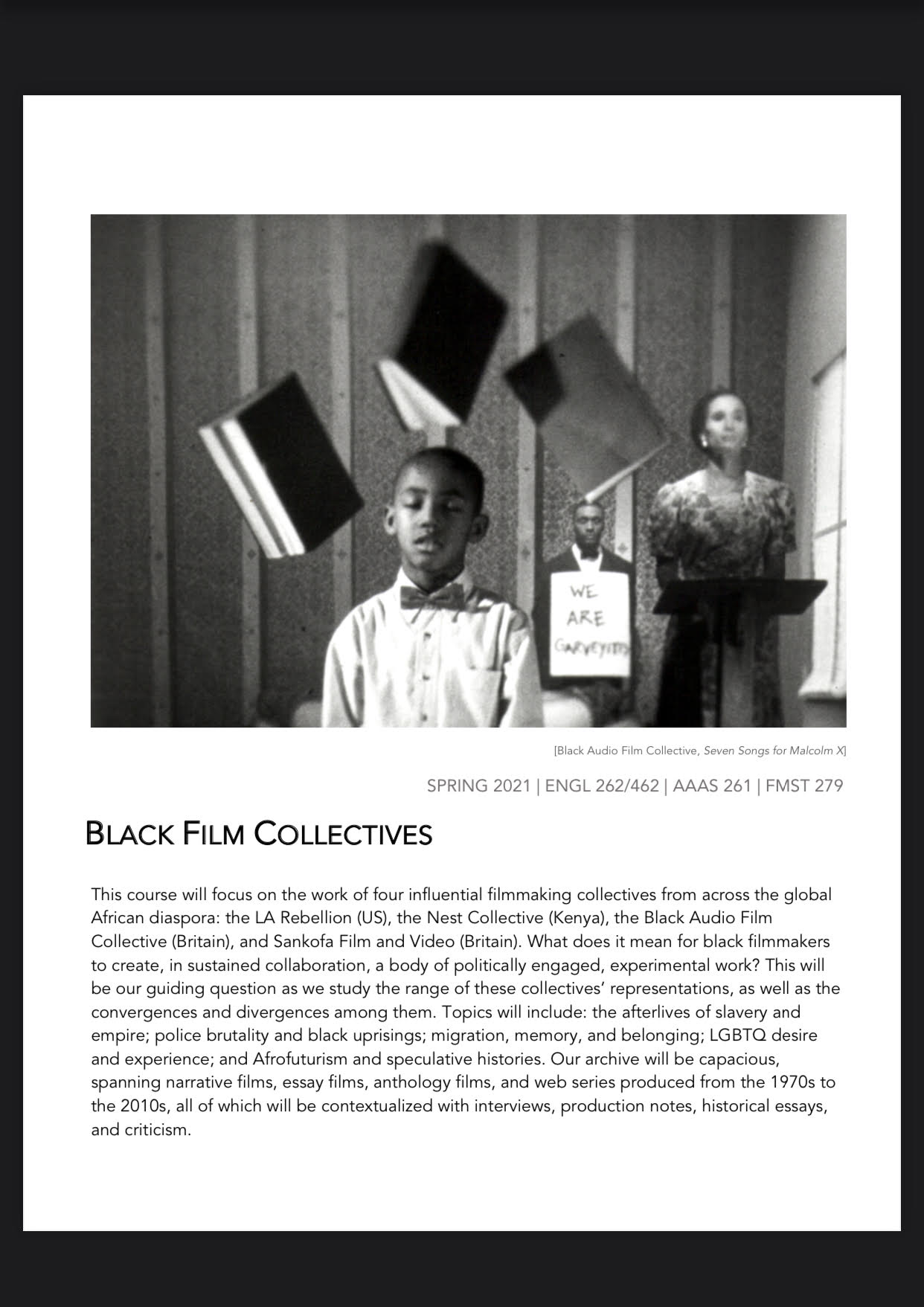 Spring 2022
Number
Title
Instructor
Time
AAAS 142-1
Harry DeVoe
This is an introductory-level survey course that examines the history of African Americans from 1860 to the present day. Students will explore key events and historical figures who have shaped the trajectory of the Black freedom struggle in the United States. Topics of study include the formation and legacy of Jim Crow power regimes; mass migrations; the Civil Rights and Black Power movements and their legacies; and challenges and manifestations of the contemporary "color line" in the United States. 
Location

Meliora Room 224 (TR 3:25PM - 4:40PM)
AAAS 165-1
Glenn West
The Eastman Mbira Ensemble provides a hands-on introduction to the ancient and sophisticated musical tradition of the Shona mbira of Zimbabwe. Visiting Zimbabwean guest artists will also offer students the opportunity to delve more deeply into traditional musical practices and their cultural and spiritual context. Songs are taught aurally so no musical experience or training is required. May be repeated for credit.
Location

Eastman Theatre Room B12A (M 6:30PM - 8:00PM)
AAAS 168-2
Kerfala Bangoura
Led by Master Drummer Fana Bangoura, the West African Drumming Ensemble is dedicated to the dynamic percussive traditions of Guinea. The ensemble combines the iconic djembe hand drum with a trio of drums played with sticks, known as dunun, sangban, and kenkeni. The powerful, multi-part relationships established by this trio of drums provide a rhythmic foundation for the ensemble, enabling djembe players to develop technique in executing both accompaniment and solo parts. Drawing upon his experience as a soloist with the internationally acclaimed groups Les Percussions de Guinée and Les Ballets Africains, Fana engages ensemble players with a wide repertory of music from various regions of Guinea, including the rhythms of the Susu, Malinke, and Baga language groups.
Location

Sloan Performing Arts Center Room 1000 (W 7:30PM - 9:00PM)
AAAS 171-1
Todd Russell
An art form of self-defense with aerobic and dance elements that brings together these harmony of forces. Through looking into history, movement and culture, students will gain self-confidence, power, flexibility, and endurance in a positive environment with proper progressions. Open to those of any background and fitness level. Capoeira allows you to balance the body, mind, and soul by enabling one to break through limits and revitalize oneself for everyday life.
Location

Spurrier Gymnasium Room 104 (MW 4:50PM - 6:20PM)
AAAS 183-1
Joshua Dubler
How does a country with five percent of the world's population, a country that nominally values freedom above all else, come to have nearly a quarter of the world's incarcerated people? In this survey course we investigate the history of imprisonment in the United States--as theorized and as practiced--from the founding of the republic to the present day. Special attention is paid to the politics, economics, race politics, and religious logics of contemporary mass incarceration, and to the efforts afoot to end mass incarceration.
Location

Bausch & Lomb Room 109 (MWF 10:25AM - 11:15AM)
AAAS 184-1
Kerfala Bangoura
Sansifanyi is an ensemble that provides various performance opportunities both on and off-campus for intermediate and advanced students of African dance & drumming. Instructor Kerfala Bangoura trains ensemble members in a performance style that integrates dance, drumming, vocal song, and narrative elements. Dancers who enroll in Sansifanyi will learn choreographic techniques for West African dance and gain experience dancing as soloists. Dancers will also learn focus on rhythmic timing and on drumming while dancing. Drummers enrolled in Sansifanyi will learn extended percussion arrangements and techniques for accompanying choreography. They will also learn how to play the breaks required of lead drummers. Prerequisites: One of the following: DANC181 & 182, DANC 283, DANC 253, DANC 285. For Drummers one of the following: MUSC 168A, MUSC 168B, MUSC 146 OR to audition, email kerfala.bangoura@gmail.com. 
Location

Spurrier Gymnasium Room 104 (R 6:45PM - 8:15PM)
AAAS 185-1
Cona Marshall
Preaching uses religious rhetoric in communal contexts in order to share and perhaps persuade congregants into various Biblical interpretations. This course provides an overview of histories and contexts of Black preaching while exploring argument, arrangement, invention, delivery and style as preachers/pastors make claims of God, suffering and liberation. This course will be interactive, consisting of presentations, discussions, lectures and a field trip to a local Black church to witness firsthand preaching traditions. We will learn about varying preaching methods (Proctor, Mitchell, Rufus, Womanist...) across varying denominations (African Methodist Episcopal, COGIC, Apostolic...) - of which - made clear stances on whether enslaved Africans were allowed to worship amongst White people - subsequently, banning preaching for Black people. From an outlawed performance to a lauded communication art form, Black preaching provides insight to Black religiosity and American religious history.
Location

Lechase Room 163 (M 2:00PM - 4:40PM)
AAAS 204-2
William Gblerkpor
The course will examine the environmental, social and cultural dynamics that led to urbanism and other aspects of cultural transformation in Africa before the advent of European colonialism. Topics include concepts of civilization, civilizations of Africa, including those of the Nile Valley, the Horn of Africa, the Western Sudan, Zimbabwe, the Inland Niger Delta and the West African Rainforest. The role of the peripheries in the development of these centers will be looked at. The nature, theory and practice of Africa's past will be discussed.
Location

Lattimore Room 413 (TR 9:40AM - 10:55AM)
AAAS 207-1
Mayya Komisarchik
This is an undergraduate course designed to explore the role that race and ethnicity play in American politics. In this class students will focus on the big questions surrounding race: What is race? Can race be measured and, if so, how? How have questions about race and ethnicity shaped American legal, social, cultural, and political institutions? How have Americans thought about race and immigration throughout the 21st century, and how have these opinions shaped political engagement and behavior? This course will focus on political science theories and research about race and politics, though we will also draw on work from history, sociology, law, and economics.
Location

Harkness Room 210 (TR 2:00PM - 3:15PM)
AAAS 212-1
Alexander Moon
This course deals with questions raised at the intersection of constitutional law and sociological and political science studies of the politics and practice of race in the United States. While studying major court decisions concerning race and slavery, voting, property rights, segregation/de-segregation, criminal justice, voting, discrimination, and affirmative action, we will examine questions such as: what is the role of the legal system in constituting and perpetuating the racial order of the United States? To what extent do court rulings reflect more than they shape what actually happens outside of the legal system? How, if at all, do they shape public opinion? What are the advantages and disadvantages of courts as a tool for social change? Do answers to these questions vary by area of law and/or historical period? The course is largely discussion-based and will include readings in case law, critical legal studies, critical race theory, and works in political science and sociology.
Location

Dewey Room 2110D (MW 3:25PM - 4:40PM)
AAAS 216-1
Ricardo Millhouse
Black Sex + Sexuality examines the social and cultural politics of sex, gender, and sexuality and its implications on everyday life in the U.S. context. Utilizing Black Feminism, Queer Theory, and Queer of Color Critique, this course introduces and advances our understandings of issues related to social, sexual, and reproductive justice. In addition, we will explore issues of sex work, pornography, sexual cultures, and care-work related to HIV/AIDS. 
Location

Bausch & Lomb Room 269 (TR 9:40AM - 10:55AM)
AAAS 218-1
Joseph Inikori
The 2010 Brazilian national census shows 97.2 million Afro-Brazilians and 90.6 million Whites. These two ethnic nationalities have developed unequally since the establishment of colonial Brazil by Portugal in the sixteenth century. The 2010 census shows the average income of Afro-Brazilians was less than half that of White Brazilians. In 2009, the wealth gap between White and Black American families was $236,500. The most populous African nation, Nigeria, shows similar inequality among its major ethnic nationalities. This magnitude of inequality among ethnic nationalities has given rise to serious problems in inter-group relations in the three countries. This course aims to trace, comparatively, the historical origins of the phenomenon, examine the political and economic consequences, and discuss the politics and economics of state policy designed to address it. *NOTE: Students taking this Course for ECON credit must have previously taken ECON 108*
Location

Genesee Hall Room 321 (MW 10:25AM - 11:40AM)
AAAS 220-1
Sharon Willis
This course explores Hollywood's current fascination with race and gender as social issues and spectacles. In particular, we will focus on the ways that social difference have become the sites of increasingly conflicted narrative and visual interactions in our films. To examine competing representations of racial difference and sexual difference in contemporary US culture, we analyze popular films of the 1980s and 1990s, from thrillers to action films to comedies.
Location

Morey Room 504 (MW 3:25PM - 4:40PM)
AAAS 222-1
Jennifer Kyker
Addressing the devastating effects of HIV/AIDS in the United States, United Kingdom, Tanzania, Zimbabwe, Uganda, Haiti, and elsewhere, this uniquely interdisciplinary course will incorporate insights from the fields of public health, medical anthropology, and ethnomusicology. Studying the HIV/AIDS epidemic through the lens of musical expression, we will ask how individuals and communities affected by HIV/AIDS have mobilized musical sound in response to the disease. Topics addressed within the class will include musical representations of HIV/AIDS within queer communities; the use of music in public health campaigns to raise awareness about the disease; and the mobilization of musical performance within grassroots support groups for individuals affected by HIV/AIDS.
Location

Lattimore Room 540 (TR 12:30PM - 1:45PM)
AAAS 223-1
Ouma Amadou
This course will explore the ways in which films have shaped historical understandings of American cities, with a special focus on New York City. Films offer the magic of projected imagination and can also present constructed versions of historical memory. Considering select films as cultural texts, this class will explore themes in urban history —including race-making policies such as suburbanization, deindustrialization, the carceral state, and gentrification among others—as they have been portrayed on screen. We will explore select examples of American cinema from the twentieth century, from The Jazz Singer (1927) to The Siege (1998). 
Location

Meliora Room 205 (W 4:50PM - 7:30PM)
AAAS 229-1
Jeffrey Tucker
Race-based slavery in America ended over a century ago, but our nation continues to grapple with the legacies of "the peculiar institution." Specifically, slavery has haunted the literary imaginations of African-American writers of the last century. This course surveys a range of African-American novels in order to analyze the ways in which these texts both portray and represent slavery's lasting effects on American culture, society, and politics. Readings include works by Steven Barnes, Arna Bontemps, Octavia Butler, Pauline Hopkins, Charles Johnson, Edward P. Jones, Gayl Jones, Toni Morrison, Margaret Walker, and more. Students will be evaluated on class participation, bi-weekly reading responses, and two formal papers. 
Location

Hutchison Hall Room 473 (MW 11:50AM - 1:05PM)
AAAS 234-1
Kerfala Bangoura
Experience dancing African styles from traditional cultures of Guinea, West Africa, as well as studying cultural history and context from which and in which they are practiced and performed. Technical emphasis will focus on musicality and complex choreographic arrangement. Students will practice dances and drum songs. Required outside work includes performance attendance, video viewing, text and article analysis, research and written work.
Location

Spurrier Gymnasium Room 104 (MW 3:25PM - 4:40PM)
AAAS 235-1
Kathryn Mariner
I n Black Skins, White Masks, Frantz Fanon wrote, "O my body, make of me always a man who questions!" In the United States, popular cultural understandings of race have often located blackness within the body: in DNA, in blood, in skin, in hair texture, in facial features. How does race get mapped onto the body? In this interdisciplinary course on race and embodiment, students will encounter texts and writing assignments prompting them to think critically about how black bodies 'matter' in the contemporary U.S. Course materials and assignments will encourage students to explore how blackness intersects with other social categories such as gender and class at the site of the body, while exploring how these categories are socially constructed and can and should be troubled, blurred, and contested in the practice of social life. The dual themes of intersectionality and visuality will act as a frame for our explorations. Instructor permission required.
Location

Lechase Room 160 (MW 12:30PM - 1:45PM)
AAAS 241-1
John Michael
In this course we will consider the special contributions of black intellectuals and artists to the culture and controversies of North America and the Atlantic world. We will consider the special demands on and requirements of artistic expression in the African diaspora, the pressures of racism, and the struggle for equality. Analyses of artistic and intellectual traditions and of problems like racial identity, national belonging, artistic expression, gender and sexuality will focus our discussions. Works to be discussed may include Frederick Douglass, Harriet Jacobs, Anna Cooper, W. E. B. DuBois, Booker T. Washington, Francis Harper, Ida B. Wells, Zora Hurston, Richard Wright, Ralph Ellison, Franz Fanon, C. L. R. James, James Baldwin, Hortense Spillers, Spike Lee, Toni Morrison, Angela Davis, Patricia Williams and Ta-Nehisi Coates and others.
Location

Lattimore Room 431 (MW 12:30PM - 1:45PM)
AAAS 246-1
John Downey
Liberation theologies profess that the work of religion is both the salvation of souls and the eradication of systems of oppression. This course will examine trends in contemporary theology that have inspired struggles for sovereignty, reparations, and the environmental protection . Although the term "liberation theology" is rooted in 1960s Christian radicalism, we will investigate historical and theoretical antecedents, as well contemporary developments that extend beyond Christianity and an initial focus on racial and economic justice.
Location

Meliora Room 209 (MW 3:25PM - 4:40PM)
AAAS 269-1
Matthew Omelsky
The 21st century has seen an exciting array of fiction and film emerge from the African continent, a development that contributes vitally to global black culture. Mainstays of this new generation of narrative include sci-fi, fantasy, and horror; themes of climate change, transnational migration, and the space of LGBTQ life; as well as a proliferation of generic and formal experiments across media and platforms. In this course, we'll study novels, short stories, narrative films, and web film series by artists from Nigeria, Kenya, Zimbabwe, Morocco and elsewhere to understand how artists from the continent imagine the relationship between culture and history, hope and anxiety, home and world. Writers and filmmakers will include Chimamanda Adichie, Wanuri Kahiu, NoViolet Bulawayo, Dilman Dila, Nnedi Okorafor, Andrew Dosunmu, among others. 
Location

Meliora Room 218 (TR 11:05AM - 12:20PM)
AAAS 275-1
William Bridges
The goal of this class is as straightforward as it is difficult: our aim is to become better listeners.  We will work toward this goal by listening to what the sounds, sights, and cultural narratives of Japanese hip hop have to tell us about Japan, America, race, ethnicity, transpacific confluence, the ethics of performance, and other pertinent topics.  After a brief discussion of the common characteristics of good listeners, we begin by reviewing foundational works of hip hop studies on both sides of the Pacific.  From here, we move to the history of hip hop in Japan.  We will also consider the proliferation of hip hop culture across Japanese artforms and platforms (anime, television, film, street art, novels, political protests, and so on).  In order to provide a point of comparison, this course also includes an "interlude" on jazz Japan.  All viewings, listenings, and readings will include English subtitles. 
Location

Lechase Room 161 (WF 3:25PM - 4:40PM)
AAAS 281-1
Joseph Inikori
The debate on the role of the state versus that of the free market in the socioeconomic process is as old as the history of political economy. We discuss the economics of state policy and the long-run historical processes that created the political & economic conditions. Students performance is based on three short essays (four typed pages each) presented to the class for discussion and thereafter revised for grading. No mid-term & final examinations.
Location

Genesee Hall Room 321 (T 2:00PM - 4:40PM)
AAAS 282-1
Alexander Moon
This course is a survey of some of the canonical and some of the most exciting contemporary works in the field of African-American political thought. We begin with foundational texts from Walker, Delany, Douglass, Wells, Du Bois, Garvey, Baldwin, King, and Malcolm X. In the first half of the course we will focus on questions such as: What is the nature of the wrong(s) African Americans have suffered in the United States? What sustains systems of domination and exclusion? What responses, in addition to condemnation, do these systems of domination merit? What does the long history of white domination in the United States say about ideals of liberalism and democracy? And what is the way forward? In the second part of the course, we will read contemporary works dealing with reparations, collective responsibility, obligations to solidarity/allyship, and epistemologies of ignorance.
Location

Dewey Room 2110E (MWF 9:00AM - 9:50AM)
AAAS 294-1
James Johnson
The purpose of this course is to explore what has been called "democratic community economics" (Jessica Gordon-Nembhard) and its relevance for addressing deep, persistent political-economic problems in African American Communities. The focus will be on a set of alternative institutional arrangements including producer and consumer cooperatives, community development credit unions and community land trusts and specifically their roots in African American politics, their various current manifestations, and their potential contemporary policy relevance for promoting sustainable, local, community development.
Location

Meliora Room 209 (MW 11:50AM - 1:05PM)
AAAS 297-1
Lamia Alafaireet
In spring of 2020, Black Plantstagram influencer @blackgirlrooted started the hashtag #PlantsforBreonna. Accompanied by an image of Breonna Taylor's face nested between tropical blooms, @blackgirlrooted's Instagram post urged followers to "pick a plant in your house and name it after Breonna. Whenever you tend to her, say a prayer for Breonna and her family. Say her name." By encouraging followers to both mourn Taylor and keep her spirit alive through their houseplants, #PlantsforBreonna encapsulates the complexities of plant culture in Black America. On the one hand, plants, roots, and soil recall a history of enslavement that imperiled—and continues to imperil—Black Lives. At the same time, houseplants, gardens, and even reclamations of agricultural labor have also offered refuge from anti-Black violence and discrimination. Taking plants' contradictory status as emblems of both Black death and Black survival as its starting point, this interdisciplinary course explores the intricacies of African American planter culture from the late-nineteenth century to the present. Beginning with Charles W. Chesnutt's "The Goophered Grapevine" and ending with contemporary poet-gardeners like Ross Gay and Camille Dungy, we will trace the ways in which African American writers, artists, and intellectuals have conceptualized the relationship between Blackness and the botanical world over time. Paying particular attention to the historical intersections between Black planters and Black freedom movements, we will consider questions like the following: How have plants functioned practically, artistically, and metaphorically in African American experience? What impact do factors like geography, gender, and class have on Black Americans' relationships to the plant world? What can plants offer in an overarching climate of anti-Blackness? What does it mean to "grow back" (and "grow black") in the wake of racial terror? As we consider such questions in historical context, we will also think about the future and consider the revolutionary potential of Black planters amidst contemporary concerns about climate change, police brutality, racial health disparities, and other crises of our time.  
Location

Lechase Room 122 (TR 11:05AM - 12:20PM)
AAAS 302-2
William Gblerkpor
This course explores current approaches to the study, conservation and management of West Africa's BioCultural Heritage assets, and examines various cross-disciplinary efforts to define, identify, document and research the nature and dynamics of nature-culture interactions within the African sub-region. Students will learn about the history of environmental and cultural conservation, and the diversity of the region's natural and cultural heritage: the built environment, sacred landscapes, historical landscapes, archaeological sites, protected areas and national parks, earthworks, agricultural lands, ceramic and metallurgical technologies; arts and visual cultures, healing and ethno-medicine, historical memories, rituals and religious traditions and practices. The class will focus on the prospects and challenges of current conservation and management strategies for selected community, national and international natural and cultural landscapes, including UNESCO World Heritage sites (Forts and Castles of Ghana). Case studies will be drawn from ongoing local and international interdisciplinary research projects, including the Digital Archaeology of Heritage Buildings of West Africa(Univ. of Rochester-Univ. Ghana), Ife-Sungbo Archaeological Project (College of William and Mary),West Africa BioCultural Heritage Project (National Parks-Univ. of Ghana), Crucibles of Innovation: Brass Casting Traditions in GhanaProject(Univ. of Michigan–Univ. of Ghana-Ghana Museums) and Community Resource Management Area(CREMAs) projects in Ghana
Location

Frederick Douglass Room 404 (TR 12:30PM - 1:45PM)
AAAS 327-1
Kerfala Bangoura
Sansifanyi offers experienced dancers the opportunity to study West African dance forms as well as studying cultural history and context from which and in which they are performed at a professional level. This course requires a high degree of student commitment. Dancers who enroll in Sansifanyi will learn choreographic techniques for West African dance and gain experience dancing as soloists. They will also focus on rhythmic timing, and on advanced skills such as how to combine movement with drumming. In addition to the time students spend in class, dancers in the ensemble are expected to spend several hours per week researching, reading, writing, viewing videos, text and article analysis, practicing, and choreographing various rhythms, songs, movements, and sequences. Dancers must also be available for performances both on and off campus throughout the semester.   Clusters: Improvisation and the Creative Process, Movement and Culture, Dance and Performance. Prerequisite: Audition on first day of class or for dancers, one of the following: DANC 181/182, DANC 283, DANC 253, DANC 285: For drummers one of the following: MUSC 168A, MUSC 168B, MUSC 146
Location

Spurrier Gymnasium Room 104 (TR 6:45PM - 8:15PM)
AAAS 380-1
Pablo Sierra
Yes, there are Black people in Mexico (2.5 million, according to the most recent census). In this multidisciplinary seminar we will analyze the immense variety of historical experiences that Africans and their descendants have had in Mexico from 1520 to 2020. From the "Black "conquistadors" and maroon leaders of the colonial period to the recent arrival of Black migrants from Haiti, Honduras, and Congo, this course asks us to consider the many dimensions and limitations of the "Afro-Mexican" concept. We will also examine Black Mexicans' complex relationships to the United States and to specific African-American communities and intellectuals. Building on film, anthropology, dance, photography, sociology, migration studies, art history, food studies and original archival documents, this seminar is open to all. In Spring 2022, students will interact with outside experts participating in the Unbordering Migration speaker series and develop a final paper on a topic of their choice. 
Location

Bausch & Lomb Room 315 (W 2:00PM - 4:40PM)
AAAS 391-1
–
Independent studies on some aspect of the problems of energy resource development in lower-income countries, solutions to it, and relationship to development issues, including work with the instructors Access to Hydrocarbon Energy for African Development project, can be done within this course. Registration for Independent Study courses needs to be completed thru the instructions for online independent study registration.
AAAS 394-1
–
Experience in an applied setting supervised on site. Approved and overseen by a University instructor. Registration for Independent Study courses needs to be completed thru the instructions for online independent study registration.