Term Schedule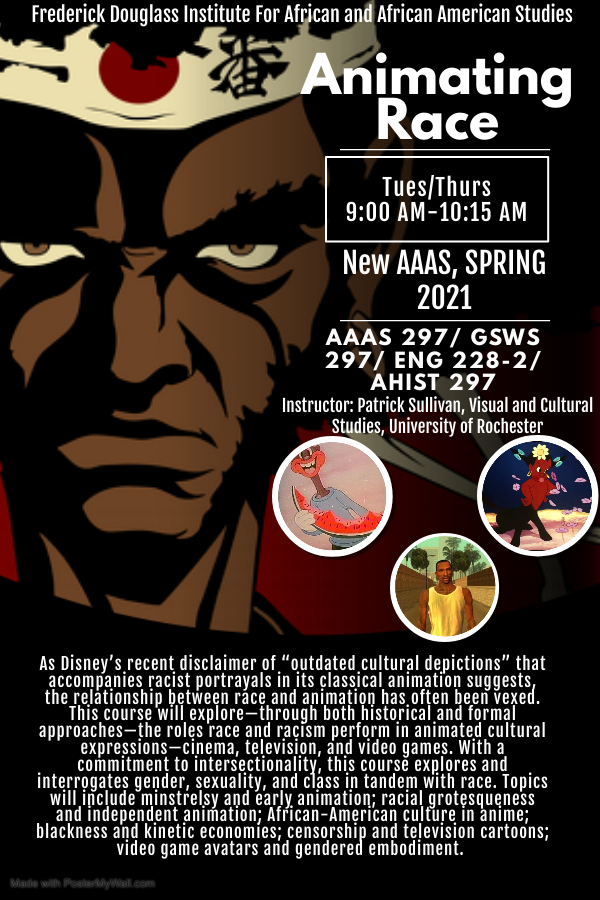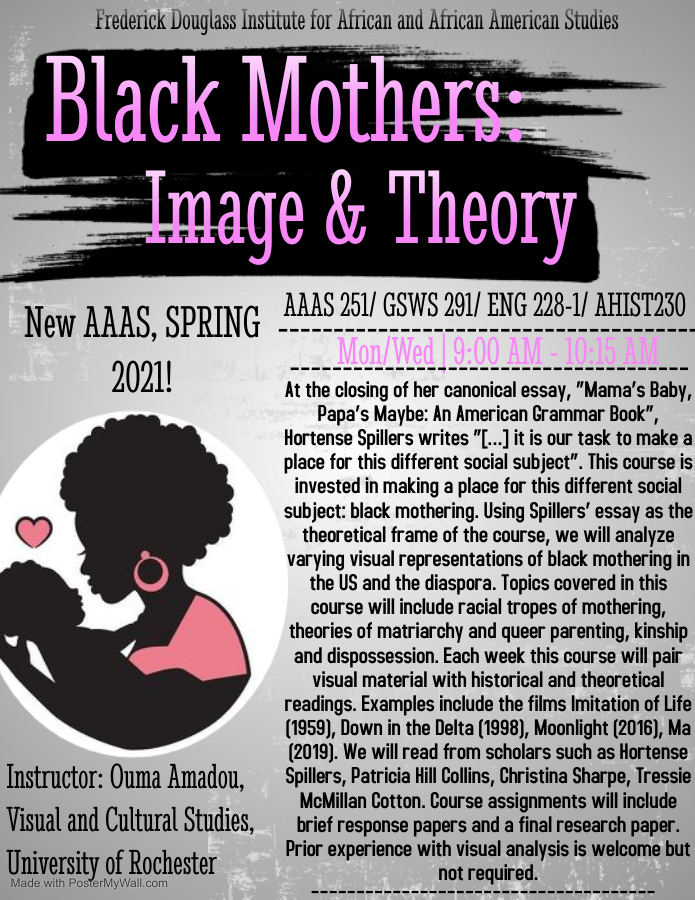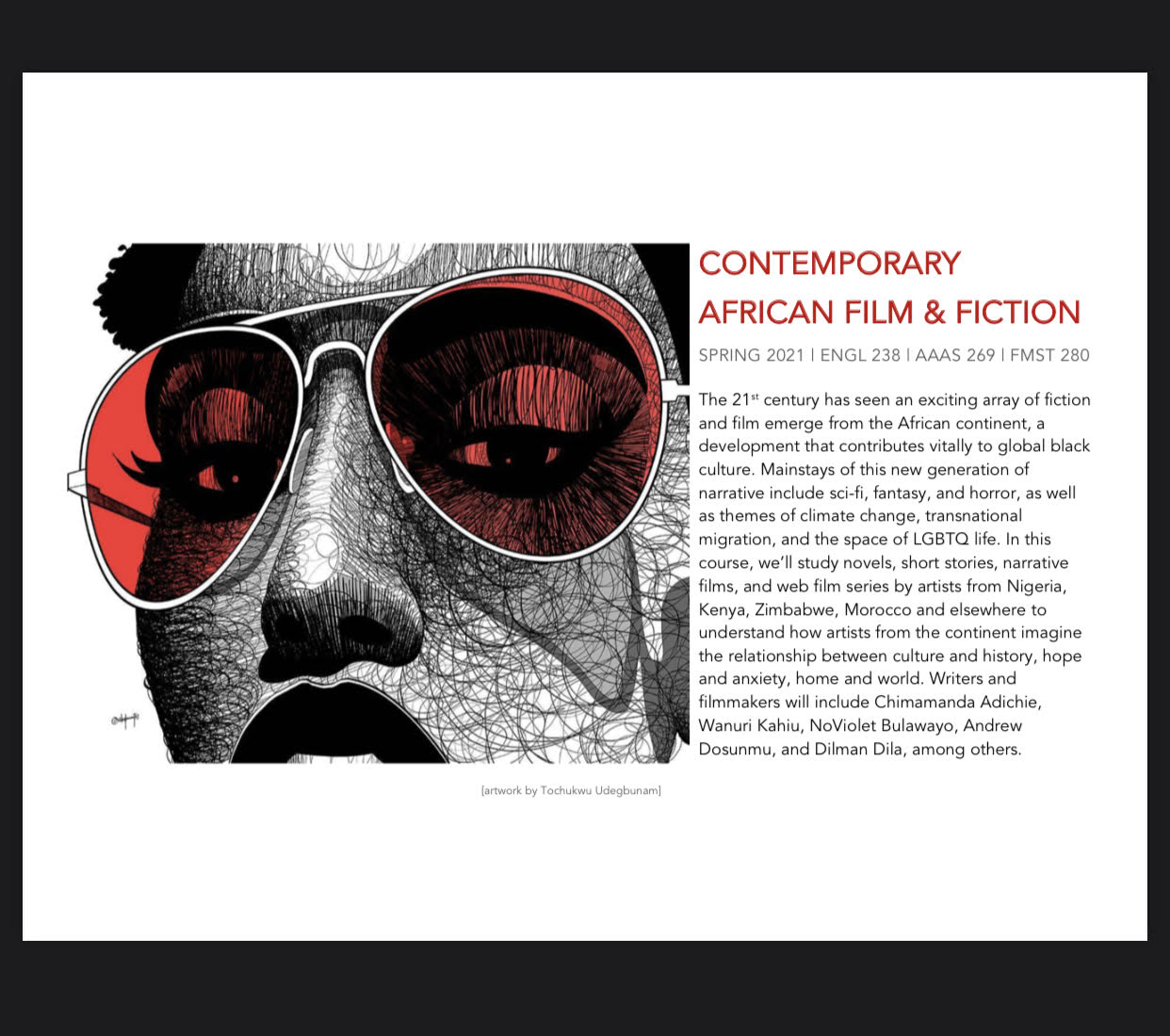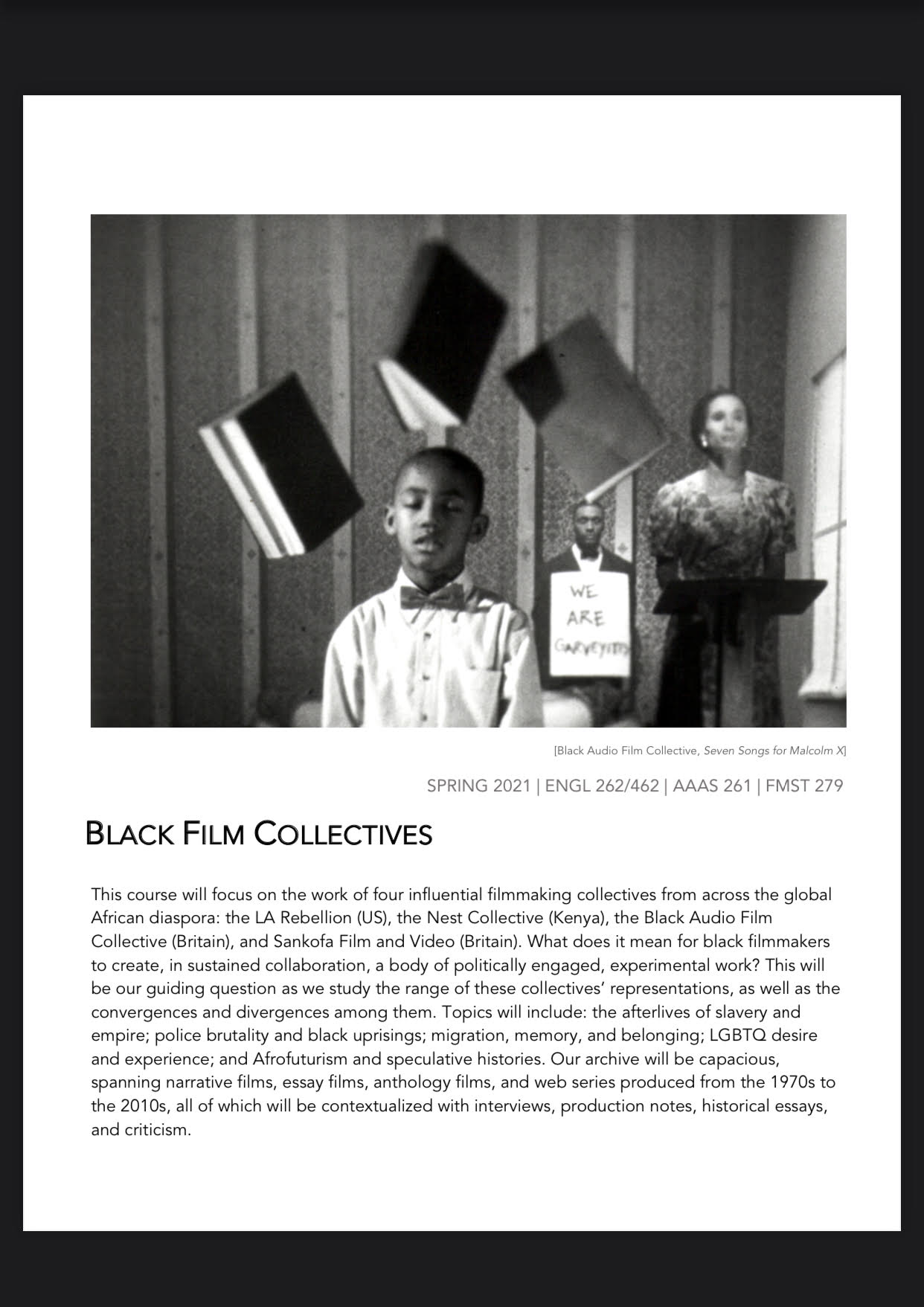 Spring 2021
Number
Title
Instructor
Time
AAAS 140-1
Cory Hunter
This course will examine the relationship between the religious and theological beliefs of African American musicians and their musical artistry. We will journey through various African American music genres of the 20th century—blues, jazz, gospel, soul, funk, hip hop, etc.—and will study how religion has influenced performance style, lyrical content, vocality, melodic and harmonic contour, among a host of other factors.
Location

Online Room 9 (ASE) (MW 10:25AM - 11:40AM)
AAAS 141-1
Larry Hudson
After a brief review of the primary features of pre-European African society, we will examine the affect of the 'Middle Passage' -- the transportation of enslaved Africans to the Western Hemisphere. We will then focus on the process of 'Americanization'; as the Africans became African-Americans. The struggle for freedom and citizenship will conclude our survey. The main course readings will be a representative sample of African-American autobiographies, and short selections from a secondary text. Using the autobiographies as historical source material, we will produce a brief history of the values and cultural practices of Africans in America, and the ways in which African-Americans adapted to and shaped American life and society.
Location

Online Room 9 (ASE) (TR 11:05AM - 12:20PM)
AAAS 165-1
Glenn West
The Eastman Mbira Ensemble provides a hands-on introduction to the ancient and sophisticated musical tradition of the Shona mbira of Zimbabwe. Visiting Zimbabwean guest artists will also offer students the opportunity to delve more deeply into traditional musical practices and their cultural and spiritual context. Songs are taught aurally so no musical experience or training is required. May be repeated for credit.
Location

Online Room 5 (ESM) (M 6:30PM - 8:00PM)
AAAS 167-1
Joan Rubin
This discussion-based seminar will focus on Harriet Beecher Stowe's Uncle Tom's Cabin (1852) for the first half of the semester and Louisa May Alcott's Little Women (1868-69) in the second part of the course. Stowe's book was the best-selling novel of the nineteenth-century and famously earned its author credit for starting the Civil War. Alcott's semi-autobiographical novel was likewise a great commercial success. Both books were repeatedly adapted for the theatre and the movies, inviting consideration of what those new forms meant to viewers. Together the books have become touchstones or markers for ways that Americans have thought about race and gender for the last one hundred fifty years.

Students will read both texts closely and explore the historical issues they reflected and influenced. They will consider such topics as: the reception of Stowe's book in relation to abolitionism, colonization, and other depictions of slavery; authorship for women; ideals of domesticity in the North and South; the role of religion in both works; constructs of American girlhood and masculinity; and sentimental culture in Victorian America. Uncle Tom's Cabin will especially raise questions about how we should handle language and images that modern readers may consider offensive. Students will be encouraged to voice their views on ways to grapple with racism and gender stereotypes in books that have shaped Americans' current quests for justice and equity.
Requirements will include active participation in discussion and several writing assignments.
Location

Rush Rhees Library Room 202 (MW 12:30PM - 1:45PM)
AAAS 168-2
Kerfala Bangoura
Led by Master Drummer Fana Bangoura, the West African Drumming Ensemble is dedicated to the dynamic percussive traditions of Guinea. The ensemble combines the iconic djembe hand drum with a trio of drums played with sticks, known as dunun, sangban, and kenkeni. The powerful, multi-part relationships established by this trio of drums provide a rhythmic foundation for the ensemble, enabling djembe players to develop technique in executing both accompaniment and solo parts. Drawing upon his experience as a soloist with the internationally acclaimed groups Les Percussions de Guinée and Les Ballets Africains, Fana engages ensemble players with a wide repertory of music from various regions of Guinea, including the rhythms of the Susu, Malinke, and Baga language groups.
Location

Strong Auditorium Room 011 (W 7:30PM - 9:00PM)
AAAS 182-1
Kerfala Bangoura
A continuation of DANC 181 that allows the student to deepen their experience and hone their skills in West African Dance.
Location

Spurrier Gymnasium Room 103 (MW 2:00PM - 3:15PM)
AAAS 183-1
Joshua Dubler
How does a country with five percent of the world's population, a country that nominally values freedom above all else, come to have nearly a quarter of the world's incarcerated people? In this survey course we investigate the history of imprisonment in the United States--as theorized and as practiced--from the founding of the republic to the present day. Special attention is paid to the politics, economics, race politics, and religious logics of contemporary mass incarceration, and to the efforts afoot to end mass incarceration.
Location

Online Room 24 (ASE) (MW 12:30PM - 1:45PM)
AAAS 184-1
Kerfala Bangoura
Sansifanyi is an ensemble that provides various performance opportunities both on and off-campus for intermediate and advanced students of African dance & drumming. Instructor Kerfala Bangoura trains ensemble members in a performance style that integrates dance, drumming, vocal song, and narrative elements. Dancers who enroll in Sansifanyi will learn choreographic techniques for West African dance and gain experience dancing as soloists. Dancers will also learn focus on rhythmic timing and on drumming while dancing. Drummers enrolled in Sansifanyi will learn extended percussion arrangements and techniques for accompanying choreography. They will also learn how to play the breaks required of lead drummers. Prerequisites: One of the following: DANC181 & 182, DANC 283, DANC 253, DANC 285. For Drummers one of the following: MUSC 168A, MUSC 168B, MUSC 146 OR to audition, email kerfala.bangoura@gmail.com. 
Location

Spurrier Gymnasium Room 104 (R 6:45PM - 8:15PM)
AAAS 201-1
Elias Mandala
North Africa and the Middle East is in a mess: Instead of democracy, the Arab Spring delivered a military dictatorship to Egypt; Iraq and Syria are melting into warring tribal enclaves; Saudi Arabia is waging a savage war in Yemen; and the Palestinians remain an unprotected stateless people. There is a crisis, and this course introduces students to the predicament, arguing that since the first Industrial Revolution in England, the peoples of North Africa and the Middle East have refashioned their destinies in partnership with the West. Students will examine how the following encounters helped make the region as we know it: the Anglo-Turkish Convention of 1838, transition from Ottoman to West European colonialism, discovery of huge and easily extractable oil reserves, creation of the state of Israel, the Iranian Revolution of 1979, and the US Invasion of Iraq in 2003. The class will also explore how the above patterns of engagement shaped the histories of the regions working classes, women, and the peasantry.
Location

Online Room 9 (ASE) (R 2:00PM - 4:40PM)
AAAS 202-1
Elias Mandala
This introduction to the study of Global History comes in two parts. Part I examines how such developments in the West as the crisis in European feudalism and the first two Industrial Revolutions led to the emergence and expansion of the Global South. Part II outlines the revolutionary and nationalist struggles that have punctuated the Global South's long and difficult road toward political and economic autonomy. That process of reshaping the North-South relationship gathered speed after the collapse of the USSR and rise of China as the new "workshop of the world."
Location

Online Room 9 (ASE) (TR 12:30PM - 1:45PM)
AAAS 209-1
Larry Hudson
For decades scholars have described the black family as non-existing? or unstable,? and suggested that as a viable institution its future is at risk.' Despite these claims, the family has demonstrated a remarkable ability to overcome seemingly insurmountable obstacles. In an attempt to assess the current and future viability of the black family in America, this course will examine its history, and assess the recent social, economic and legal events that continue to challenge this vital institution. Initial attention will be on our most influential institutions: work, education, religion, and the criminal justice system. Our primary work, however, will seek to identify any existing links between the overwhelming decline in black marriages and economic changes that have resulted in 'more black women graduating college, owning their own business,? and delaying marriage?; and between social and cultural changes in areas such as inter-racial and same-sex relationships.
Location

Online Room 8 (ASE) (TR 2:00PM - 3:15PM)
AAAS 218-1
Joseph Inikori
The 2010 Brazilian national census shows 97.2 million Afro-Brazilians and 90.6 million Whites. These two ethnic nationalities have developed unequally since the establishment of colonial Brazil by Portugal in the sixteenth century. The 2010 census shows the average income of Afro-Brazilians was less than half that of White Brazilians. In 2009, the wealth gap between White and Black American families was $236,500. The most populous African nation, Nigeria, shows similar inequality among its major ethnic nationalities. This magnitude of inequality among ethnic nationalities has given rise to serious problems in inter-group relations in the three countries. This course aims to trace, comparatively, the historical origins of the phenomenon, examine the political and economic consequences, and discuss the politics and economics of state policy designed to address it. *NOTE: Students taking this Course for ECON credit must have previously taken ECON 108*
Location

Online Room 6 (ASE) (MW 10:25AM - 11:40AM)
AAAS 222-1
Jennifer Kyker
Addressing the devastating effects of HIV/AIDS in the United States, United Kingdom, Tanzania, Zimbabwe, Uganda, Haiti, and elsewhere, this uniquely interdisciplinary course will incorporate insights from the fields of public health, medical anthropology, and ethnomusicology. Studying the HIV/AIDS epidemic through the lens of musical expression, we will ask how individuals and communities affected by HIV/AIDS have mobilized musical sound in response to the disease. Topics addressed within the class will include musical representations of HIV/AIDS within queer communities; the use of music in public health campaigns to raise awareness about the disease; and the mobilization of musical performance within grassroots support groups for individuals affected by HIV/AIDS.
Location

Online Room 19 (ASE) (TR 12:30PM - 1:45PM)
AAAS 230-1
Jeffrey Tucker
Autobiography is the foundation of the tradition of African American literature. It is also a genre that performs the construction of identity and represents the role of narrative in that process. Therefore, autobiography is not only "writing about a life by oneself," but also the life of the self in the form of writing. This course surveys the tradition of autobiographical writings by African Americans, from slave narratives to recent bestsellers, in order to promote an understanding of autobiography as a narrative form shaped by its historical context as well as the imagination, memory, aesthetic choices, and political purposes of the author. In addition, the course provides students with insights into African American culture and history.  Readings include texts by Ta-Nehisi Coates, Frederick Douglass, Olaudah Equiano, Harriet Jacobs, Barack Obama, Booker T. Washington, Malcolm X, and more. Requirements include two formal writing assignments, bi-weekly reading responses, and participation in class discussion.
Location

Online Room 8 (ASE) (MW 2:00PM - 3:15PM)
AAAS 244-1
Cilas Kemedjio
Female genital cutting encounters vaginal cosmetic surgeries at the intersection of poverty and wealth, race and class, barbaric practices and the pleasure principle. Bodies of poor, African, and mostly black women and children embody a fateful condition that can be redeemed by technologies of progress and humanitarian discourses. This course invites students to challenge assumptions related to agency, race, class, the representation of the body, and the fragmented transnational sisterhood. The discussion expands to bodies caught in domestic violence, rape, lynching, and skin whitening. Readings and films: Alice Walker's "Warrior's Marks" and "Possessing the Secret of Joy"; "Manya Mabika"; "Fantacola"; "Sarabah"; "Women with Open Eyes"; "Black Sisters, Speak Up"; "The Suns of Independence"; "Desert Flower"; and Maryse Condé's "Who Slashed Célanire Throat?"
Location

Online Room 26 (ASE) (MW 12:30PM - 1:45PM)
AAAS 248-1
Pablo Sierra
This course focuses on the historical experiences of Africans and their descendants in the Latin American region. Beginning with the Declaration of Haitian Independence in 1804, we will analyze the complexity of Black participation in the wars for (and against) independence. The course then shifts to Cuba's 1844 Escalera Rebellion and the diaspora of free people of color. The abolition of slavery, passage of free womb laws and struggle for political inclusion will lead us to Colombia, Venezuela, Brazil, Mexico and the Dominican Republic, while arguing for an Afro-Latino experience that transcends national borders. Our historical analysis necessarily includes the study of visual, musical and literary representations of Blackness in the twentieth century through the poetry of Nicolás Guillen and others. Students will write two essays, including a research paper on a topic of their choice. This course is open to all disciplines and fulfills the "W" requirement for the History major.
Location

Lechase Room 103 (TR 11:05AM - 12:20PM)
AAAS 251-1
Ouma Amadou
At the closing of her canonical essay, "Mama's Baby, Papa's Maybe: An
American Grammar Book", Hortense Spillers writes "[…] it is our task to make a place for this different social subject". This course is invested in making a place for this different social subject: black mothering. Using Spillers' essay as the theoretical frame of the course, we will analyze varying visual representations of black mothering in the US and the diaspora. Topics covered in this course will include racial tropes of mothering, theories of matriarchy and queer parenting, kinship and dispossession. Each week this course will pair visual material with historical and theoretical readings. Examples include the films Imitation of Life (1959), Down in the Delta (1998), Moonlight (2016), Ma (2019). We will read from scholars such as Hortense Spillers, Patricia Hill Collins, Christina Sharpe, Tressie McMillan Cotton. Course assignments will include brief response papers and a final research paper. Prior experience with visual analysis is welcome but not required.
Location

Online Room 10 (ASE) (MW 9:00AM - 10:15AM)
AAAS 254-1
Kerfala Bangoura
Students will experience dancing African styles from the traditional cultures of Ghana and Guinea, West Africa. Technical emphasis will focus on foot patterns and placement, as well as developing the proper physical stance for African dance styles. Students will practice the dances and drum songs called Kpanlogo & Gota from Ghana, and Yankadi, Makru, & Kuku from Guinea, as well as various other selections. Outside work is required, including performance attendance, video viewing, article analysis, and journaling. Students can expect to gain a broadened perspective on contemporary West Africa and its cultural practices.
Location

Spurrier Gymnasium Room 103 (MW 2:00PM - 3:15PM)
AAAS 261-1
Matthew Omelsky
This course will focus on the work of four influential filmmaking collectives from across the global African diaspora: the LA Rebellion (US), the Nest Collective (Kenya), the Black Audio Film Collective (Britain), and Sankofa Film and Video (Britain). What does it mean for black filmmakers to create, in sustained collaboration, a body of politically engaged, experimental work? This will be our guiding question as we study the range of these collectives' representations, as well as the convergences and divergences among them. Topics will include: the afterlives of slavery and empire; police brutality and black uprisings; migration, memory, and belonging; LGBTQ desire and experience; and Afrofuturism and speculative histories. Our archive will be capacious, spanning narrative films, essay films, anthology films, and web series produced from the 1970s to the 2010s, all of which will be contextualized with interviews, production notes, historical essays, and criticism. We will also devote some time to the foundations of visual analysis to ensure we have a shared vocabulary for discussing the films. 
Location

Online Room 22 (ASE) (TR 11:05AM - 12:20PM)
AAAS 269-1
Matthew Omelsky
The 21st century has seen an exciting array of fiction and film emerge from the African continent, a development that contributes vitally to global black culture. Mainstays of this new generation of narrative include sci-fi, fantasy, and horror; themes of climate change, transnational migration, and the space of LGBTQ life; as well as a proliferation of generic and formal experiments across media and platforms. In this course, we'll study novels, short stories, narrative films, and web film series by artists from Nigeria, Kenya, Zimbabwe, Morocco and elsewhere to understand how artists from the continent imagine the relationship between culture and history, hope and anxiety, home and world. Writers and filmmakers will include Chimamanda Adichie, Wanuri Kahiu, NoViolet Bulawayo, Dilman Dila, Nnedi Okorafor, Andrew Dosunmu, among others.
Location

Online Room 12 (ASE) (TR 3:25PM - 4:40PM)
AAAS 273-1
Leila Nadir
In this humanities introduction to the discipline of Food Studies, students will study the politics of food through a range of topics, including racial justice, indigenous food sovereignty, neoliberal economics, celebrity culture, and biotechnology. We examine how industrialization, modernization, and colonization have revolutionized humanity's relationship to food consumption and production. Be prepared never to see the food you eat the same way again. This course will include a fermentation workshop, Rochester food tour, and a visit to Farm Sanctuary in Watkins Glen. 
Location

Online Room 3 (ASE) (MW 12:30PM - 1:45PM)
AAAS 281-1
Joseph Inikori
The debate on the role of the state versus that of the free market in the socioeconomic process is as old as the history of political economy. We discuss the economics of state policy and the long-run historical processes that created the political & economic conditions. Students performance is based on three short essays (four typed pages each) presented to the class for discussion and thereafter revised for grading. No mid-term & final examinations.
Location

Online Room 9 (ASE) (T 2:00PM - 4:40PM)
AAAS 289-1
Kathryn Mariner
Whiteness is often taken to be a human norm. An unraced, default, invisible category. Fundamentally unmarked, and yet a marker of power, status, and privilege. It has been the standard against which all non-white ways of being have been rendered Other. But whiteness is not a given. It is a mutable and flexible category. What does it mean to be white? How does one (or how do many) become white? And how can one (or many) move in and out of whiteness? In this course, we will deconstruct whiteness through theoretical, historical, and ethnographic lenses. We will examine the historical processes by which a number of ethnic groups have become white, and we will interrogate the ways in which whiteness continues to be actively produced and enacted in contemporary discourse and social life.
Location

Online Room 8 (ASE) (TR 3:25PM - 4:40PM)
AAAS 294-1
James Johnson
The purpose of this course is to explore what has been called "democratic community economics" (Jessica Gordon-Nembhard) and its relevance for addressing deep, persistent political-economic problems in African American Communities. The focus will be on a set of alternative institutional arrangements including producer and consumer cooperatives, community development credit unions and community land trusts and specifically their roots in African American politics, their various current manifestations, and their potential contemporary policy relevance for promoting sustainable, local, community development.
Location

Online Room 8 (ASE) (MW 9:00AM - 10:15AM)
AAAS 297-1
Patrick Sullivan
As Disney's recent disclaimer of "outdated cultural depictions" that accompanies racist portrayals in its classical animation suggests, the relationship between race and animation has often been vexed. This course will explore—through both historical and formal approaches—the roles race and racism perform in animated cultural expressions—cinema, television, and video games. With a commitment to intersectionality, this course explores and interrogates gender, sexuality, and class in tandem with race. Topics will include minstrelsy and early animation; racial grotesqueness and independent animation; African-American culture in anime; blackness and kinetic economies; censorship and television cartoons; video game avatars and gendered embodiment. 
Location

Online Room 4 (ASE) (TR 9:40AM - 10:55AM)
AAAS 340-1
Leila Nadir
No description
Location

Online Room 7 (ASE) (MW 3:25PM - 4:40PM)