Recognizing Our Former Director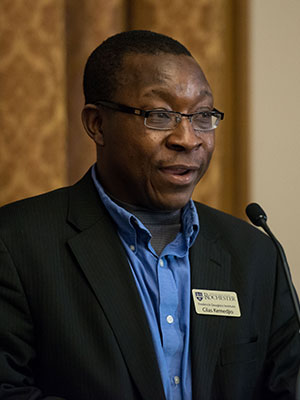 For the last ten years, Cilas Kemedjio has lead the Frederick Douglass Insititute for African and African-Studies.  These have been, as they are now, turbulent times and much of the upheaval, the tragedy, and the promise of our moment grow out of a past and present marked by injustices related to race but also enlightened by the achievements of people of African descent wherever on the globe they have come to live.  As Director, Cilas has worked tirelessly to expand our fields of inquiry into the diasporic and multilingual riches of Africa and the diaspora, while he has repeatedly brought into focus the present movements of resistance and creativity that surround us globally and continuously link activism on our campus and in our community to the challenges and, we hope, changes in and of the world at large.  Cilas has been a wonderful and transformative director and we look forward to his continued contributions to the FDI and to African and African-American Studies, to the presence of his fierce and inspiring intellect, the infectiousness of his good humor, and the example of his dauntless courage, and his boundless generosity as a scholar, a critic, a teacher, and a friend.  Thank you, Cilas.
The process of hiring a new, permanent director of the Frederick Douglass Institute for African and African-American Studies is underway and moving forward even during the pandemic.
From the FDI Executive Committee Members