Gollin Film Festival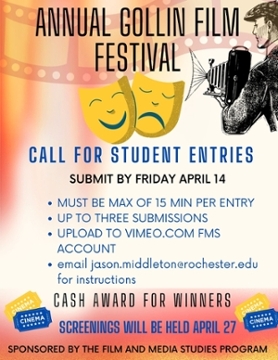 Named in honor of Richard Gollin, Professor Emeritus of English and founder of the Film and Media Studies (FMS) Program, the annual festival gives University of Rochester undergraduates the opportunity to gain recognition, see their films on the big screen, and win cash prizes. All prize money is sponsored by a generous endowment from Mr. Gollin.
Prizes
A panel of faculty members associated with the FMS program selects the winners and honorable mentions. On the evening of the festival, student films will be screened and winners will be announced. Cash prizes are awarded to the first, second, and third place filmmakers.
Requirements
The festival is open to all currently enrolled University of Rochester undergraduates. Each student can submit up to three films, each no longer than 15 minutes in length. Please note that these films must have been created since enrollment at Rochester.
Moving images can be shot on or created in any media, or using a variety of media including cell phones, video, hi-8, 16mm, .gif animations, flash, etc.
All entries must be in the following digital format in order to be accepted:
Uploading and Deadline
Submissions may be sent to Jason Middleton at jason.middleton@rochester.edu or be uploaded to the FMS Vimeo account.
The deadline to submit entries is Friday, April 14, 2023.