Stanley Engerman Lecture
The Department of Economics at the University of Rochester Presents the Inaugural Engerman Lecture.
This is the first in a series of lectures to honor Stanley Engerman, professor emeritus in the Department of Economics. Professor Engerman was a passionate teacher of undergraduates at the University of Rochester for over a half-century. The lecture series carries on his mission by giving undergraduates a unique opportunity to learn from top economists around the country and world.
---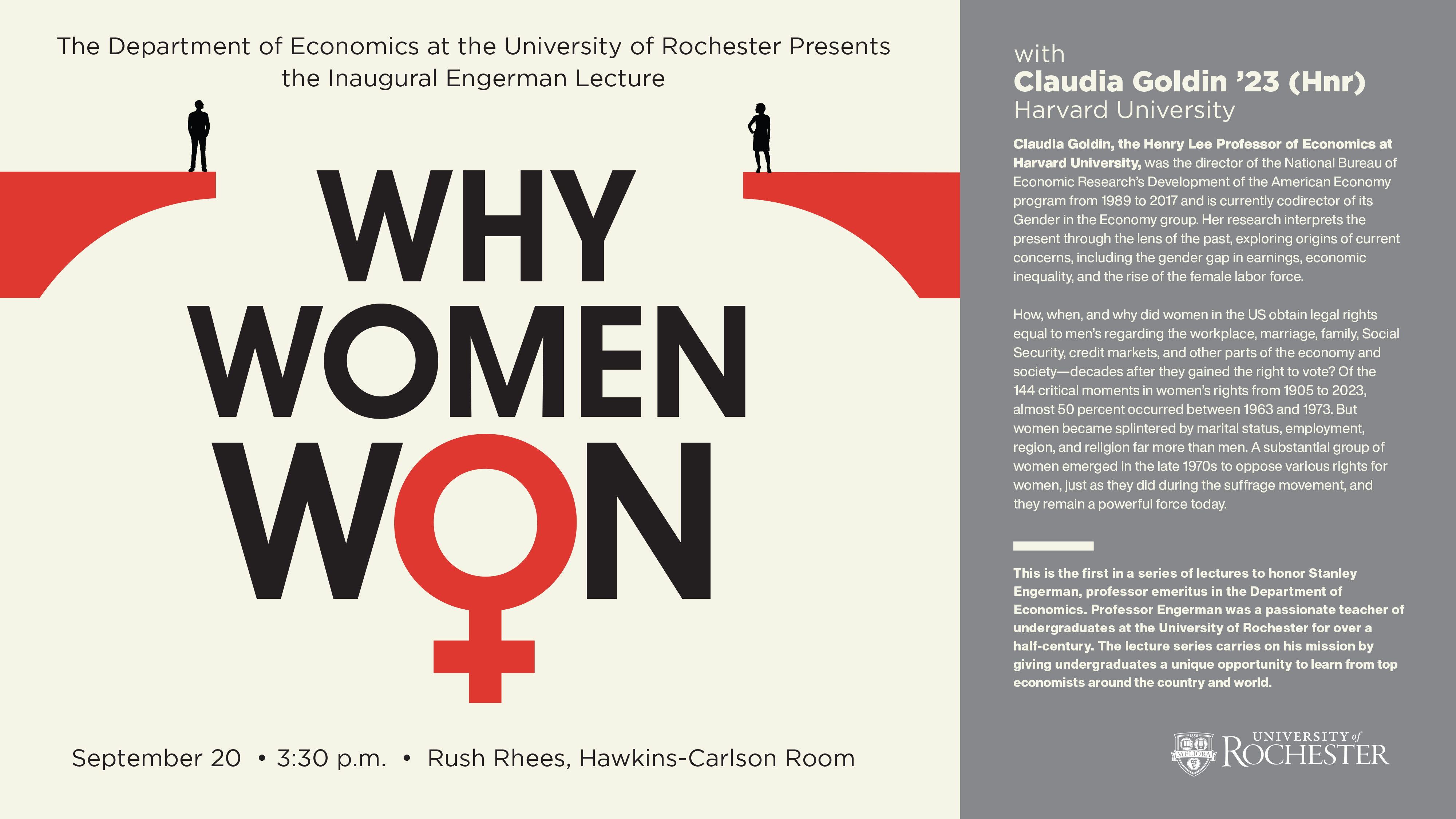 Why Women Won
Claudia Goldin, Harvard University
September 20, 2023 at 3:30 p.m.
Rush Rhees, Hawkins-Carlson Room
About the Speaker
Claudia Goldin, the Henry Lee Professor of Economics at Harvard University, was the director of the National Bureau of Economic Research's Development of the American Economy program from 1989 to 2017 and is currently codirector of its Gender in the Economy group. Her research interprets the present through the lens of the past, exploring origins of current concerns, including the gender gap in earnings, economic inequality, and the rise of the female labor force.
Abstract
How, when, and why did women in the US obtain legal rights equal to men's regarding the workplace, marriage, family, Social Security, credit markets, and other parts of the economy and society—decades after they gained the right to vote? Of the 144 critical moments in women's rights from 1905 to 2023, almost 50 percent occurred between 1963 and 1973. But women became splintered by marital status, employment, region, and religion far more than men. A substantial group of women emerged in the late 1970s to oppose various rights for women, just as they did during the suffrage movement, and they remain a powerful force today.