One Million Abolitionists
April 05, 2018
05:00 PM - 06:30 PM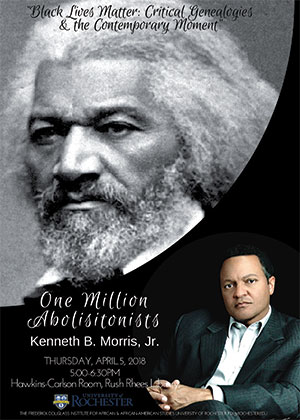 Kenneth B. Morris, Jr.
Co-Founder & President, Frederick Douglass Family Initiatives
Take a living history journey with a direct descendant of two of America's greatest heroes.
Kenneth B. Morris, Jr. is the great great great grandson of Frederick Douglass and the great great grandson of Booker T. Washington. Ken will give a presentation about the history of his family, the pressure he felt growing up in the shadow of his esteemed ancestors, and his work today fighting against modern slavery as President of Frederick Douglass Family Initiatives.
Sponsored by the Frederick Douglass Institute for African and African-American Studies and the Humanities Project.
For more information contact (585) 276-5744 or fdi@rochester.edu. 
Links:
View Flyer
Category: Speaker Series and Conferences