Overview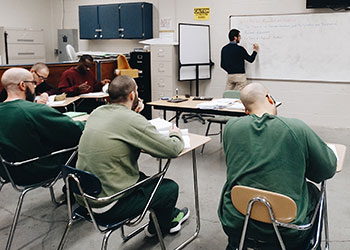 The Rochester Education Justice Initiative (REJI) is dedicated to prison education in two discrete yet related ways. First, REJI works to ensure that the University of Rochester does its fair share in educating men and women incarcerated in the greater Rochester area. Second, REJI educates people in the Rochester community about the crisis of American mass incarceration.
Higher education can be a sustaining force in the lives of incarcerated men and women and can furnish them with skills and resources to enable community reintegration. New York state colleges and universities are national leaders in the college-in-prison movement, but Western New York remains a dramatically underserved region.
As a private research university with a dozen state and federal correctional facilities within a ninety-minute drive, the University of Rochester is uniquely suited to meet this need. To this end, REJI mobilizes university faculty, graduate students, and undergraduates to offer for-credit courses to incarcerated students. Our short-term goal is to educate, but our long-term goal is transformative social change. By including incarcerated students in the university community, we hope to erode the dehumanizing distance upon which mass incarceration depends.
On the University of Rochester's River Campus, meanwhile, REJI works to educate the non-incarcerated members of our community about the crisis of mass incarceration. How does a county with only a fifth of the world's population come to incarcerate nearly a quarter of the world's prisoners? How are prisons and carceral logics embedded in our politics, economy, and culture? Via courses and public lectures, REJI helps to engender the public consciousness necessary for decarcerating our region and healing our communities.