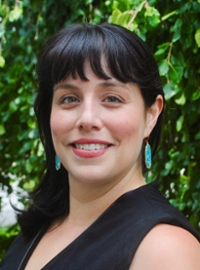 ---
Research Overview
As teaching faculty, Professor Estrada does not accept applications for graduate student mentees.
Dr. Estrada's main research focus is to understand how western gender roles and expectations influence relationship scripts, quality and satisfaction. Given that close relationships are a central and important part of most people's lives it is valuable to understand how they are influenced by a construct such as gender that is embedded in our institutions, actions, beliefs, and desires. Although based in psychology her research also draws from many complementary areas such as public health, sociology, communications, women's and gender studies, health psychology and consumer behavior. Her current research interests are addressed by the following key questions:
What factors affect college women's condom use during hookup encounters?
What influences do the media depictions of romance have on our own expectations and satisfaction with our relationships?
How does romance change over time and what role does it have in maintaining relationships?
Courses Offered (subject to change)
PSYC 101:  Introduction to Psychology
PSYC 267:  Psychology of Gender
PSYC 232:  The Psychology of Consumerism
PSYC 283:  Behavioral Medicine
Selected Publications
Estrada, M. J (in press). Gendered Scripts in adult heterosexual romantic relationships. In The Sage Encyclopedia of Psychology and Gender.
Estrada, M. J. (2011). Romantic Communication in Intimate Relationships: The Romantic Construal Model. In M. Paludi (Ed.) The Psychology of Love. 125-140.
Leary, M. R., Estrada, M. J., & Allen, A. B. (2009). The Analogue-I and the Analogue-Me: The Avatars of the Self. In V. S. Y. Kwan & L. Gaertner (Eds.), Two Sides to Every Self Process (Special issue of Self and Identity; pp. 147-161). New York: Psychology Press.
Smith, S. M., Fabrigar, L. R., Powell, D. M., & Estrada, M. J. (2007). The role of information-processing capacity and goals in attitude-congruent selective exposure effects. Personality and Social Psychology Bulletin, 33, 948-960.
Fabrigar, L. R. & Estrada, M. J. (2006). The Multitrait-Multimethod matrix and convergent validity. In N. J. Salkind (Ed.), The Encyclopedia of Measurement and Statistics. (pp. 666-669). Thousand Oaks, CA: Sage.
Rusbult, C. E., Kumashiro, M., Wolf, S. & Estrada M. J. (2004). The Michelangelo Phenomenon. In E. Finkel & K. Vohs (Eds.), Self and relationships: Connecting intrapersonal and interpersonal processes. (pp. 317-341). New York, NY: Guilford.
Calendly Advising and Office Hours:
Advising: M 1-2 https://calendly.com/profestrada/advising
Office hours (class material ONLY): M 2-3, T 12-1 https://calendly.com/profestrada/officehours