Philip S. Bernstein Lecture
Transitions: Personal and Political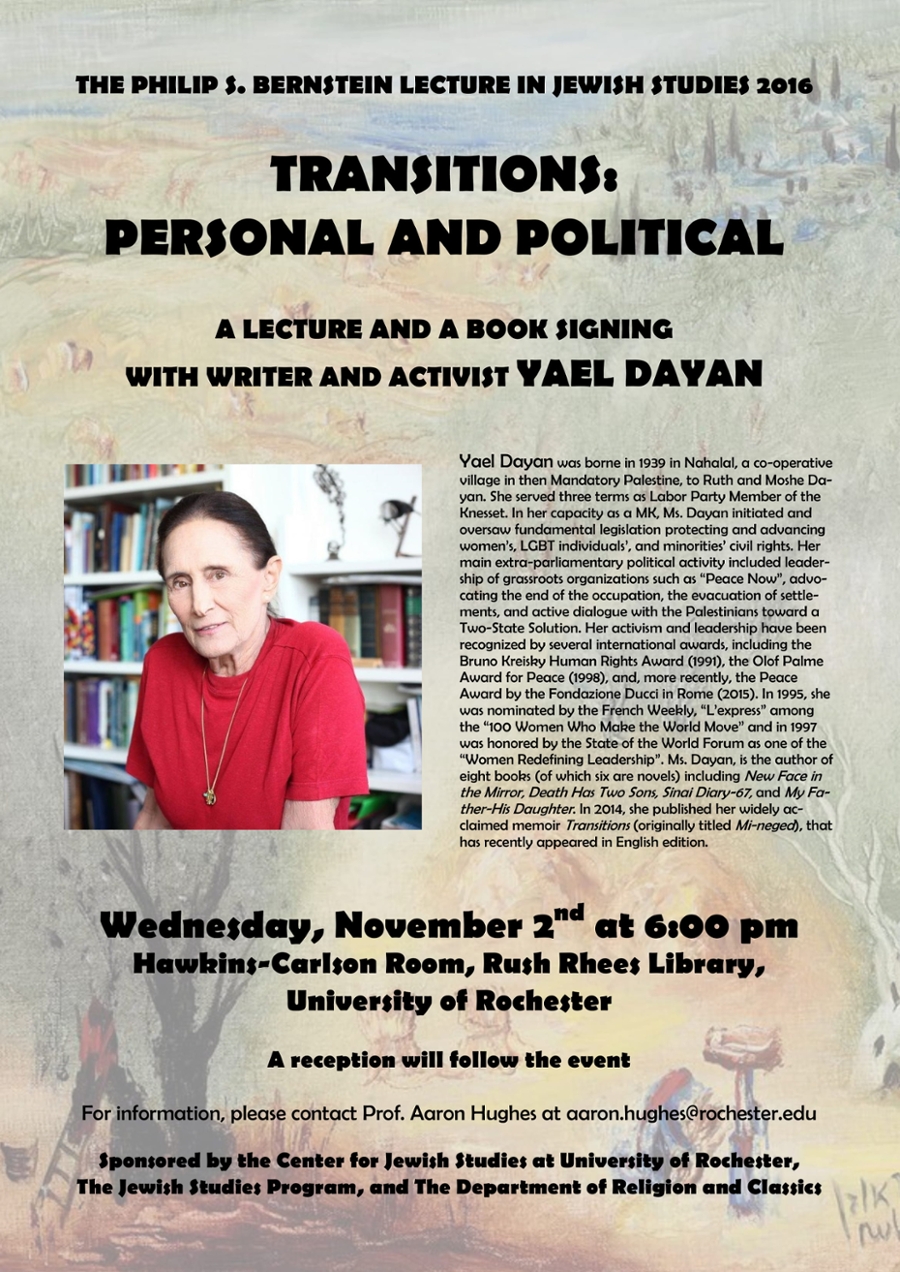 Yael Dayan, Member of 13th, 14th and 15th Knessets
Wednesday, November 2, 2016
6 p.m.
Hawkins-Carlson Room, Rush Rhees Library
A reception will follow the event.
About the Speaker
Yael Dayan was born in 1939 in Nahalal, a co-operative village in then Mandatory Palestine, to Ruth and Moshe Dayan. She served three terms as Labor Party Member of the Knesset. In her capacity as a MK, Ms. Dayan initiated and oversaw fundamental legislation protecting and advancing women's, LGBT individuals', and minorities' civil rights. Her main extra-parliamentary political activity included leadership of grassroots organizations such as "Peace Now", advocating the end of the occupation, the evacuation of settlements, and active dialogue with the Palestinians toward a Two-State Solution. Her activism and leadership have been recognized by several international awards, including the Bruno Kreisky Human Rights Award (1991), the Olof Palme Award for Peace (1998), and, more recently, the Peace Award by the Fondazione Ducci in Rome (2015). In 1995, she was nominated by the French Weekly, "L'Express" among the "100 Women Who Make the World Move" and in 1997 was honored by the State of the World Forum as one of the "Women Redefining Leadership". Ms. Dayan is the author of eight books (of which six are novels) including New Face in the Mirror, Death Has Two Sons, Sinai Diary-67, and My Father-His Daughter. In 2014, she published her widely acclaimed memoir Transitions (originally titled Mi-neged), that has recently appeared in English edition.
---
Sponsored by the Center for Jewish Studies at University of Rochester, The Jewish Studies Program, and The Department of Religion and Classics.
For more information, please contact Professor Aaron Hughes at aaron.hughes@rochester.edu