Overview
The Center for Jewish Studies at the University of Rochester promotes research, scholarship, and education in Jewish Studies. Through courses, publication, lectures, fellowships, and intellectual collaboration, the Center aims to increase knowledge in the field of Jewish Studies, to provide enriched learning opportunities for students, to contribute to the intellectual life of the University, and to share its resources with the Rochester community.
Academics
Currently, the Undergraduate Jewish Studies Program offers two minors, a variety of clusters, opportunities outside the classroom, and the possibility to study abroad. The Program is designed to enable students to familiarize with the history, religion, philosophy, literatures, languages and politics of Judaism.
As an interdisciplinary program, Jewish Studies brings together faculty from different departments, whose interests are diverse and cross-cultural, and favors a variety of approaches to the study of Jewish life and culture. View our faculty directory.
See our undergraduate programs page for more information.
Outside the Classroom
The Center for Jewish Studies regularly sponsors lectures, community events, and other opportunities for intellectual collaboration to promote Jewish Studies and its applications outside the context of the classroom. For more information on recent faculty, student, and community involvement in Jewish Studies, view our news and events page.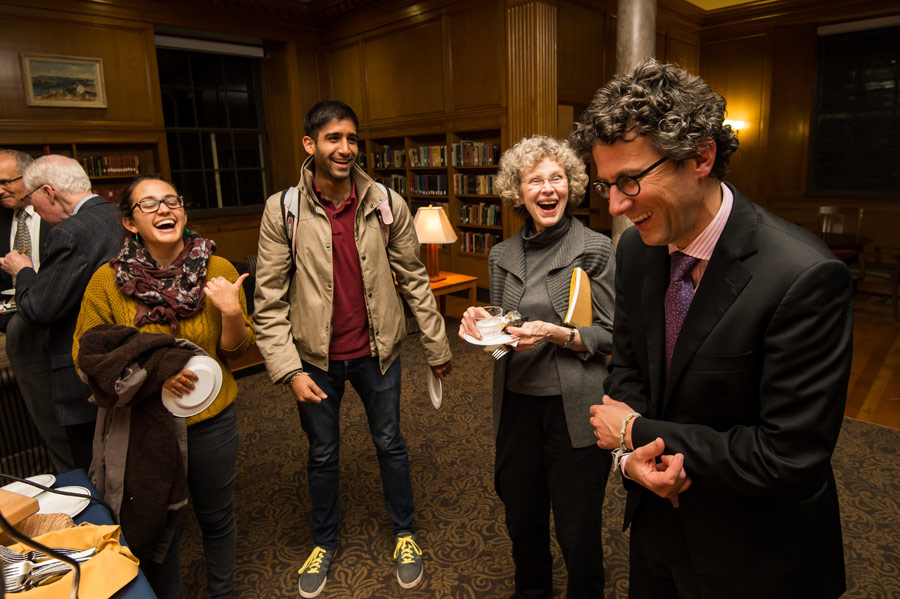 Students and faculty share a laugh at a reception after the annual Philip S. Bernstein lecture.