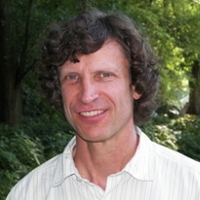 Roy Wood
Adjunct Instructor, Dance Program
---
Biography
While at Ohio University, Roy Wood took his first dance class to experiment with something new. Due to the combination of physical exhilaration, social connections, and joy of learning he felt when dancing, he took more classes – modern, ballet, jazz, swing, finally joining the professional modern dance training program at Ohio University, all while pursuing his BS in chemical engineering. Roy has studied modern dance with Gladys Bailin of Nikolai Dance Theater, Afro Caribbean and modern with Garth Fagan Dance, jazz with Bob Koval, and mime with Greg Goldstein. He has performed and choreographed with a number of companies, including Park Avenue Dance, Present Tense, Hallmarkworks, Rochester Dance Collective, and Unitarian Dance. His focus on both improvisation and choreography grew as he strove to integrate dance with his interest in social and political justice. He worked collectively with dancers and non-dancers, exploring personal, social, and political issues through improvisation, then turning the explorations into performance works using movement, sound and text, creating over 60 performance pieces, including the evening long dance drama, Central Park in Dreamspace.
Roy went to his first "contact improvisation jam" in Ithaca in the 1990s and was thrilled by the combination of self-expression and community. Shortly after, he co-founded the Rochester contact jam and began attending workshops and jams around the country. He has studied contact improv with Andrew Harwood, Nancy Stark Smith, Martin Keough, and Alicia Grayson and others and continues to learn by attending workshops and dancing with experienced and inexperienced dancers alike. He has taught contact improvisation at contact jams, workshops, schools and universities in Rochester, Boston, Hawaii, Austin, Chapel Hill, Buffalo, and Plainfield, MA. He currently teaches Contact Improvisation I and II and Contact Improvisation and Culture at the University of Rochester.
Roy is also a licensed professional engineer and continues to work both as a dancer and as an environmental engineer.