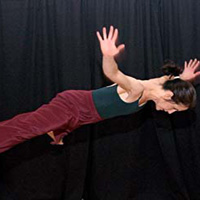 Anne Harris Wilcox
Senior Lecturer, Dance Program
MFA, SUNY Brockport
---
Biography
Anne Harris Wilcox (MFA, NYS K-12 certification) is a full-time senior lecturer at the University of Rochester where she teaches and choreographs for the Program of Dance and Movement. She serves as the community engagement liaison for the dance program, and is on the Rochester Center for Community Leadership's Capstone Committee. She is the founder and director of, Present Tense Dance, a contemporary dance company she ran from 1991-2016.
Anne continues to choreograph independently; her recent work has appeared in multiple Rochester Fringe Festivals, National Water Dances at the University of Rochester River Campus, Dances at MUCCC series, Geva Next Stage, Artists Coalition for Change Together, and Wallbyrd Theater's productions: Two Gentleman of Verona, MacBeth, Taming of the Shrew, and Romeo and Juliet. She performed as The Shadow in The Shadow of the Hummingbird, directed by Lindsay Baker and has danced in several works by choreographers Missy Pfohl Smith (BIODANCE) and Rose Pasquarello Beachamp.
Anne is a former president of New York State Dance Education Association and the State Affiliate Representative for the National Dance Education Organization. She was awarded the 2106 Outstanding Leadership Award by New York State Dance Education Association. She has created several dance/theater works including: The Kitchen Revue, The Seal Maiden, The Picture of Dorian Gray, When the Souls Rise, A Public and Private Hearth, and her latest work (2019), Nanosecond. In 2013 she created Active Learning Games, LLC, a company dedicated to creating kinesthetic educational activities for grades K-12 and university curriculum and has presented at conferences throughout the United States. In 2018 she presented at the International Dance Education Conference, Spirit of Creativity, in Kuala Lumpur, Malaysia.
Anne's interest in intergenerational creativity and performance has led her to studying with artists from Dance Exchange, founded by Liz Lerman, in Tacoma Park, MD.
Anne is certified in Pilate's mat work and is currently pursuing training/certification for Dance for Parkinson's Disease through the Mark Morris Dance Group.