Hip Hop Dance Master Class with Ana "Rokafella" Garcia
Sunday, March 7, 2021
4 p.m.–5:30 p.m.
inspireJAM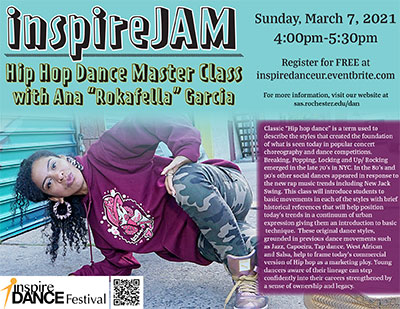 ---
Classic "Hip hop dance" is a term used to describe the styles that created the foundation of what is seen today in popular concert choreography and dance competitions.
Breaking, Popping, Locking and Up/Rocking emerged in the late 70's in NYC. In the 80's and 90's other social dances appeared in response to the new rap music trends including New Jack Swing. This class will introduce students to basic movements in each of the styles with brief historical references that will help position today's trends in a continuum of urban expression giving them an introduction to basic technique. These original dance styles, grounded in previous dance movements such as Jazz, Capoeira, Tap dance, West African and Salsa, help to frame today's commercial version of Hip Hop as a marketing ploy. Young dancers aware of their lineage can step confidently into their careers strengthened by a sense of ownership and legacy.
View the event poster (pdf).
Register for free inspiredanceur.eventbrite.com.