Behind the Scenes with Bridgman | Packer
Free virtual artist talk and sharing of work
Friday, March 5, 2021
7 p.m.
inspireDANCE Festival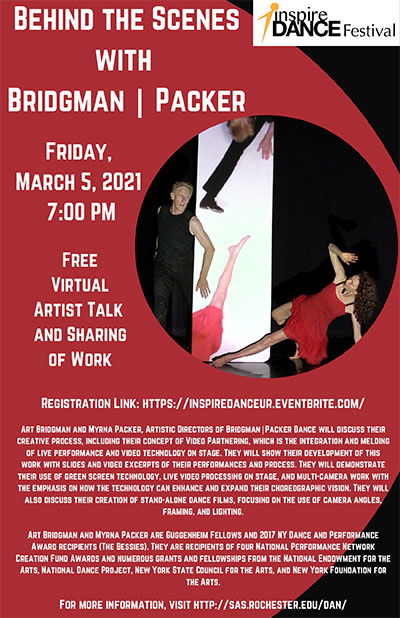 ---
Art Bridgman and Myrna Packer, artistic directors of Bridgman|Packer Dance will discuss their creative process, including their concept of video partnering, which is the integration and melding of live performance and video technology on stage.
They will show their development of this work with slides and video excerpts of their performances and process—demonstrating their use of green screen technology, live video processing on stage, and multi-camera work with emphasis on how the technology can enhance and expand their choreographic vision. They will also discuss their creation of stand-alone dance films, focusing on the use of camera angles, framing, and lighting.
Art Bridgman and Myrna Packer are Guggenheim Fellows and 2017 NY Dance and Performance Award recipients (The Bessies). They are also the recipients of four National Performance Network Creation Fund Awards and numerous grants and fellowships from the National Endowment for the Arts, National Dance Project, New York State Council for the Arts, and the New York Foundation for the Arts.
View the event poster.
Register for free at https://inspiredanceur.eventbrite.com.