Dance: A Practice of Liberation with Shani Collins
Tuesday, February 23, 2021
8 p.m.–9:30 p.m.
inspireDANCE Festival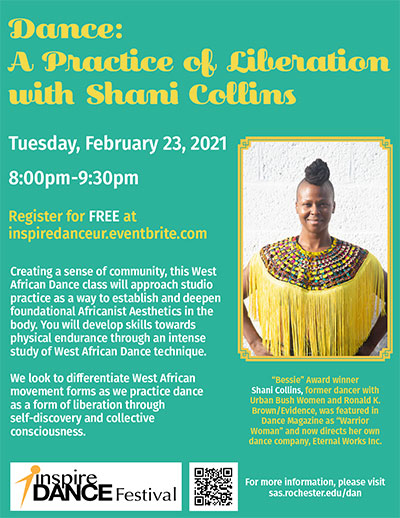 ---
Creating a sense of community, this West African Dance class will approach studio practice as a way to establish and deepen foundational Africanist Aesthetics in the body. You will develop skills towards physical endurance through an intense study of West African Dance technique.
We look to differentiate West African movement forms as we practice dance as a form of liberation through
self-discovery and collective consciousness.
"Bessie" Award winner Shani Collins, former dancer with Urban BushWomen and Ronald K. Brown/Evidence, was featured in Dance Magazine as "Warrior Woman" and now directs her own dance company, Eternal Works Inc.
View the event poster (pdf).
Register for free inspiredanceur.eventbrite.com.