Anna Halprin's Blank Placard Dance with Rosario Sammartino
Friday, February 19, 2021
4 p.m.–6 p.m.
inspireDANCE Festival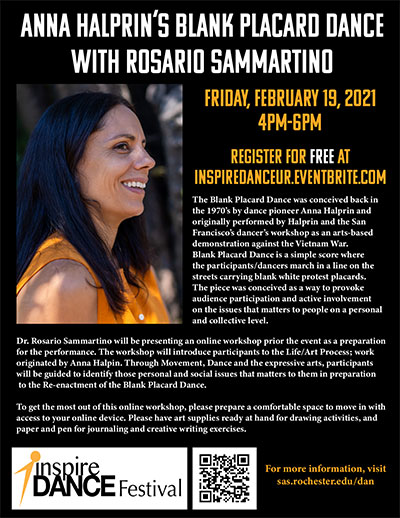 ---
The Blank Placard Dance was conceived back in the 1970's by dance pioneer Anna Halprin and originally performed by Halprin and the San Francisco's dancer's workshop as an arts-based demonstration against the Vietnam War.
Blank Placard Dance is a simple score where the participants/dancers march in a line on the streets carrying blank white protest placards. The piece was conceived as a way to provoke audience participation and active involvement on the issues that matters to people on a personal and collective level.
Dr. Rosario Sammartino will be presenting an online workshop prior the event as a preparation for the performance. The workshop will introduce participants to the Life/Art Process; work originated by Anna Halpin. Through Movement, Dance and the expressive arts, participants will be guided to identify those personal and social issues that matters to them in preparation to the Re-enactment of the Blank Placard Dance.
To get the most out of this online workshop, please prepare a comfortable space to move in with access to your online device. Please have art supplies ready at hand for drawing activities, and paper and pen for journaling and creative writing exercises.