Contemporary Jazz Master Class with Monique Haley
Presented by the University of Rochester Program of Dance and Movement.
Saturday, November 14, 2020
2 p.m.–3:30 p.m.
Virtual Event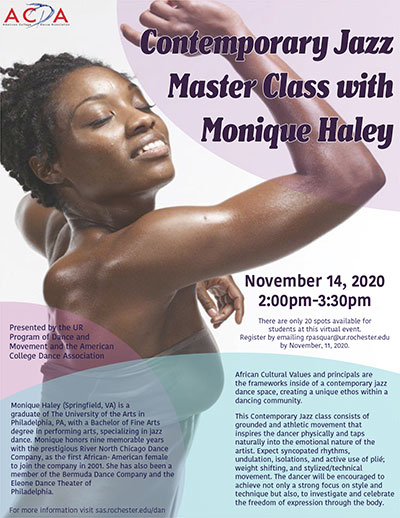 ---
There are only 20 spots available for students at this virtual event. Email rpasquar@ur.rochester.edu by November 11, 2020 to register.
African Cultural Values and principals are the frameworks inside of a contemporary jazz dance space, creating a unique ethos within a dancing community.
This Contemporary Jazz class consists of grounded and athletic movement that inspires the dancer physically and taps naturally into the emotional nature of the artist. Expect syncopated rhythms, undulation, isolations, and active use of plié; weight shifting, and stylized/technical movement. The dancer will be encouraged to achieve not only a strong focus on style and technique but also, to investigate and celebrate the freedom of expression through the body.
About Monique Haley
Monique Haley (Springfield, VA) is a graduate of The University of the Arts in Philadelphia, PA, with a Bachelor of Fine Arts degree in performing arts, specializing in jazz dance. Monique honors nine memorable years with the prestigious River North Chicago Dance Company, as the first African- American female to join the company in 2001. She has also been a member of the Bermuda Dance Company and the Eleone Dance Theater of Philadelphia.