Contemporary Master Class with Cameron McKinney
Cameron McKinney, Artistic Director, Kizuna Dance
Wednesday, October 21, 2020
Noon–1:30 p.m.
Zoom Meeting Code: 941-5128-3909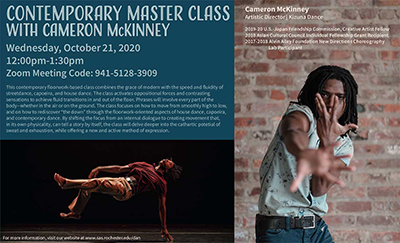 This contemporary floorwork-based class combines the grace of modern with the speed and fluidity of streetdance, capoeira, and house dance.
The class activates oppositional forces and contrasting sensations to achieve fluid transitions in and out of the floor. Phrases will involve every part of the body—whether in the air or on the ground. The class focuses on how to move from smoothly high to low, and on how to rediscover "the down" through the floorwork-oriented aspects of house dance, capoeira, and contemporary dance. By shifting the focus from an internal dialogue to creating movement that, in its own physicality, can tell a story by itself, the class will delve deeper into the cathartic potetial of sweat and exhaustion, while offering a new and active method of expression.
---
About Cameron
2019-20 U.S.-Japan Friendship Commission, Creative Artist Fellow
2018 Asian Cultural Council Individual Fellowship Grant Recipient
2017-2018 Alvin Ailey Foundation New Directions Choreography Lab Participant