UR Remnants
The multi-day program of events runs from Sunday, April 24 through Wednesday, April 27.
Sunday, April 24–Wednesday, April 27, 2022
Free Event!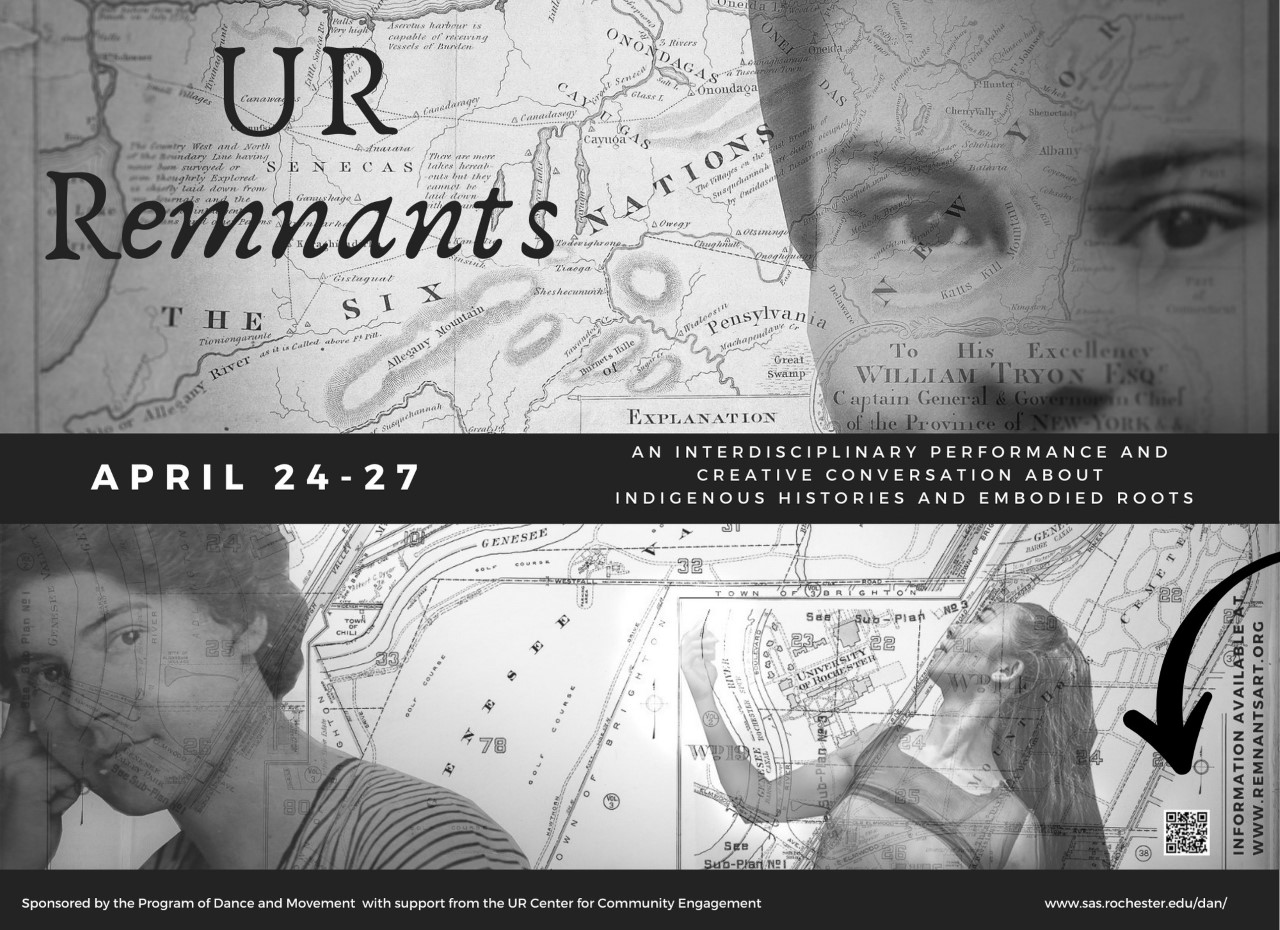 ---
About UR Remnants
Through dance, storytelling, visual art, music, and the spoken word, the story of the land on which the University of Rochester stands will be told, in addition to stories of a Haudenosaunee matriarchy, the descendant of which will tell the story herself.
Schedule of Events
UR Remnants—Sunday 4/24 at 4 p.m.
Outdoor performance
Meet Across from Chapel (Rain location Spurrier Dance Studio)
Weaving dance, music, photography, visual art, and storytelling, the piece unveils the human and ecological memories of the site the University of Rochester sits on — from the indigenous beginnings through current times. REMNANTS is designed as an immersive walking art installation involving multiple modalities. The audience is invited to join in moving through the natural spaces of the performance.
Art and Attention—Monday 4/25 at 9 a.m.
Workshop with Greg Woodsbie
Todd Union Dance Studio
This workshop will guide participants through explorations of the questions "How are we as audience members actually the co-creators of any work we are present for?", and, "How and why does art make us less neurotic and more available for others?"
Projection on Wilson—Monday 4/25 at dark
Turn your focus up as you walk by!
Got oxygen?—Tuesday 4/26 at 9:40 a.m.
Outdoor walk with Trish Corcoran
Meet outside Sloan Performing Arts Center
Got oxygen? Thank a tree, for that and so much more! Walk along the river and meet your neighbors (trees and plants). Learn about their community and consider what we take for granted, but should be grateful for.
Crafting Truth Through Art—Tuesday 4/26 at 12:30 p.m.
Workshop with Andrea A. Gluckman
Spurrier Dance Studio
The traditional role of photography has largely been to document events, places, and people, but how can photography be used to help tell the hidden stories of history? How can technique, composition, and post production work be combined to create images to accompany hidden histories of communities left out of official/traditional historic narratives? How can images be created to capture a moment unseen by the photographer? Photography offers one artistic entry point to experience the oral narratives and people's histories, but how can other art forms perform similar functions in allowing people to experience hidden histories? How can art serve the cause of justice? Photographer Andrea Gluckman will share stories and photographs, while welcoming a discussion from the group as to how each individual's artistic offerings can offer portals to wider empathy.
The Good Mind—Tuesday 4/26 from 5-7 p.m.
Film Showing and Discussion
Gowen Room
Post Film Panel with: Solveiga Armoskaite, Brianna Theobald, Thomas Gibson, Blair Tinker, Stella Wang
The documentary centers on the Haudenosaunee, the Onondaga Nation near Syracuse in particular.The film's journey reveals the Onondaga Nation's tireless environmental advocacy, and their legal battle with the U.S. over ancestral land taken by New York State in violation of a 1794 treaty with George Washington. Motivated by ancient prophecies, the Nation seeks environmental stewardship of their sacred land and waters, which have suffered vast degradation by industrial resource extraction and pollution.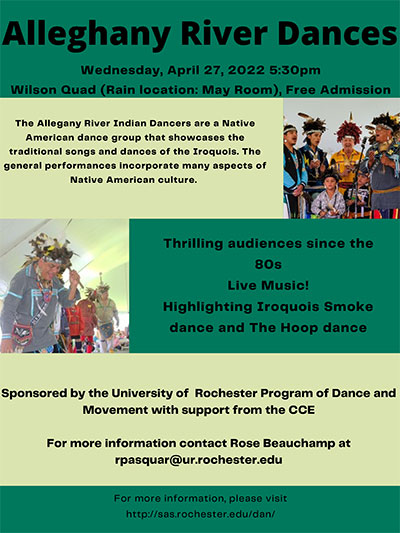 Alleghany River Dancers—Wednesday 4/27 at 5:30 p.m.
Performance
Wilson Quad (Rain location: May Room)
The Alleghany River Indian Dancers are a Native American dance group that showcases the traditional songs and dances of the Iroquois. The general performances incorporate many aspects of Native American culture. The Seneca language and culture pertaining to the origin of the songs and dances are shared in the program narratives. All performers wear traditional Native American regalia. All the music is performed live. The show is as educational as it is entertaining. Some of the highlights of the show include the Iroquois Smoke dance, a very fast contest dance. The Hoop dance is also featured. The hoopdancer uses hoops to make various designs and shapes to represent birds, animals and themes from nature in this beautiful story telling dance.