Blank Placard Dance Restaged!
Originally choreographed by Anna Halprin; restaged by the University of Rochester Program of Dance and Movement with support from the Tamalpa Institute + Rosario Sammartino.
Saturday, May 1, 2021
12:30 p.m.–2 p.m.
See the event details for information about the route and how to participate. (Rain date Sunday, May 2, 2021)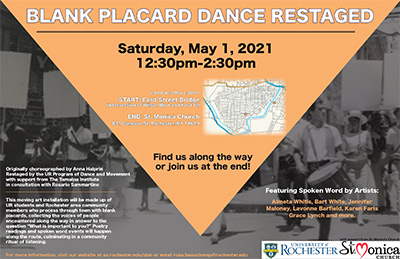 ---
Event Details
The University of Rochester Program of Dance and Movement will re-stage Blank Placard Dance by Anna Halprin. The piece involves multiple performers (movers and musicians) holding blank protest signs as they weave in a parade-like route highlighting areas of significance. Performers interact with the 'audience' (the community) along the way asking "What is Important to You?". Community members answer the question on post-its that make their way to the back of the blank signs. The responses are shared in a final community art-making celebration.
The route of the action starts near the Ford Street bridge, moves through Lundsford Park in Cornhill, and then moves down Dr. Samuel McRee Way and onto Genesee Street.
Along the way, we will hear from many artists and poets including Almeta Whitis, Bart White, Jennifer Maloney, Lavonne Barfield, Karen Faris, Grace Lynch and more.
The community will also be the most important voice heard!
View the event poster (pdf).
Want to Participate?
You have some choices:
Join us at the Ford Street Bridge where Wilson Boulevard meets Ford Street (behind the Episcopal Church Home) and walk with us
Meet us at the end (Location TBD, check back here soon)
Participate as a placard holder or musician (contact rose.beauchamp@rochester.edu)
Can't Join us but want to lend your voice? Click on this map and tell us WHERE and WHAT is important to you!
---
About Anna Halprin, choreographer
Anna's work has challenged and broadened the definition of dance since the 1930's.
About Blank Placard Dance
Blank Placard Dance (1967) was a performative action that emerged in the context of the Vietnam War and the culture of the 1960's. The piece is a structured score that maps important areas of the city (originally San Francisco). It blurs the boundaries of public intervention and dance performance. More recent iterations include:
Blank Placard Dance Replay (Montreal 2017, staged by Anne Collod)
What Matters to Us? (San Francisco Mission District 2015, honoring Anna Halprin's 95th birthday)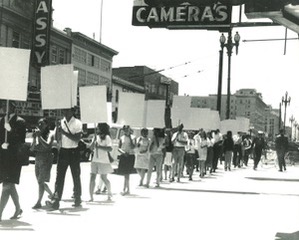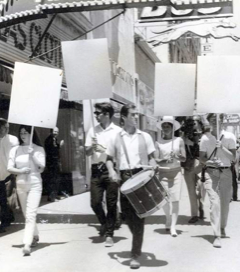 ---