A Flight of Sites: Dance in Innovative Spaces
Saturday, October 24–Sunday, October 25, 2020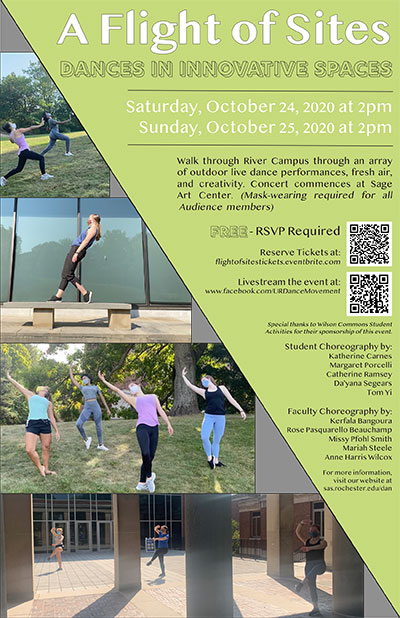 ---
An out-of-doors series of site-specific dance performances created by University of Rochester students and faculty! Experience River Campus through a socially distanced walking tour to reveal an array of outdoor live dance performances, fresh air, and creativity. (All audience members are required to wear a mask.)
This event is free, but RSVP is required (due to social distancing requirements), and capacity is limited. Reserve tickets at flightofsitestickets.eventbrite.com.
Livestream the event at www.facebook.com/URDanceMovement.
Special thanks to Wilson Commons Student Activities for their sponsorship of this event.
Student choreography by:
Katherine Carnes
Margaret Porcelli
Catherine Ramsey
Da'yana Segears
Tom Yi
Faculty choreography by:
Kerfala Bangoura
Rose Pasquarello Beauchamp
Missy Pfohl Smith
Mariah Steele
Anne Harris Wilcox
Additional Details
Flight of Sites, Dances in Innovative Spaces is an inspiring example of how to confront limitations with creativity. So, when you can't have an audience in a traditional theater, why not take the show outdoors! On the afternoon of October 24 and 25, at 2pm, students and faculty of the UR Program of Dance and Movement will showcase their creative responses with seven site-specific new works choreographed for diverse spaces throughout the River campus. Student choreographers who have embraced this challenge with innovation include: Katherine Carnes with her duet, The Moment of Lift (along the banks of the Genesee); Da'yana Segears trio, Hidden Depths at Hoyt Hall; Catherine Ramsey and Margaret Porcelli's collaborative piece, Red Hands(Sage Arts Center), and Tom Yi 's vernacular jazz-based dance, Jump for Joy (porch of Wilson Commons).
In addition to student choreography, Flight of Sites also features faculty work: May the Road Rise up to Meet Us, a quintet choreographed by Anne Harris Wilcox (at Susan B. Anthony); a co-collaborated faculty piece by Rose Pasquarello Beauchamp, Missy Pfohl Smith, Mariah Steele, and Anne Wilcox, featuring six first-year students. entitled, Common Ground(nestled between Douglas Commons and Wilson Commons); and a closing celebratory dance with Sansifanyi, the West African Dance and Drum Ensemble under the direction of Kerfala Fana Bangoura on the lawn of Lattimore Hall.
The pandemic has significantly affected the performing arts worldwide. In our global effort to keep people healthy and safe, many of our favorite performances have necessarily been cancelled or re-envisioned for on-line viewing. Given the importance of insuring performers' and audiences' well-being, the Program of Dance and Movement has chosen to move outdoors this Fall to provide a live performance experience with safe viewing. To expand our limited viewing, the performances will also be Livestreamed via the Program of Dance and Movement's Facebook page. All in-person attendees must abide by the Covid-19 safety protocols of mask-wearing and social distancing. Thes measures enable us to bring you this live experience! We are so proud of our choreographers and dancers for stepping up to this creative challenge and venturing into new territory (literally)! As a special feature, Wilson Commons Student Activities, is graciously sponsoring hot chocolate outside at Douglas Commons for registered attendees! This will be a marvelous time to have conversation about the concert and be in community together. Reservations are now available. We hope you will join in as we traverse campus to experience this array of outdoor live dance performance, fresh air, and creativity!
The enemy of art is the absence of limitations! – Orson Welles