On the Rise: Young Choreographers of Color
This is made possible by New York State DanceForce, a partnership program of the New York State Council on the Arts with the support of Governor Andrew M. Cuomo and the New York State Legislature, as well as from Alfred University.
Friday, October 9, 2020
2:45 p.m.–4 p.m.
Zoom Meeting ID: 921 4298 2745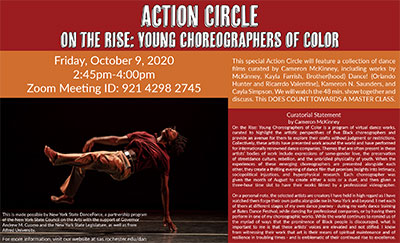 This special Action Circle will feature a collection of dance films curated by Cameron McKinney, including works by McKinney, Kayla Farrish, Brother(hood) Dance! (Orlando Hunter and Ricarrdo Valentine), Kameron N. Saunders, and Cayla Simpson.We will watch the 48 min. show together and discuss.
This DOES COUNT TOWARDS A MASTER CLASS.
Curatorial Statement
by Cameron McKinney
On the Rise: Young Choreographers of Color is a program of virtual dance works, curated to highlight the artistic perspectives of five Black choreographers and provide an avenue for them to explore their crafts without judgment or restrictions. Collectively, these artists have presented work around the world and have performed for internationally renowned dance companies. Themes that are often present in these artists' bodies of work include expressions of same-gender love, the preservation of street dance culture, rebellion, and the unbridled physicality of youth. When the experiences of these emerging choreographers are presented alongside each other, they create a thrilling evening of dance film that promises insights into intimacy, sociopolitical injustices, and hyperphysical research. Each choreographer was given the month of August to create either a solo or a duet, and then given a three-hour time slot to have their works filmed by a professional videographer.
On a personal note, the selected artists are creators I have held in high regard as I have watched them forge their own paths alongside me in New York and beyond. I met each of them at different stages of my own dance journey - during my early dance training at Bates Dance Festival, while dancing for professional companies, or by having them perform in one of my choreographic works. While the world continues to remind us of the myriad of ways that the prominence of Black people is discouraged, what is important to me is that these artists' voices are elevated and not stifled. I know from witnessing their work that art is their means of spiritual maintenance and of resilience in troubling times- and is emblematic of their continued rise to excellence.