Student Perspectives
Students in our PhD program come from a range of backgrounds and work in an array of domains within the brain and cognitive sciences, but all seek to understand behavior and how it depends on underlying mechanisms.
You can learn more about our body of outstanding students by browsing their web pages. To make it easier to appreciate the variety of students' backgrounds and interests, we offer snapshots of students who are at different stages in their careers, who came to the program with different backgrounds and expectations, and whose research falls in different parts of our domain.
Student Snapshot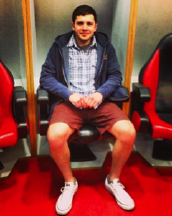 Frank E. Garcea is a third-year graduate student studying the cognitive and neural bases of conceptual knowledge under Brad Mahon. Frank came to Rochester after earning a BS in psychology from St. John Fisher College, in Rochester, NY.
"I joined the Concepts, Actions, and Objects lab as an undergraduate student and from day one I was hooked. The research I was conducting in the brain and cognitive sciences (BCS) department under the guidance of Brad Mahon was very interesting, and I knew that I wanted to stay in the BCS department for graduate school.
What was equally as gratifying for me was the relationship among graduate students and faculty members in the department: everyone is friendly, productive, and collaborative. Despite the fact that the research being done varies from student to student, there is a concerted effort in the department to make sure graduate students are making progress, have the resources necessary to succeed, and, most importantly, are happy. That, coupled with the stipend and low cost of living in Rochester has made graduate life quite enjoyable for me!"
Goker Erdogan is a third-year graduate student under Robert Jacobs.
"While I was doing research in machine learning during my master's, I found myself feeling that we were missing important pieces of the puzzle of intelligence. What better way could there be to find those missing pieces than to look at the most intelligent machine we know of: our brains? I needed to understand how the brain works and transfer what I learned into computer models and algorithms.
While looking at the top brain and cognitive sciences programs in the US, I came across University of Rochester. I knew Robert Jacobs from his influential work in neural networks and machine learning, and his lab seemed like a perfect match for my dual interests in cognitive science and artificial intelligence. Another important factor was the opportunity to do a joint PhD in both brain and cognitive sciences and computer science. The close ties between these two departments was exactly what I was looking for. After hearing really good things about the department and Jacobs lab from my professors and former students in the lab, I applied, and thankfully I got accepted.
In deciding between Rochester and other departments, I must say the generous stipend offered by the department helped a bit as well. Now, I am here in my third year doing a joint PhD in BCS and computer science. I learned more than I could imagine in my time here so far, and I have been involved in some really interesting research. This has been a joyful journey so far, and I am looking forward to the years ahead!"

Nicole Peltier is a second-year graduate student under Greg DeAngelis.
"I studied brain and cognitive sciences as an undergrad at the University of Rochester, and I decided to stay in Rochester for my PhD because my professors were so passionate about their research. They enthusiastically engaged in discussions with students about new research questions and how to explore them, encouraging them to pursue independent research projects. I had the chance to learn a number of research techniques with different professors, a unique opportunity that my friends did not have in other departments and at other universities. I knew that staying in Rochester for graduate school would provide me with the support I needed to develop into a successful researcher.
In my time as a graduate student, it has been clear that the BCS program at U of R builds well-rounded academics. Faculty members encourage students to collaborate with other academics and embark upon interdisciplinary research projects. There are always opportunities to learn outside of the classroom and lab, including lunch talks, symposia, and cognitive science dinners. While learning to be independent researchers, students take a grant writing course so that they will be able to fund their own research in the future. Rochester provides a truly enriching environment to develop the tools needed to flourish in academia, and I am excited to see where these skills take me."
Shirlene Wade is a first-year graduate student studying learning and development with Celeste Kidd. She came to Rochester after earning a BA in psychology and linguistics from the University of California, San Diego.
"Coming from California, I had no idea I'd end up in Rochester, New York, for graduate school. I initially considered the BCS program because it had a strong reputation as a graduate program and I had overlapping interests with many faculty members. It wasn't until I attended the prospective weekend that I realized how much the BCS program embodied all of the qualities I looked for in a graduate program: invested faculty; a supportive and collaborative research environment; and successful alumni in academia.
The BCS department was a tight-knit group of highly motivated students and faculty members. By the end of the prospective weekend, there was no doubt in my mind that I would attend U of R. Since coming to Rochester, I have been working on multiple projects with an incredibly supportive advisor. On my graduate stipend, I can afford to live in my own one-bedroom apartment that is a quick shuttle ride from campus!"