Internships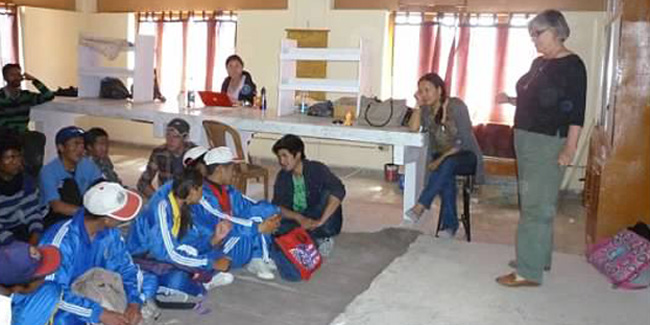 The public health program offers numerous opportunities for real-world experience supervised by both community and faculty mentors.
Community Engagement Internship for Public Health Students (PH 397W)
This course, offered in both the fall and the spring semesters, is an opportunity available to juniors and seniors who have declared their major in public health.  

PH 397W gives students a mentored community project under the auspices and supervision of a University faculty member and community agency in Rochester, NY, working with an under-served population on an identified area of health promotion.
Students spend eight hours per week working at their community site. A weekly seminar led by multiple faculty members gives academic support to the internship. Admission to the course is by application only. Applications are accepted the Wednesday after fall break and the Wednesday after spring break.
Summer Field Schools
The public health program offers mentored field experiences at two different mountain sites. At these sites, students can explore health challenges that affect mountain communities, such as:
High-altitude stress
Long distances to markets
Isolation in the winter
Short growing seasons
A fragile eco-system vulnerable to natural disasters (e.g., landslides and floods)
More recently, mountain communities have also faced a surge in tourism with its own set of benefits and risks, including increased drug and alcohol use and further stress on mountain ecologies. 
Mountain Health Field School—Ladakh, India
This mentored field experience takes place over three to four weeks during the summer in a Himalayan region of north India. Rochester students team up with a faculty mentor to work with the local Ladakh health department, hospital, and community-based organizations in support of tobacco control. 
Students gain skills and experience in:
Community engagement
Participant-observation
Interviewing
Survey research
Analytics and presentations back to stakeholder groups
Upon their return to the US, students often continue to work together on conference presentations of their summer work.
Mountain Health Field School—Borca di Cadore, Italy
This mentored field experience takes place over three to four weeks during the summer in a small village in the Italian Dolomites, 100 kilometers north of Venice. Working closely with local residents and leaders, we use traditional anthropological tools of participant-observation, in-depth interviewing, focus groups, mapping, and surveys to identify village assets and challenges in meeting the health and wellness needs of its residents. All findings are shared with the villagers before our departure.
Independent Study at a Rochester Community Agency
Students can develop individual work plans with input from a faculty mentor who has a relationship with local Rochester agencies. In recent years, students have worked with the department of social work at Strong Memorial Hospital and with Planned Parenthood of Rochester.