Program Overview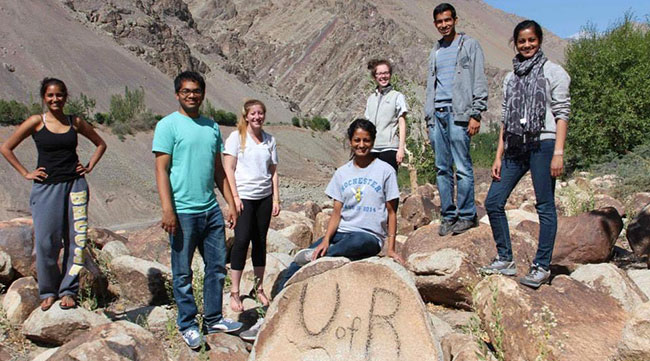 UR Team 2014 West Ladkah Camp
The study of public health provides a rich intellectual framework for the multidisciplinary study of some of society's most challenging problems.
As a student in the public health program, you will develop the skills needed to understand and respond to health challenges that arise in local, regional, and global populations.
In addition to bachelor's degree offerings, we also offer a number of minors and clusters, as well as a 3-2 program for especially mature and dedicated undergraduate students. The majors share a set of common core courses across the key areas of the field, which allows you to understand health and health care from a multidisciplinary perspective.
Degree Options
Bachelor of Science:
Environmental Health (Natural Science Division)
Bachelor of Arts:
Bioethics (Humanities Division)
Epidemiology (Social Science Division)
Health, Behavior, and Society (Social Science Division)
Health Policy (Social Science Division)
Graduate:
Master of Public Health (3-2 Program)
Public Health at Rochester
Our program builds on existing faculty expertise and research strengths in the College and the Medical Center.
As a result, you can:
Explore your interests in community health from a variety of perspectives, including natural sciences, social sciences, and humanities.
Choose a major, minor, or complete a cluster within the program.*
Integrate your major with an interest in the health professions, such as medical or dental school.**
Participate in credit-bearing internships, adding real-world experience to your resume.
Conduct research alongside experienced faculty.
Complete an honors thesis during your senior year.
* You may choose to major, or minor, or complete a cluster within the program, but may not do more than one.
**Pre-health students may approach completing the necessary pre-health admission requirements in several different ways. It is to the applicants' advantage to tailor their schedules to reflect their specific needs and strengths. We strongly encourage you to consult with a Health Professions advisor in the Gwen M. Greene Career and Internship Center (4-200 Dewey Hall) for further program planning assistance.
Graduate Study and Career Opportunities
You will graduate with a strong background in the history of public health, and in relevant concepts and tools necessary to assess population health and think about ethical questions that arise in medicine and public health.
Our programs offer you the skills and insights that will allow you to confront complex challenges in a variety of settings. You will also be prepared for immediate careers, graduate school, or professional study in such fields as:
Anthropology
Biostatistics
Environmental Health
Epidemiology
Law
Medical humanities
Medical sociology
Medicine
Philosophy
Psychology
Public health
Statistics
Toxicology
Our program graduates go on to work in:
Local, state, and federal health agencies
Academic departments within schools of public health, schools of medicine, or colleges of health sciences
Insurance companies
Pharmaceutical companies
Private consulting firms
Legal practice
Non-profit agencies
Hospitals and health systems
Our students also attend graduate school for degrees such as:
Master of Public Health (MPH)
Master's and doctoral degrees in philosophy, history, English, and statistics
Doctoral degrees in epidemiology, environmental health, health services research, and policy, economics, toxicology, or political sciences
Doctor of Medicine, Doctor of Dental Surgery, and Doctor of Dental Medicine degrees