The office has moved.
Our new office location is 203 Lattimore Hall.

---
Annual Undergraduate Public Health Research Colloquium
April 25, 2017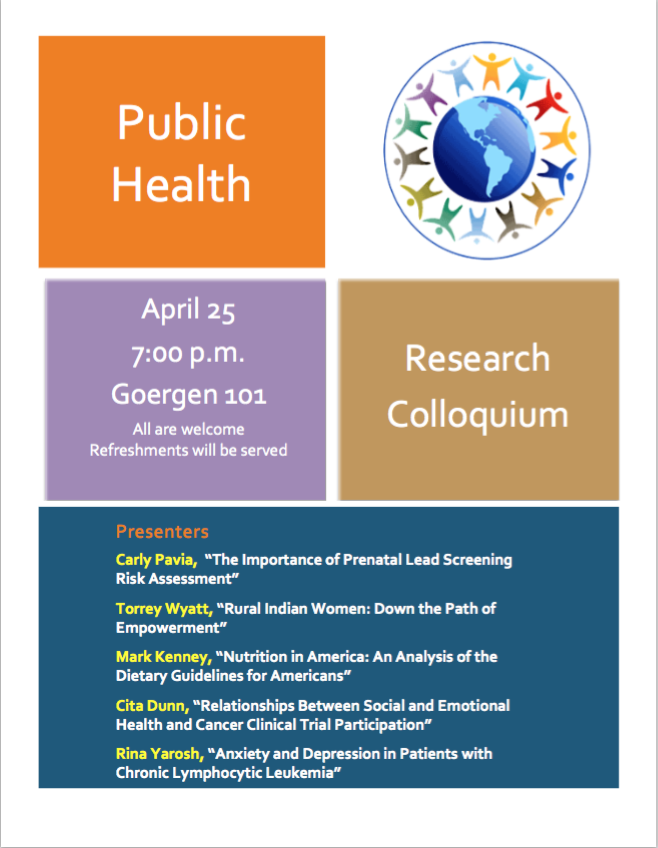 ---
Program Launches Environmental Health Major
Almost 25 percent of the global disease burden is due to environmental factors. These factors particularly impact communities that already face social and economic challenges. Therefore, understanding and addressing these environmental risks requires an interdisciplinary perspective that not only emphasizes natural sciences but also integrates public health-related and social disciplines. To provide students with this perspective and prepare them to address real-world problems, the Undergraduate Public Health-related Programs at University of Rochester offers a newly-approved degree program in environmental health. Environmental health is defined as the science and practice of preventing human injury and illness and promoting well-being by identifying and evaluating environmental sources and hazardous agents that may be harmful to human health.
The B.S. in environmental health is an interdisciplinary program that provides a strong foundation in the natural sciences, a broad background in public health-related sciences, as well as the strong analytical and communication skills needed to study and solve environmental health problems. After graduating with a major in Environmental Health, students should understand how man-made and natural factors contribute to human exposure to environmental toxins and pathogens; integrate multiple disciplines to enhance understanding and develop potential solutions to reduce the burden of environmental health exposures and their consequences; and understand the social, economic, and cultural contributors to the creation and resolution of environmental health problems. The acquired knowledge and skills are excellent preparation for continued graduate education and careers in environmental medicine, environmental health consulting, or related disciplines in public health and medicine.
Click here to see the requirements for the major.
---
New Center to Advance Bioethical Education, Training
Alumnus Paul M. Schyve, M.D., has committed $5 million to the University to support the study and practice of bioethics in health care and research. The center will advance bioethical training and education throughout the region; help professionals, patients, and families make bioethical decisions; and enhance community understanding of bioethical issues. Housed at the Medical Center, the center will unite programs across the entire University through the creation of a bioethics counsel. Read more>>
---
Peer Advisors
There are peer advisors available for students majoring in Health, Behavior, and Society. For information, go to the Peer Advisors web page.
---
Summer Study Abroad
Find out how four Public Health majors spent their summer: Smoking Cessation in the Foothills of the Himalayas.