Third Biennial Seneca Falls Dialogues - Politics of Leadership and Civil Rights
Friday, October 19, 2012 through Sunday, October 21, 2012
1 a.m.
Seneca Falls, NY
Conference/Dialogues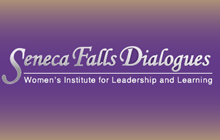 Join scholars, activists, and students for a weekend of dialogue about the Politics of Leadership and Civil Rights. Conference themes include voice, location, identity, alternative forms of leadership, and rights and freedoms. Visit http://senecafallsdialogues.com/ for more information and registration. Event sponsored by Hobart and William Smith College, Monroe Community College, SUNY Brockport, St. John Fisher College, University of Buffalo, University of Rochester, and the Women's Institute for Leadership and Learning.