Personal Storytelling and the Metaphor of Belonging: A Discussion with Dr. Ezra Griffith, MD
Thursday, September 20, 2012
9:30 a.m. - 11 a.m.
Class of '62 Auditorium, University of Rochester Medical Center
Presentation and Discussion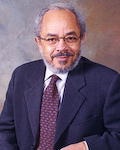 Dr. Ezra H. Griffith, MD, will give a presentation and lead a discssion about why the metaphor of belonging is so important, and how we affect it. Dr. Griffith is Emeritus Professor of Psychiatry and African-American Studies and Deputy Chairman for Diversity and Organizational Ethics at Yale School of Medicine (Department of Psychiatry). Event is free and open to the public. Contact 275-3571 with questions.