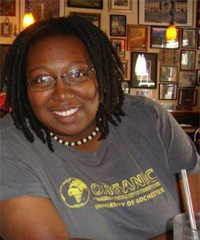 Jessica Bohanon
University of Rochester, BA in Anthropology and Religion, 2011
Current Occupation: Program Facilitator for the CIEE Khon Kaen Development & Globalization Study Abroad Program in Khon Kaen, Thailand
Current Residence: Khon Kaen, Thailand
Study Abroad Experience:
 Location: Malawi; Delhi, India; Khon Kaen, Thailand; Bizreit, Palestine
 Duration: 1 year, 2 semester programs, and a summer program
Activities: UR Cinema, ADITI, SADACA, Religious Roundtable, HAS, MSA
When and why did you choose to study abroad? What factors (your major, other commitments, Take Five) did you weigh as you were making the decision to study abroad?
I studied abroad the summer after my sophomore, the spring of junior year and fall senior year. After I declared as both anthropology and religion majors I felt it was important to live in places where I could experience first hand what I had been studying in class.
Who at UR encouraged you to pursue this option?
From the day I first met Jacqueline Levine, the Director of Study Abroad, she was insistent that I think about studying abroad. Also, many of the anthropology professors suggested going abroad as a good way to use the skills they were teaching in my anthropology classes.
Beyond the academic work, how did you engage with your new "community" and culture while you were away from Rochester?
Going to the movies in another country is quite an experience! I also made a point of picking a restaurant and going there often. This was a great way to make friends and improve my language skills in a friendly environment. Finally, I made sure to visit religious and historical sites whenever I could.
What do you do now and why did you choose this career?
Currently I am a Program Facilitator for the CIEE Khon Kaen Development and Globalization Study Abroad Program in Khon Kaen. Which is basically a fancy way of saying that I work with and mentor students.
Where would you like to be in five years?
I would like to be working for the US Government as either a political officer in the State Department's Foreign Service, or as a political analyst for the C.I.A. Ideally I'd also be fluent in Arabic by this time.
What advice do you have for current students contemplating studying abroad?
Do it! No matter where you decide to go, you'll never regret your experiences abroad. Studying abroad not only gave me a better understanding of the world around me, but it has consistently opened doors for me.