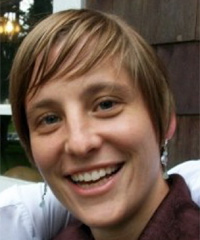 Meg Barritt
University of Rochester, BA in Religion
Clark University, MA in International Development and Social Change
Current Occupation: Program Manager for US-Brazil Connect
Study Abroad Experience:
 Location: Kenya
 Duration: 1 semester
When and why did you choose to study abroad? What factors (your major, other commitments, Take Five) did you weigh as you were making the decision to study abroad?
I decided to study abroad the summer before junior year. The hardest decision for me was balancing my desire to study abroad for a year with my commitment to playing soccer at UR. I decided that going abroad for a semester in the spring was best, so I wouldn't miss a season and could finish out my soccer career with my starting class. I think it was a good decision.
What was returning to campus like for you?
Returning to campus was tough because people were interested in your experience, and they asked about it,  but never in a really in-depth way. I think it was hard for them to ask the right questions or to really share my experience (understandably), so that was a bit frustrating. What that caused for me was a clearer conviction about how that experience had changed my life, so maybe the lack of understanding by my peers was a good thing.
What did you do immediately after graduation? How did you decide to take that path?
Following graduation, I moved to Prague and took a Teaching English as a Foreign Language (TEFL) course. I knew that education was a passion of mine, and I wanted to try teaching ESL before jumping into a master's program in education. I learned a lot in the year that I taught English in a small town about an hour from Prague. One of the key things I learned is that I didn't want to be a classroom teacher, but that somehow being connected to education was an important thing for me personally and professionally.
What do you do now and why did you choose this career?
I just completed an amazing 4.5 years working in program management for a refugee resettlement agency. My role was overseeing employment and training programs for newcomer refugee adults. I've taken those skills to my new job of working as the Program Manager for an organization that creates paid fellowships for college students to develop global leadership skills through faciliting an English-immersion experience for Brazilian high school technology students. The common thread that I see across all of my jobs is a real interest in using education as a tool for positive social change, working multiculturally or multinationally, and continuing to build my program management and organizational development skills.
What skills, tools, or knowledge gained from studying abroad do you draw on since graduation?
I left my time in Kenya really being overwhelmed by Kenyans' happiness and generosity. The biggest thing I left with was a sense of a much larger world, one in which material belongings are of little importance and that things like family, health and community are much more important. It's a pretty big life lesson.
What advice do you have for current students contemplating studying abroad?
Absolutely study abroad. There's no question that my experience in Kenya was one of the most, if not the most, formative experiences of my life. You'll miss campus briefly, and then be so fully engaged in an incredible experience that you won't miss it at all. When you'll return, your friends will welcome you back, and you'll easily get into the swing of things. You'll still participate in many of the same things as before, but with a new perspective and with a life experience that has reshaped who you are.