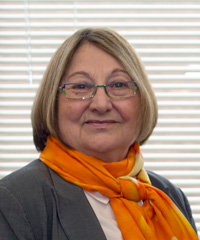 ---
Research Overview
Professor Emmett received her B.A. from the Hebrew University in Jerusalem Israel, in English Literature, Sociology, and Anthropology and her M.A. and Ph.D. in Anthropology from the University of Rochester. Professor Emmett's dissertation research, which was supported by the National Institute of Mental Health, focused on the articulation of gender and ideologies of equality. Her doctoral research explored parenthood as a site for constructions of American ideologies of equality at the intersection of domestic and public roles. Parenthood brought forth a complex navigation of equality/inequalities in which gender intersected with larger social struggles of marginalized groups for equality.  
Emmett's second large project was located in Israel and shifted the focus from domestic to public articulations of gender as women's peace groups challenged the state's claims of democratic ideas of equality in the face of its continued occupation. Women's peace groups were embedded in complicated ways in the intersection of gender inequalities in Israeli Jewish society, the state's occupation of Palestinian territories, and the marginalization of Israeli-Arab citizens. Emmett's current project in the United States focuses on Diaspora-Homeland relations and is two-fold: it focuses on an ongoing gender struggle for women's equality in synagogues and on a fast emerging and influential J Street, a Jewish American group promoting peace and a two-state agreement. While different in their construction of Diaspora-Homeland relations, both movements draw on shared sources of legitimacy for inclusive equality and provoke nuanced meanings of nation, religion and ethnicity.
As part of this project Emmett launched in 2014 a website, The Jewish Pluralist that offers a space for the publication of diverse articles concerned with living traditions of Judaism embedded in contemporary concerns of Jewish and non-Jewish life in America and Israel; it questions conventional divisions between secular and Jewish ethics of justice and examines the intricacies of a shared historic heritage and the different life experiences of Israelis and Americans that shape their respective concerns with ethics and social commitment.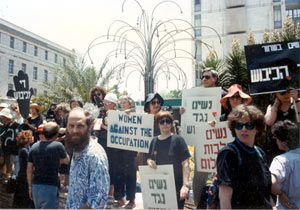 Women in Black Peace Vigil, Jerusalem, 1990
Professor Emmett's book on Israeli politics and women's peace activism, Our Sister's Promised Land: Women, Politics and Israeli-Palestinian Coexistence, was supported by a grant from the Lucius N. Littauer Foundation and published by The University of Michigan Press in 1996. Her book was reissued in a paperback 2003 edition with a new, updated introductory chapter.
Professor Emmett has widened her scholarly, publications, and teaching interests to include creative ethnography. She was the recipient of the 2000 Humanistic Anthropology Fiction Award for her story "Going to America Under the Jacaranda Tree." Three of her ethnographic fictions stories were published in Anthropology and Humanism. Two of these stories are chapters from her ethnographic novel After the Disappearance, about the shocking disappearance of well-known Israeli journalist who promoted the rights of Israeli-Arabs in the 1950s.
Professor Emmett was the Chair of the Society for Humanistic Anthropology Fiction Award, the Associate Editor of the journal Sex Roles and is the founder and director of Seeds for College, a university affiliated and community-based foundation with the goal of helping inner city minority children to successfully graduate from high school and awards them seed money to go to college.
Selected Publications
BOOKS AND SPECIAL ISSUES
After the Disappearance. Located in Israel in 1955
Our Sisters' Promised Land: Women's Peace Politics And The Israeli Palestinian Conflict. Michigan University Press. 1996
In paperback with a new introduction, 2003.
Globalization and Local Cultures: Maya Women Negotiate Transformations. Sex Roles. (With Ellen Kintz) Special Issue, 39, Nos. 3/4. 1998
Cross-Cultural Perspectives Aggression in Women and Girls. Sex Roles. (With Douglas P. Fry) Special Issue, 30, Nos. 3/4. 1994
PEER-REVIEWED ARTICLES, BOOK CHAPTERS & BOOK REVIEWS
"A Ritual Garment, the Synagogue and Gender Questions" The journal Material Religion, Volume 3, Issue 1, March, 2007.
"Palestine, Israel, and the Politics of Popular Culture" book review. In Cultural Anthropology Volume 34, Number 2, May 2007.
"Citizens of the state and political women" in (Esther Fuchs editor) Israeli women's studies: a reader. Rutgers University Press. 2005
"Going to America Under the Jacaranda Tree" Anthropology and Humanism, Vol. 26, No. 1 June 2001.
"Rage and Grief: Collective Emotions in the Politics of Peace and the Politics of Gender in Israel" Culture, Medicine, and Psychiatry , Vol. 16, 311-335, 1992.
Book Review: Howard Eilberg-Schwartz, The Savage in Judaism: An Anthropology of Israelite and Ancient Judaism. Journal of the American Academy of Religion. Vol. LX, No 1, 153-158, 1992.
"Sex and Gender as Raw Political Material: Local Women Negotiate Globalization" Sex Roles, 39, Nos. 7/8, 503-513, 1998.
"De-Mystifying the Poor and the Peasants: Women Making Reproductive Choices." Reviews in Anthropology, Vol. 18, 75-84,1991.
"Politics, Ideology and Scholarship: Anthropology Facing Women's Studies." Urban Anthropology, 18, No 1, 113-122, 1989.
 "Pregnancy and Parenthood in Two Subcultures: A Comparison of White Middle Class Couples and Black Low-Income (With E.R. McAnarney) Adolescents in Rochester, NY." Adolescence, Vol. XVIII, No. 71, 595-608, 1986.
"Cultural Values and Biomedical Knowledge: Choices in Infant Feeding." (With R.A. Lawrence)  Social Science and Medicine, Vol. 23, No. 5, 501-509, 1986.
"On Changes in Weight of Expectant Fathers," in The Use and Abuse of Medicine, Marten W. DeVries, Robert Berg and Mack Lipkin, eds. New York: Praeger, pp. 118-122, 1982.
ETHNOGRAPHIC FICTION IN PEER-REVIEWED JOURNALS
"The Journalist " Anthropology and Humanism, Vol. 34. 2009
"A Mother-in-Law" Anthropology and Humanism, Vol. 33. Issue 1/2 pp. 95-100. 2008
"Going to America Under the Jacaranda Tree" Anthropology and Humanism, Vol. 26, No. 1. 2001
Teaching
List of Past Courses
ANT 101: Cultural Anthropology
ANT 103: Women in Society: A crosscultural Perspective
ANT 204: Ethnographic Themes
ANT 216: Medical Anthropology
ANT 244: Marriage, Families and Community in a Global Perspective
ANT 217: Kinship on the Medical Frontier
ANT 245: American Culture
ANT 274: Creative Ethnography
ANT 303: Advanced Topic Seminar: Piety and Politics
Honors
2013 Award of Appreciation for Excellence in Teaching and Mentorship Class of 2013 Department of Anthropology, University of Rochester
2008-10 Chair, Society for Humanistic Anthropology, Fiction Award
2009-2010 Fulbright-Hays Screening Committee
2000-2008 Associate Editor, Sex Roles.
2000 Society for Humanistic Anthropology 2000 Fiction Award
1992 The Lucius N. Littauer Foundation Grant
1990 Visiting Professor, Haifa University, Israel
1987 Susan B. Anthony Center Research and Development Award
1977-1979 National Institute of Mental Health Graduate Fellowship