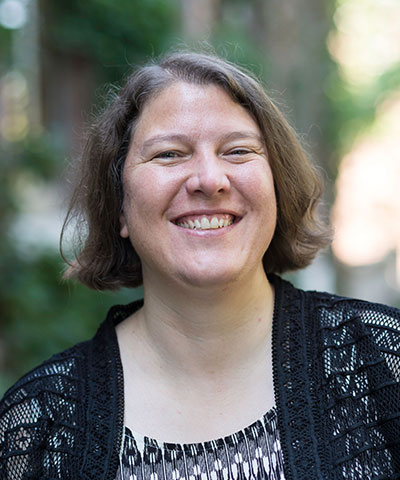 Rachel Remmel
Assistant Dean and Director, Teaching Center
PhD, University of Chicago
208A Lattimore Hall
(585) 275-4367
rachel.remmel@rochester.edu
Office Hours: By appointment via the Bookings page accessed via my course on Blackboard
---
Courses Offered (subject to change)
 Introduction to Modern Architecture
 African-American Visual Culture
 Architecture of American Houses
 Art and the Culture Wars
Selected Publications
"The Audiences for School Architecture: Projecting Civic Virtue in Boston, 1847-1860," in Peter Benes, ed., Dublin Seminar for New England Folklife 2015 Annual Proceedings: Schooldays in New England, 1650-1900 (Deerfield, MA: Historic Deerfield, 2018), 100-113

"'Those Ladies of Finest Culture… Are Truly Our Working Women': Gender Unity, Class 

Fractures, and the South Kensington Museum Model in Cincinnati, 1876-1890," 

Journal of Women's History Vol. 29 No. 2 (Summer 2017)

"The Spaces of the Schoolhouse and the City: Gender and Class in Boston Education, 1830-1832," 

The Journal of the History of Childhood and Youth, Vol. 7 No. 2 (Spring 2014)

"Book Review: Kate Darian-Smith and Julie Willis, eds. Designing Schools: Space, Place and Pedagogy (NY: Routledge, 2017)," History of Education Quarterly 58 No. 1 (February 2018)

"Book Review: Jonathan Zimmerman, Small Wonder: The Little Red Schoolhouse in History and Memory 

(New Haven: Yale University Press, 2009)," Buildings & Landscapes: Journal of the Vernacular 

Architecture Forum 19 No. 1 (Spring 2012), 120-22.
Awards
Spencer Foundation, Chicago, IL, Small Grant, Field-Initiated Proposal, 2011-2012
Society of Architectural Historians, Chicago, IL, Scott Opler Emerging Scholar Fellowship for Membership, 2007
Graham Foundation for Advanced Studies in the Fine Arts, Chicago, IL, Carter Manny Award (Dissertation Fellowship for Architectural Studies), 2005
Henry Luce Foundation/American Council of Learned Societies, NY, NY, Doctoral Dissertation Fellowship in American Art, 2004-2005