Giving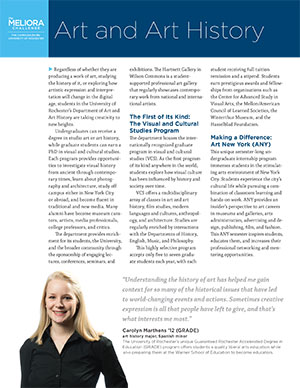 Thank you for considering giving a gift to the Department of Art and Art History. Gifts to the department help enhance creative and academic pursuits for our students and faculty, and enrich their experience at Rochester.
You can donate to the program online by selecting "Other" under "Choose where you'd like to designate your gift," and then writing in "Department of Art and Art History" in the field via this secure online form.
You can also donate to one of the established Art and Art History funds listed below, by writing in the fund name, instead of the department under "Other".
You can also donate via mail or wired funds by following the directions outlined on the advancement site.
Learn more about what your gift means to the department through our flyer (PDF).
Current AAH Funds
The Elizabeth M. Anderson Prize
Established in 1891, the prize is given annually to a member of the senior class who has attained proficiency in the special study of art or who writes a thesis on a subject connected with art.
The Celeste Hughes Bishop Award and Scholarship Fund
This award is given annually to undergraduate and graduate students for academic accomplishments, teaching achievements, and general contributions to the Department of Art and Art History and the graduate program in Visual and Cultural Studies.
The Roger Mertin Memorial Prize for Excellence in Studio Art
In memory of Roger Mertin (1942–2001), who taught photography at the University of Rochester for twenty-six years, the Department of Art and Art History has established this scholarship fund for outstanding undergraduate students.
The department hopes to raise enough money to be able to guarantee an award of $500 per year for a deserving student for many years to come. Any of Roger's friends, colleagues, family, or former students who would like to contribute, please send a check made out to "University of Rochester" to: Mertin Fund, Department of Art and Art History, 424 Morey Hall—RC Box 270456, University of Rochester, Rochester, NY 14627.
Contact
For more information, email administrative assistant Martin Collier at marty.collier@rochester.edu.