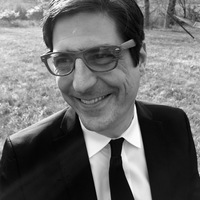 Christopher P. Heuer
PhD, Berkeley, 2003
521 Morey
(585) 276-6052
cheuer@ur.rochester.edu
Office Hours: By appointment, via Zoom
---
Biography
Christopher P. Heuer is a historian of early modern art. His teaching and research engage the theories, ecologies, materialisms, and politics of cultural experience from AD 1400 to the present.
His most recent book, Into the White (Zone/Princeton UP, 2019) was named one of the "Top 5 Books" written on Northern Renaissance Art. In 2022 Heuer was a Scandinavian-American Fellow at Göteborgs Universitet, and before that (2019), Harvard University's Bernard Berenson Fellow, at I Tatti in Florence.
A Fulbright scholar, Heuer trained at Berkeley, Leiden, Columbia, and Princeton. His writing has appeared in Art History, October, Grey Room, Lapham's Quarterly, Kunstschrift, Artforum, The Burlington Magazine, Oxford Art Journal, Sixteenth Century Journal, The Brooklyn Rail, Word & Image, The Los Angeles Review of Books, and—for some reason—The Wall Street Journal.
Heuer has received awards from CASVA, the Kress, the Getty, the DAAD, the Alexander von Humboldt-Stiftung, and others. Thanks to dear comrades, he remains a founding member of the international collective Our Literal Speed.
Heuer's newest book is about early modern underworlds.
See full publications at https://rochester.academia.edu/ChristopherHeuer
Research Overview
Research Interests
Early Modern art and theory
the history of art history
replicative technologies
art and prehistory
environmental aesthetics
disaster studies
performance
the American civil rights movement
Courses Offered (subject to change)
 Introduction to Visual Culture
 The Early Modern Atlantic
 Arctic Aesthetics
 Nature and Failure
 The Altarpiece
 Replication and Movement
 Inundation and Catastrophe
 Leonardo's Worlds
Selected Publications
Books
Andrea Büttner: Liber Vagatorum, Der Bettler Orden (Köln: Walther König, 2020)
Into the White: The Renaissance Arctic, the End of the Image (Zone Books/Princeton University Press, 2019)
Ecologies, Agents, Terrains (Clark Studies in the Visual Arts 15) (with Rebecca Zorach) (New Haven: Yale University Press 2018)
Vision and Communism (with R. Bird, et. al) (New York: New Press, 2011)
The City Rehearsed: Object, Architecture, and Print in the Worlds of Hans Vredeman de Vries (New York and Oxford: Routledge, 2009, paperback, December 2013)
Select Recent Articles and Chapters
"Pulverized Regions of Time" Oxford Art Journal 44:3 (2021)
"Pregnant with Its Contrary: Francis Klingender's Future Visions" Resolution 2 (2021)
"The Envious Destroyer of All Things" 21: Beiträge zur Kunstgeschichte und visuellen Kultur 1 (2020)
"Truth of Earth: Fossils, Force, and Leonardo" in Francesca Borgo, ed. Leonardo e Gli Altri (Berlin: Deutscher Kunstverlag, 2019), 303-317.
"Fear of Begging" in: Andrea Büttner: Poverty Pieces (Vienna: König, 2018), 281-292.
"Kinesis and Death in Lautensack" in Ashley West, ed. The Primacy of the Image in Northern European Art 1400-1700: Essays in Honor of Larry Silver (Leiden: Brill, 2017), 412-420.
"The Task of Art" Art in America (April 2017), 82-89.
"Arctic Matters in Early America" in: Jennifer Roberts, ed. Scale (Chicago University Press/ Terra Foundation, 2016), 230-264.
"Ornamental Defacement" in Alina Payne, ed. Ornament as Portable Culture: Between Globalism and Localism (Princeton University Press, 2016), 155-165; 375-377. 
"Under the Impression: Hercules Segers" Artforum 55 (September 2016), 185-6.
"Diaprojektion als Lehr- und Analysemethode" in: Matteo Burioni, Burcu Dogramaci, Ulrich Pfisterer (eds.): Kunstgeschichten 1915. 100 Jahre Heinrich Wölfflin: Kunstgeschichtliche Grundbegriffe. (Passau: Klinger 2015), 229-231.
"Niemand vor Bruegel" in Birgit Münch, ed. Bauern, Bäder und Bordelle: Die Genese der Genremalerei bis 1550 [Trierer Beiträge zu den historischen Kulturwissenschaften 8] (Wiesbaden, 2014), 81-95.
"Hundreds of Eyes'" Journal of Art Historiography 10 (Dec 2013), Online at: http://arthistoriography.files.wordpress.com/2013/12/heuer.pdf 
"Entropic Segers" Art History (Summer 2012), 934-957. 
Awards
Harvard University, Villa I Tatti, Berenson Fellowship, 2019
Universidade de São Paulo, Fundação de Amparo à Pesquisa do Estado de São Paulo, Senior Fellowship, 2018
University of Pennsylvania, Department of Art History, Visiting Scholar, 2018
Sterling and Francine Clark Fellowship, Fall 2017
Center for Advanced Study in the Visual Arts, Samuel. H. Kress Senior Fellowship, 2014-2015
Princeton University, Class of 1931 Bicentennial Preceptorship, 2011-2014
Graham Foundation Project Grant (with Our Literal Speed), 2013
Warhol Foundation Arts Writers Grant (with Our Literal Speed), 2011
Gerda Henkel-Stiftung Fellow, Humboldt-Universität zu Berlin, 2009