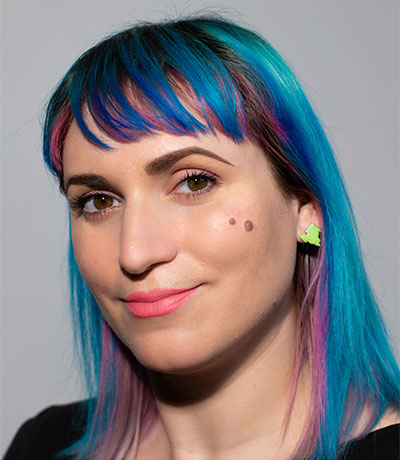 Carolyn Gennari
She/Her/They/Them
Visiting Assistant Professor of Art
MFA, Stamps School of Art and Design
Office Hours: By appointment
---
Biography
Carolyn Gennari (b. 1985) is an interdisciplinary artist currently based in Central Falls, RI, working across expanded media, performance, and sculpture. Using the archive as source material, her creative practice is heavily research based and explores how performance and expanded movement-image practices can generate new ways to think about the past. Gennari received her MFA from Stamps School of Art and Design, and MA Certificate in Museum Studies from the University of Michigan. She has exhibited in the US and abroad including shows at the RISD Museum in Providence, RI, The Morbid Anatomy Museum in Brooklyn, NY, and the EL Balcón, Central de Abastos in Oaxaca, Mexico.
Research Overview
Research Interests
Archives, memory, and historiography
Museum studies
Interdisciplinary art and artistic research
Community art practices
Site-specificity
Artist as curator
Sculpture
Video arts and projection
Performance and the body
Visual culture, perception, and histories of media
Selected Exhibitions, Performances, Screenings
2021 Glaukopis, installation, Studios at MASS MoCA, North Adams, MA
2021 Rabbit, rabbit, multimedia installation, Studios at MASS MoCA, North Adams, MA
2019 The Reading Railroad: A Phantom Ride, Soon/ Now/ Gone public performance series for the Philadelphia Site/Sound: Rail Park Festival, Friends of the Rail Park, Mural Arts Philadelphia, and American Composers, Philadelphia, PA
2019 The Object of This Exercise,

 

screening, Elsewhere Museum, Greensboro, NC
2017 Searching For What Isn't There, solo exhibition, Stamps Gallery, Ann Arbor, MI
2016 Searching For What Isn't There, screenplay, Smithsonian Libraries, Washington D.C.
Awards/Honors
2021 Postgraduate Development Grant, Stamps School of Art & Design at The University of Michigan, Studios MASS MoCA North Adams, MA
2021 Haystack Mountain School of Crafts, open residency fully funded grant, Deer Isle, ME
2020 University of Michigan, Museum Studies Grant, Elsewhere Museum Residency, Greensboro, NC
2020 Anderson Ranch Arts Center Presidential Scholarship, Snowmass Village, CO
2018 Center For Academic Engagement (CEAL) Course Competition, Engaging the Archive, self-designed Course, University of Michigan, Ann Arbor, MI
2018 Antonio Cirino Memorial Fund Award, Rhode Island Foundation, Providence, RI
2017 Jean Paul Slusser Award, best in show, MFA Thesis Exhibition, juried by Mark Dion and Hannah Whitaker, University of Michigan, Ann Arbor, MI
2016 Smucker®Wagstaff Project Scholarship, University of Michigan, Ann Arbor, MI
2016 Rackham International Conference Grant, University of Michigan, Ann Arbor, MI
2016 Rackham Summer Research Grant, University of Michigan, Ann Arbor, MI
2016 Penny W. Stamps International Travel Grant, University of Michigan, Ann Arbor, MI
2016 Antonio Cirino Memorial Fund Award, Rhode Island Foundation, Providence, RI
2016 Center for the Education of Women Scholarship, University of Michigan, Ann Arbor, MI
2016 ArtsEngine Student MicroGrant, University of Michigan, Ann Arbor, MI
2016 Stamps Graduate Assistantship, University of Michigan, Ann Arbor, MI
2015 Antonio Cirino Memorial Fund Award, Rhode Island Foundation, Providence, RI
2015 Rhode Island Council for the Humanities Mini Grant, Providence, RI
2014 Rhode Island Council on the Arts Individual Project Grant , Providence, RI
2011 Providence Provision Project Grant, Providence, RI
Fellowships/Residencies
2023 University of Rochester, Department of Art & Art History, artist in residence
2021 Studios at MASS MoCA, artist residency, MASS MoCA North Adams, MA
2021 Haystack Mountain School of Crafts, open residency, Deer Isle, ME
2020 Anderson Ranch Arts Center Summer Workshop, Snowmass Village, CO, forthcoming (delayed COVID)
2019 Elsewhere Museum, artist in residence, Greensboro, NC
2019 RISD Museum, University of Michigan Museum Studies MA Practicum, Providence, RI
2017 Experimental Living Cabins, open residency, Andrea Zittel A-Z West, Wonder Valley, CA
2016 Andrea Zittel's Institute of Investigative Living, MFA residency, Joshua Tree, CA
2015 Engaged Pedagogy Initiative, fellowship, University of Michigan,  Ann Arbor, MI
2014 Providence Athenaeum, artist residency, Providence, RI
2012 Providence Public Library, artist residency, Providence, RI
College Level Teaching Experience
2023-Present Visiting Assistant Professor of Art, Department of Art and Art History, University of Rochester, Rochester, NY; Courses taught: "Foundations," (FA 23)
2019-2023 Adjunct Faculty in Foundation Studies, Lesley University College of Art and Design, Cambridge, MA; Courses taught: "Image in Context," foundation course based in interdisciplinary studio practice, "History of New Media," graduate level art history course, "Visual Culture Seminar," art history course on visual culture and its impact on society, "Art Since 1945," graduate level art history course, "Histories of Collecting and Curating," graduate level museum studies course (forthcoming), "Artist as Curator," interdisciplinary studio art course (forthcoming)
2019-Present Instructor, RISD, Rhode Island School of Design Continuing Education, Providence, RI; Courses taught: "Art and Activism," art history and studio course, professional adult education, "Introduction To Curating Art," art history course, professional adult education, "Introduction to Puppetry," studio course, professional adult education
2018-19 Engaged Pedagogy Instructor, Residential College, University of Michigan, Ann Arbor, MI; Course taught: "Engaging The Archive," interdisciplinary studio course
2016-17 Lecturer, Penny W. Stamps School of Art and Design, University of Michigan, Ann Arbor, MI; Course taught: "Integrative Project," year-long BFA thesis course

2015-16 Curriculum coordinator, University of Michigan, Penny W. Stamps School of Art and Design, Ann Arbor, MI; Courses taught: "Foundations," managed syllabi and learning objectives across all Foundation sections