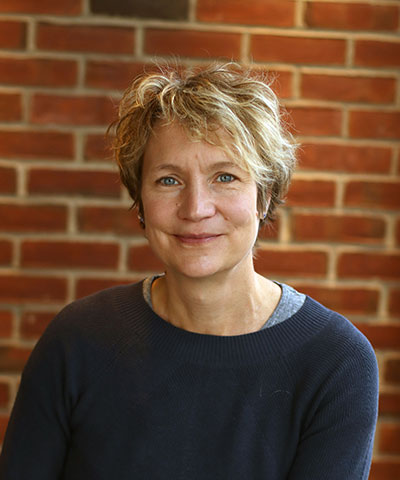 Stephanie Ashenfelder
Director, Digital Media Studies
Academic Director, Studio Arts
206 Morey Hall
stephanie.ashenfelder@rochester.edu
Office Hours: Tuesdays and Thursdays, 1-3 p.m., appointments must be scheduled by email to request the type of meeting format (in-person or Zoom)
---
MFA California College Of Art, San Francisco, CA
Research
Stephanie's digital and artistic scholarship take form in a variety of socially conscious interdisciplinary projects. Through multiple modes of production, Stephanie's artistic practice investigates the intersection where progress meets failure. Her work originates from a place where glitches, malfunction and happenstance instigate profound consequence.
Courses Offered
Introduction to Studio Art
Design Fundamental
Digital Media Senior Capstone
Current Projects
Hatch+Eat: Examines desire though a broody chicken asking whether her intense desire to hatch an egg is a glitch in the system. Installation/Video Commissioned by HyperKultureMedia.
Community Partner: Alternative High School Program, Honeoye Falls-Lima, NY. Director: Heather Bell. Instructor at Wynn Farms Educational Program for at-risk high school students. Course: Equine Studies and Art. 2018-present
A Boy in Relation: A photogrammetry project where scanning her son produced the color pallet of their relationship. 4'x6' digital print.
A Series of Drownings: Looking for the intersection where floating becomes drowning, where pretending becomes real. Four 2'x3' photos on acrylic.
Designing Inclusive Learning Environments: A conversation with digital learning designers. Warner School of Education, University of Rochester, 2019
Screw Up Night: Embracing failures to move forward to better ideas and projects. iZone, University of Rochester, 2019
Selected Collaborations and Exhibitions
Frontispace Residency, Frontispace University of Rochester, 2019
Uncommon Denominator, Phillips Museum, Franklin and Marshall College, Lancaster, PA. 2012
Responding,Big on Bloor Festival, Toronto, Ontario* Dyan Marie, curator. 2011
Stone Canoe, XL Projects Gallery, Syracuse, NY*, Lynette Stephenson, curator. 2011
Big on Bloor Festival, Kent School playground, Toronto, ON. 2010
Stations, String Gallery, Wells College Aurora, New York. 2009
Returned Books, Olean Public Library, Olean, New York. 2009
Stations, Community School of Music and Arts, Ithaca, New York. 2009
Edges 'o8, Artpark, Lewiston, New York. 2008
Collectives and Collaborations, Gallery RFD Swainsboro, Georgia. 2008
Shelter, Sculpture Now, Stockbridge, MA. 2007
Eight-Hour Projects, Bowman Penelec Galleries, Allegheny College, Meadville, PA. 2007
Home Improvements, Tower Fine Arts Gallery, State University of New York Brockport, NY* 2006
Gender: Identity, Arts and Literature Laboratory, New Haven, Connecticut. 2006
Beyond/In Western New York, curatorial collaboration of twelve regional museums and galleries, Buffalo Arts Studio, Buffalo, NY, invitational 2005
Play Off, Rochester Contemporary Arts Center, Rochester, NY 2005