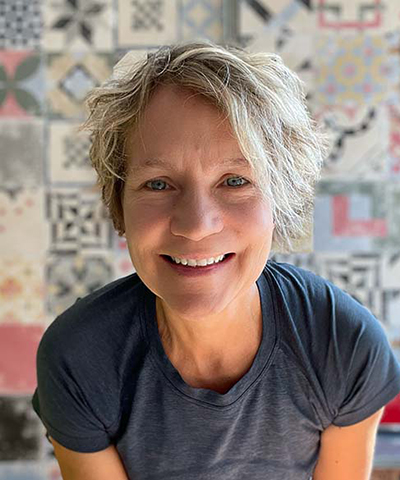 Stephanie Ashenfelder
Director, Digital Media Studies
Academic Director, Studio Arts
206 Morey Hall
stephanie.ashenfelder@rochester.edu
Office Hours: I have an open door office policy and encourage you to reach out to me to set up a time to meet individually as your schedule allows. You can reach out using the email provide above.
---
MFA, California College of the Arts, San Francisco, CA
Research
My digital and artistic scholarship takes form in socially conscious and interdisciplinary projects. Alone in the studio, caught up in my head, my artistic practice investigates the intersection where progress meets failure. This works usually originates from a place where glitches, malfunction and happenstance instigate profound consequence. Out in the wild, working collaboratively and with community partners, my artistic practice seeks to find ways to amplify the voices of others to raise awareness, promote understanding and encourage education.
Courses Offered
Design Fundamentals
Digital Media Senior Capstone
Climate Interventions: Performing Arts + New Media
Current Projects
ADK Climate Stories: (with Rose Pasquarello Beauchamp) Adirondack Park is the perfect place to deconstruct environmental conflict and to explore, through the art of storytelling, how people in the park are experiencing climate change. The goal of this project is to connect climate change to personal narrative through a mobile audio installation that travels the Adirondack Park recording the stories of climate change. Our intention is to use these stories to inspire student activist/artists to reflect on ways to make art in an around the topic of climate change.
Community Outreach
2021-present: Adirondack Council Partnership. Partnership focuses on climate change in the Adirondack Park and how art and design can educate park users to understand the impact of climate change on the park.
2021-2022: SPIRIT Nys. Faculty mentor for capstone seniors working to promote SPIRIT Nys, an organization that supports homeless youth in Rochester, NY.
2020-2021: Cracker Box Palace. Faculty mentor for capstone seniors working with Cracker Box Palace farm sanctuary at historic Atlasa farms.
2021: Experiencing Civic Life. PSA and Poster Design Workshop taught to Rochester high school students. Community Outreach grant funded program through the Teagle foundation and the Humanities Center at University of Rochester.
2018-2020: Wynn Farms Educational Program. Instructor for at-risk high school students. Course: Equine Studies and Art. Alternative High School Program, Honeoye Falls-Lima, NY. Director: Heather Bell.
Selected Exhibitions
2022: ADK Climate Stories. Adirondack Wild Center, Tupper Lake, NY
2021: Sage Conversations. Hartnett Gallery, University of Rochester, NY
2019: Solo Exhibition, A Sudden Malfunction, Frontispace Gallery, University of Rochester, Rochester NY; Faculty Show, Hartnett Gallery, University of Rochester, Rochester, NY*
2018: Hatch. Eat. Hyper Kultuermia Gallery. Online Exhibition.
2012: Uncommon Denominator, Phillips Museum, Franklin and Marshall College, Lancaster, PA