News & Events
2022
October
Professor Nadine Grimm Receives 2023 Bloomfield Award
Professor Nadine Grimm has been awarded the 2023 Bloomfield Award from the Linguistic Society of America. A single award is made annually to recognize "a volume that makes an outstanding contribution of enduring value to our understanding of language and linguistics."
Nadine won the award for her 2019 book, A Grammar of Gfyeli, which previously also won the Panini Award from the Association for Linguistic Typology.
Congratulations Nadine!
---
September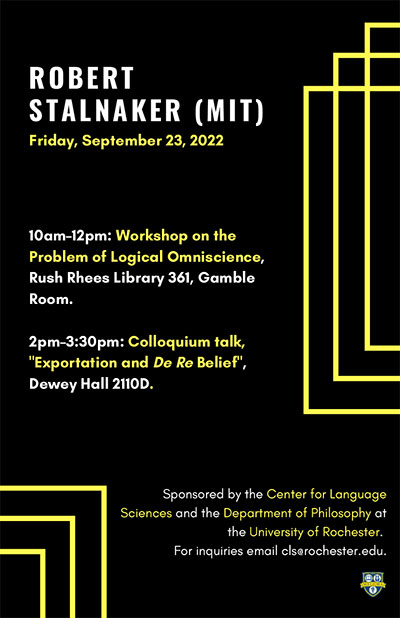 September 23—Robert Stalnaker (MIT) in-person workshop and talk
Sponsored by the Center for Language Sciences and the Department of Philosophy at the University of Rochester. For inquiries email cls@rochester.edu.
10 a.m.-noon: Workshop on the Problem of Logical Omniscience, Rush Rhees Library 361, Gamble Room
2-3:30 p.m.: Colloquium talk, "Exportation and De Re Belief", Dewey Hall 2110D
Attend via Zoom: https://rochester.zoom.us/j/99427972477
For anybody interested in attending the workshop on logical omniscience, we suggest you prep for the event by reading at least the SEP article on Hyperintensionality and preferably also the two Stalnaker papers in Dropbox unless you have a lot of background in the topic.
---
September 30-October 2—Workshop on Altaic Formal Linguistics
CLS member Asia Pietraszko is the organizer of the 16th Workshop on Altaic Formal Linguistics. The workshop will be held September 30 to October 2, 2022 and is entirely virtual.