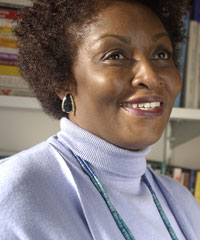 Signithia Fordham
Professor, University of Rochester
PhD, The American University
214 Lattimore Hall
(585) 273-5773
s.fordham@rochester.edu
Office Hours: By appointment
---
Professor Fordham was a Visiting Fellow in African & African-American Studies at Yale University from 1988-1989 and the first Presidential Fellow in the Afro-American Studies Program at Princeton University from 1991-1992. Before coming to Rochester last fall, she taught at Rutgers, UMBC and UCONN.
Before coming to Rochester last fall, she taught at Rutgers, UMBC and UCONN. A North Americanist, Professor Fordham conducted field research from 1981-1984 in a public high school in Washington, DC. Support for her research was provided by grants from the Spencer Foundation, NSF, and the OERI (formerly the NIE). Her ethnography Blacked Out: Dilemmas of Race, Identity and Success at Capital High was published by the University of Chicago Press (1996). Her other primary publications include: "Black Students School Success: Coping with the Burden of Acting White" (with John Ogbu [1986]); "Why Can't Sonya (and Kwame) Fail Math" (2000). "Speaking Standard English from Nine to Three: Language Usage as Guerrilla Warfare at Capital High" (1998), "Those Loud Black Girls: (Black) Women, Silence, and Gender "Passing" in the Academy" (1993).
Research Overview
Professor Fordham's research interests continue to include (but are not limited to) race, gender and identity politics. She is currently working on three research projects and/or manuscripts: one focusing on race (Passin' for Black: Performing Kinship, Race and Identity in the Imagined Black Community) another whose primary focus is gender (Help!! My Girl Friends Are My Enemies: On Relational Aggression and the PO MO (Post Modern [Black]) Girl's Academic Performance) and finally a longitudinal study ("Acting White After Capital High") of the achievements and failures of the key informants at Capital High.
Research Interests