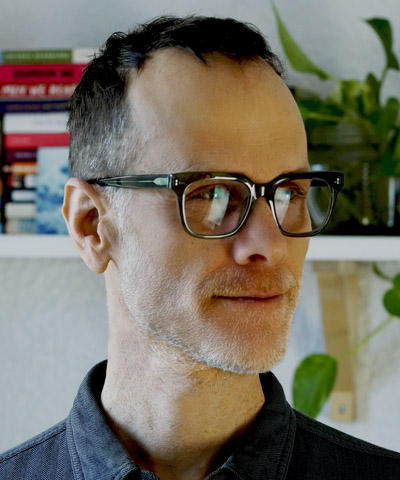 Cary Adams
Associate Professor of Art, Environment, and Emerging Practices
MFA, Video Art and Computer Graphics for the Visual Arts, Syracuse University, 1997
Sage Art Center
(585) 273-5994
cary.adams@rochester.edu
---
Courses Offered (subject to change)
 Art of the Remix
 Food Justice and Social Practice
 Advanced Video Art
 New Media and Emerging Practice 1
 New Media and Emerging Practice 2: Art Environment Action
Selected Exhibitions
FOODshed: Agriculture and Art in Action, curated by Amy Lipton, Smack Mellon Gallery, Brooklyn, 2014

Stuttgarter Filmwinter: Festival for Expanded Media, curated by Marcus Kohlbach, Stuttgart, Germany, 2014

Hybrid City 2, Subtle rEvolutions, National + Kapodistrian University of Athens, curated by Daphne Dragona et al., Athens, Greece, 2013
IDEAS CITY, New Museum of Art, curated by Julia Kaganskiy of #ArtsTech, NYC, 2013
Alhóndiga Bilbao, Hondakin Festival: "Tactile Media," curated by Zaramari Ecología Urbana, Bilbao, Spain, 2012
Indeterminate Hikes+, Museo y Centro de Arte Contemporáneo de Málaga, Spain, 2012 (solo performance)
Parsons the New School for Design, Sheila C. Johnson Design Center, Anna-Maria and Stephen Kellen Gallery, "Art Environment Action!," curated by Radhika Subramaniam, NYC, 2012
Basecamp.exe, 319 Scholes, curated by Igal Nassima + Lindsay Howard, Bushwick, Brooklyn, NY, 2012 (solo exhibition)
UCLA Design Media Arts Gallery, "L.A. Re.Play," curated by Mimi Sheller, Hana Iverson, and Jeremy Hight, Los Angeles, 2012
Indeterminate Hikes+, M.I.T. Media Lab, Upgrade! Boston, curated by Jo-Ann Green, Boston, 2011
Whitney Museum of American Art @ The Kitchen, "Undercurrents," curated by ISP Fellows Anik Fournier, Michelle Lim, Amanda Parmer and Robert Wuilfe, NYC, 2010

Untitled Landscape #5, Whitney Museum of American Art, Sunrise and Sunset Series, curated by Christiane Paul, NYC, 2009–2010 (commission)
Collections
The Whitney Museum of American Art
Rhizome at the New Museum of Contemporary Art
Cornell University Rose Goldsen Archive of New Media Art
Turbulence.org of New Radio & Performing Arts
Walker Art Center
Mediaartbase.de
Computer Fine Arts
New Media Scotland
Selected Awards/Grants
Center for Land Use Interpretation Art Residency, 2015
Lillian Fairchild Memorial Award, 2013
New York State Council on the Arts, Electronic Media Finishing Funds Grant, 2013
Parsons The New School for Design Art Residency, Sheila Johnson Design Center, 2012
JOYA: Arte+Ecología Art Residency, 2012
New York State Council on the Arts, Media Art Distribution Grant, 2012
Whitney Museum of American Art Sunrise/Sunset Commission, 2009
New York Foundation for the Arts Digital / Electronic Arts Fellowship, 2009
Turbulence.org/New Radio & Performing Arts, Inc. Commission, 2008
Rhizome Commission, curated by Mark Tribe, 2002
Franklin Furnace Performance Grant, 2001
Current Projects
Edible Ecologies:a series of new media social-sculpture performances that work collaboratively with local communities to resuscitate historic food practices and facilitate recovery from "industrial amnesia."
OS Fermentation: Collaborative Hacks with Fruits, Vegetables, and Microbes: Data visualization, custom software/electronics, live fermentation, slow-cooking class, and healing ritual.
Late Anthropocene: Series of experimental videos about nature's shift from a refuge to a unknown force haunting the consciousness, denial, and bewilderment of the human species; a meditation on the cognitive rupture of living in the Anthropocene, the geologic epoch defined by humanity's impact on the Earth's ecological systems, especially global climate change.
Indeterminate Hikes+: A mobile media app that transforms everyday landscapes into sites of bio-cultural diversity and wild happenings through a series of walking tours, retooling smartphones into devices of environmental imagination and meditative wonder.