Graduate Students
Astrid Olivares – 5th year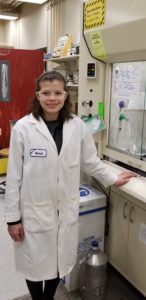 Tarah DiBenedetto – 4th year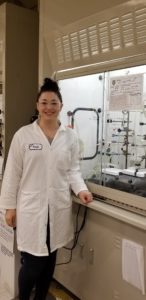 Andy VanderWeide – 3rd year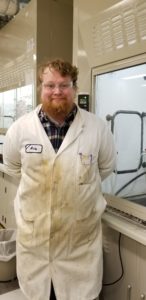 Andy grew up in Grand Rapids, Michigan. After obtaining his BS in Chemistry from Grand Valley State University in 2016, He started his PhD at the University of Rochester. Andy is interested in mechanistic organometallic chemistry; He Is currently working on rhodium catalyzed C-H activation. Outside of work, Andy enjoys comedy podcasts, cooking, board games, and hiking.










Kylie Ritz – 2nd year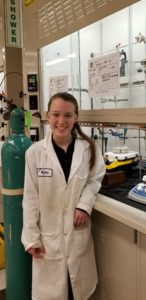 Kylie is originally from Virginia where she obtained her bachelor's in chemistry at William and Mary in 2017. Later that same year, she joined the Jones lab and has since been working on a project involving iridium catalyzed dehydrogenation utilizing electrocatalytically regenerable hydrogen acceptors. Outside the lab, she enjoys singing in the Eastman-Rochester choir and hiking!










Postdocs
Olaf Nachtigall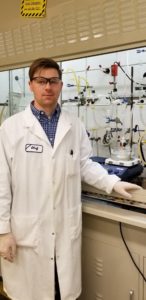 Olaf is from Berlin, Germany. He received his B.Sc. (2010), M.Sc. (2013), and Dr. rer. nat. (2018) from Freie Universität Berlin. He did his master thesis in the group of Rainer Haag and his doctorate studies with Johann Spandl. He also worked as an Erasmus student in the labs of Helena Grennberg at Uppsala Universitet in Sweden and Bernold Hasenknopf at Sorbonne Université in France. Olaf is currently developing redox active metalloligands for cerium and various transition metal complexes. In his free time, Olaf enjoys cooking and travelling.







Undergraduates
John Clay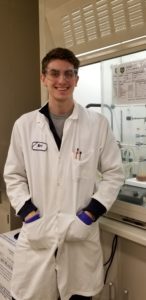 John grew up in Cohasset, Massachusetts and is currently pursuing a B.S. in Chemistry.  He is interested in catalysis and is currently synthesizing new catalysts for the production of n-butanol through the Guerbet reaction.  Outside of the lab, John enjoys reading, making and solving crossword puzzles, exploring, and biking. 
Philip Palermo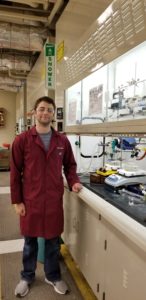 Philip was raised on the west side of Rochester where he found a strong interest in biology and chemistry. He is currently pursuing a BS degree in chemistry after becoming fascinated with inorganic and organometallic synthesis. Philip is currently researching the synthesis and association of tridentate NNN ligands to first row transition metals and their functionalization. In his spare time, he enjoys performing jazz trumpet and playing cards with friends.