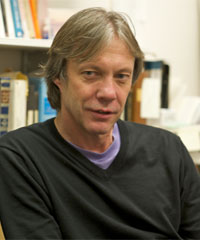 Daniel E. Beaumont
Professor Emeritus of Religion and Classics
PhD, Princeton, 1991
---
Selected Publications
Recent Articles
"The 'Lone Nut' Theory: Paranoia and Recognition in Contemporary American Fiction," in Recognition in Narrative, Film and Opera, ed. Philip F. Kennedy and Marilyn Lawrence, Peter Lang 2009, pp. 193-212.
"Un Conte Dormir Debout: Voltaire's Fictions and The 1001 Nights," ed. Salma Jayyusi, Cambridge (forthcoming).
"Hardball: Political Violence and Ideology in Mamluk History," in Mamluk Studies Review, 2004.
"Literary Form and Narrative Technique in the Arabian Nights," in The Arabian Nights Encyclopedia, 2004.
"So Much Truth: Joe Beard's Blues," Living Blues, Vol. 24, No. 3, Fall 2003, pp. 28-36.
Video Documentary
"So Much Truth; the Life & Music of Joe Beard," to air RCTV December 2004.
Other Publications
Hardboiled: Narrative Discourse in Early Muslim Traditions, Studia Islamica, 83, 1996, pp. 5-31.
Books
Preachin' the Blues: The Life and Music of Son House, (Oxford University Press, June 2011).
Slave of Desire: Sex, Love and Death in The 1001 Nights, Fairleigh Dickinson University Press (May 2002).