Part II—Opening Night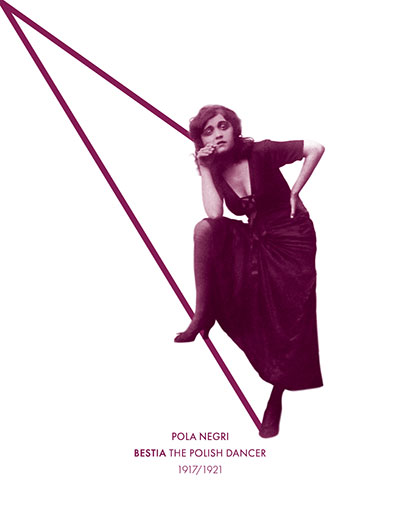 The Polish Dancer, Bestia
Tuesday, November 5, 7 p.m.
Dryden Theatre at George Eastman Museum
Poland, 1917/1921, 67 min.
Directed by: Aleksander Hertz
Written by: Aleksander Hertz
Music: Włodek Pawlik
Principal Cast: Pola Negri, Witold Kuncewicz, Jan Pawłowski, Maria Dulęba, Mia Mara
The screening will be followed by a reception (by invitation only).
---
Description
A tragic story of a love triangle. Provincial girl Pola uses her admirer Dimitri to run away home. She travels to a big city where she becomes a dancer and gets to know a rich man named Alexis, but Dimitri follows her trail.
Bestia is the oldest and the only extant film from the Polish period of Pola Negri's career, the star of Sfinks. In 1921, after she'd arrived in German cinema, the film was distributed in the US as The Polish Dancer and falsely advertised as a novelty. Without the distribution of Bestia in the US the film would not have survived. In Poland, all elements were lost or destroyed during the Second World War, but in New York, a nitrate print was preserved in the Museum of Modern Art. Upon the return of this element to Poland an internegative and a safety print were made that are now in the collections of the National Film Archive – Audiovisual Institute. In 2017, to celebrate its 100th anniversary, the only saved American copy of The Polish Dancer was digitally restored in 4K resolution by the National Film Archive.
One of the icons of pre-WW2 cinema, Pola Negri, was born in Poland as Barbara Apolonia Chałupiec. She was discovered by Aleksander Hertz, the owner of Sfinks Film Studio. Negri came into international stardom with the help of the German "UFA" studio, where her talents were developed in a very productive creative partnership with the director Ernst Lubitsch. Their collaboration led to a contract with the American giant Paramount Studios and the most illustrious chapter in Negri's career, which eventually put her in the same league as Greta Garbo, Gloria Swanson, and Mary Pickford. With her uncommon looks and considerable acting talent, Negri cut a magnetic presence on the silver screen.
This film will be presented with both pre-recorded music and accompaniment by composer Włodek Pawlik, one of the most celebrated Polish composers and jazz pianists. He will remain after the screening to talk about the process of composing for silent films.
Hailed as "Horowitz of jazz", Pawlik is the first Polish jazz musician to receive a Grammy Award, having won in the Best Large Jazz Ensemble Album category with his album Night in Calisia, recorded with Randy Brecker and the Kalisz Philharmonic Orchestra. His composition "Freedom," a musical work for choir, orchestra and jazz trio, was performed on June 4, 2014 at the Royal Square in Warsaw as part of the celebration of Polish Freedom and was attended by many heads of states, including the President of the USA, Barack Obama. In 2018, Włodek Pawlik and his trio, with special guest Randy Brecker, performed at the Blue Note Jazz Festival in New York, being the first Polish performers in the history of this famous festival. 
---
Trailer
---