Grand Opening of the 2011 Polish Film Festival
Thursday, Nov. 10, 7:00 PM

George Eastman House
900 East Avenue, Rochester, NY 14607


Kindly respond for the reception by Nov. 1 to bozenna.sobolewska@rochester.edu, 585-275-9898, on line at RSVP.
Reception is by invitation only.
Feliks Falk
Feliks Falk is a prominent Polish film and theater director, with over twenty movies as well as film scripts, theater plays, and television and radio productions to his credit. A graduate of the Academy of Fine Arts in Warsaw and the Łódź Film School, he is also a painter and a graphic artist. Falk was a leader of the Cinema of Moral Concern (a movement in the late 1970s that explored the corrupted side of communism,) and his Top Dog and Chance are important representatives of the genre. Falk has won a number of major filmmaking awards, many of them for his features Collector and Joanna. He is a member of the European Film Academy. Selected filmography: Joanna (2010), Case Unknown (2009), The Collector (2005), Far from the Other (1995), Summer of Love (1994), AWOL(1993), Game is Over (1991), Hero of the Year (1986), The Idol (1984), And All That Jazz (1981), Chance (1979), Top Dog (1977), At the Height of Summer (1975) Two of the most recent films directed by Feliks Falk, Joanna and Case Unknown, will be shown at the Festival.

Friday, Nov. 11, Little Theatre
After the screening of Case Unknown
Question-and-answer session with Feliks Falk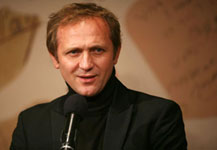 Monday, Nov. 14, Little Theatre,
After the screening of All That I Love
Question-and-answer session with Andrzej Chyra

Andrzej Chyra

One of the most popular Polish theatre and film actors. He graduated from the Academy of Theatre in Warsaw, majoring in acting and directing. He has performed in many theatrical productions staged by Krzysztof Warlikowski, Jerzy Grzegorzewski, Grzegorz Jarzyna, and Agnieszka Glińska, among others. He made his film debut in 1993 in the film Order of Affection, directed by Radosław Piwowarski and, since then, has created many memorable characters in Polish cinema. Some of his most recent films are: Daas (2011), The Deception (2010), All that I Love (2009), The Photograph (2009), Katyń (2007), Strike (2006), The Collector (2005), Squint Your Eyes (2003), Say It, Gabi (2003), Weather for Tomorrow (2003), Where Eskimos Live (2001), The Spring to Come (2001), The Debt (1999). Andrzej Chyra plays one of the main roles in All that I Love, shown at the Festival on Monday, Nov. 14.

Tuesday, Nov. 15, Little Theatre
Closing of the Festival,
Reception at the Little Café, after the screening of Entanglement.