Alumni Profiles
Brock Clarke, Professor of English at Bowdoin College
May Zhee Lim, Publicity Assistant at Riverhead Books
Julianne McAdams, Fulbright Scholar in Austria
Kaija Straumanis, Editorial Director, Open Letter Books
---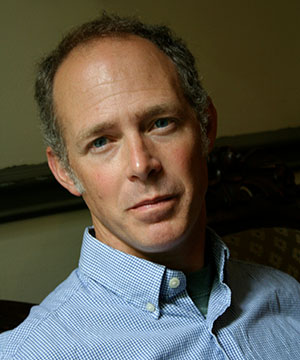 Brock Clarke
Rochester degree: MA 1992, PhD 1998
Currently: Professor of English, Bowdoin College
How has your education in the literary arts at the University of Rochester impacted your career?
I think it's safe to say that I wouldn't have become a writer, or at least the writer I am, had I not gone to UR, where I studied with both Joanna Scott and Jim Longenbach. Jim and Joanna taught me in class, of course, but also taught me by example: writers who were both self-deprecating and serious about their writing, about their reading, and who were not afraid to say what they thought, but who were also unfailingly kind, and generous, and encouraging just at the moment where you (I) needed those things. What wonderful people to learn from, and what a marvelous place to learn in.
What advice do you have for students who want to pursue a career in the literary arts?
To be patient; to read as widely as possible; to try to live in a place where you can afford to be a writer, which may or may not be in one of the centers of the literary (meaning publishing) universe. I've always lived on the outskirts of the literary universe, and that has been as important to me as anything else.
Why are the literary arts important?
They help us see not just what is, but what might be.
---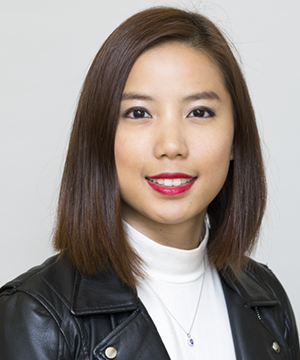 May Zhee Lim
Rochester degree: BA in English and Russian, 2014
Currently: Publicity Assistant at Riverhead Books, an imprint of Penguin Random House
How has your education in the literary arts at the University of Rochester impacted your career?
My appreciation for the craft of writing and the impact of words was definitely cultivated in the countless hours I spent reading and trying to understand the importance of the text in front of me under the invaluable guidance of my English professors. It was a formative period in my life where I felt totally unencumbered, free to pursue and do a deep dive into whatever interested me most intellectually, and within very rigorous academic standards. My critical eye, heightened curiosity, and work ethic have served me well in various professional capacities. On a more personal note, it was Joanna Scott who recommended me for an internship that eventually led to a full-time job, which eventually led to my current job in publishing! 
What advice do you have for students who want to pursue a career in the literary arts?
An education in the literary arts isn't going to be a straight line to a job in the literary arts, which itself could mean a lot of things. It could mean writing, editing, or teaching, but it could also mean fundraising, research, events, programming, and operations. You're going to have to be creative with your approach in order to do the things you love and still make a living. Internships are a great way to gather intel and find out all you can about the field, the people working in it, and what opportunities are out there. You have to be okay with not having a clear sense of purpose at the outset, but you do have to find a focus.
Why are the literary arts important?
A poem heightens your awareness of being alive; fiction conveys truths that plain news and facts cannot. Language mediates reality, and the study of literary arts takes that very seriously. It goes back to the importance of having that space for unfettered exploration and creativity, which I cherished so much in college. Without that we're only scraping the surface.
---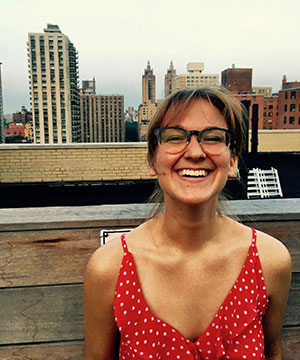 Julianne McAdams
Rochester degree: BA 2017
Currently: Fulbright Scholar in Austria
How has your education in the literary arts at the University of Rochester impacted your career?
I'm on a scholarship in Austria working as a foreign language assistant, and I won't deny that in my application essay I really milked the whole "passion for narratives and language" thing to identify myself. But more directly, next year I will apply for MFA programs in fiction writing. Without the University of Rochester's literary opportunities, I wouldn't have even known about these programs, much less believed I could be accepted to one. So in that vein, my experience at UR inspired me to pursue graduate studies and commit myself to writing long-term. Other direct results of my time at UR were a scholarship to study under Mary Gaitskill and Howard Norman at the New York State Summer Writers Institute and a job as an assistant to Maureen Howard, a retired novelist and Columbia writing professor in Manhattan.
What advice do you have for students who want to pursue a career in the literary arts? 
Don't be afraid to seek out mentors and surround yourself with people who inspire you. Connections are everything, but not just for career success (although that part is great, too). What was even more important for me were the personal relationships I formed with people who did what I wanted to someday do. Next, commit yourself to your practice, whatever it is, and stick to a schedule. The arts demand hard work, and it really needs to be self-motivated, especially once you're out of classes. Short version: Read more, write more.
Why are the literary arts important?
The literary arts are an exercise in empathy. No other form allows you to make the effort to access the emotions of strangers at such an unmediated level, whether it's a character you're creating or reading, an author whose work you're translating, a friend who you're helping, or even an writer you're analyzing. The literary arts force us to use only language, which is really our most human and most abused tool, to empathize—to ask ourselves why people do what they do, what they are thinking, and what that means. I think the world could use a whole lot more of that right about now.
---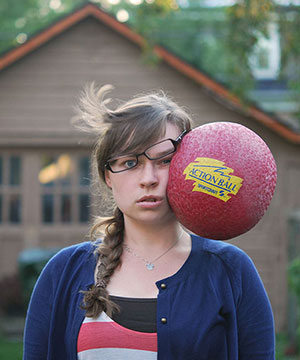 Kaija Straumanis
Rochester degree: MA in Literary Translation Studies, 2012
Currently: Editorial Director, Open Letter Books; Recipient of the 2020 NEA Literature Fellowship for Translation
How has your education in the literary arts at the University of Rochester impacted your career?
I had developed a strong interest in the state of Latvian literature being translated and published into English, and had developed contacts with literary centers in Latvia over the course of my studies. I wound up lucky in that I was at the right place at the right time after completing the program: over the summer, while back in Latvia trying to figure out my future and applying for jobs there, I was also able to apply for the recently opened Editorial Director position at Open Letter, and ultimately made it through the applicant pool to get the job. That said, my time spent in the Master of Arts in Literary Translation program (MALTS) and working with Open Letter heightened my interest in the reception of a particular country's literature abroad, as well as in the literary translation publishing world overall—and has made me a better reader, editor, and translator at the end of the day. The community that is built through the MALTS program is one of a kind, and the knowledge achieved through internships and interactions with Open Letter and all the presses, agents, and other translators one can meet through Open Letter, makes the University of Rochester's MALTS students some of the best-informed, best-prepared up and coming translators around. And now that I get to be on the other end of that, passing on to the current MALTS students (and other non-UROC students) what I learned and gained during my time in the MALTS program, and what I've been able to achieve and gain since then (to toot my own horn and name a few: publication of several books in translation, being asked to speak as an experienced editor in panels and discussions around the world) has been nothing short of an amazing opportunity and experience, and a true gift.
What advice do you have for students who want to pursue a career in the literary arts?
Specifically in terms of the MALTS program: You will only get out of the program what you are willing to put into it. Don't be afraid to make contacts, don't be afraid to ask questions, to take advantage of the resources available to you. In terms of literary translation publishing, there's almost something for everyone. If you have a passion for the translation part of it, the research and acquisitions part, the editorial part, the marketing and PR part, or if you aspire to be a publisher of press or a journal of your own some day—you can learn and get direction on how to attain that in the MALTS program, or, at the least, to sit down and get a better idea of which direction you should be looking in. Also, you have be open to (constructive) criticism. No one is a genius right out the gate, and while everyone's progress toward his or her own "genius" takes place at different rates, it is possible through hard work. But prepared to work for it, if not to simply want to work for it—I don't personally think it's fun if it feels like success is just handed to you!
Why are the literary arts important?
There aren't enough hours in the day! The literary arts are important, to me, because I grew up loving books and languages, and I want every subsequent generation to be able to experience the same emotions, mental stimulation, and joy that I and others who think similarly felt and still feel every time we read a book, talk about books, see books. Without language and literature, we're nothing.