The 'Muscle Jew' and Maccabean Heroism of the Jewish Legion During WWI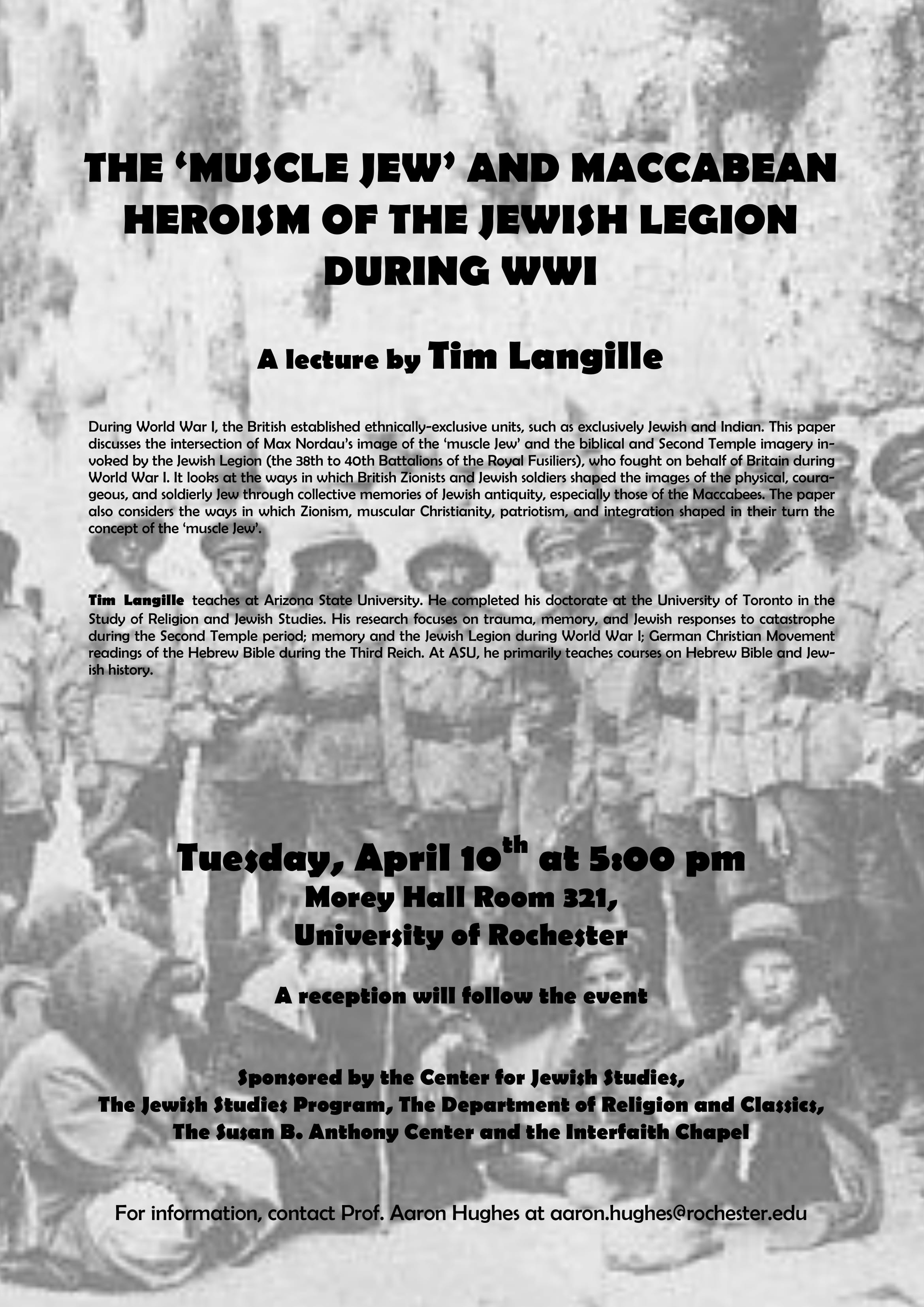 Tim Langille PhD, School of Historical, Philosophical and Religious Studies, Arizona State University
Tuesday, April 10, 2018
5 p.m.
Morey Hall Room 321
University of Rochester
Overview
During World War I, the British established ethnically-exclusive units, such as exclusively Jewish and Indian. This paper discusses the intersection of Max Nordau's image of the 'muscle Jew' and the biblical and Second temple imagery invoked by the Jewish Legion (the 38th to 40th Battalions of the Royal Fusiliers), who fought on behalf of Britain during World War I. It looks at the ways in which British Zionists and Jewish soldiers shaped the images of the physical, courageous, and soldierly Jew through collective memories of Jewish antiquity, especially those of the Maccabees. The paper also considers the ways in which Zionism, muscular Christianity, patriotism, and integration shaped in their turn the concept of the 'muscle Jew'.
A reception will follow the event.
About the Speaker
Tim Langille teaches at Arizona State University. He completed his doctorate at the University of Toronto in the Study of Religion and Jewish Studies. His research focuses on trauma, memory, and Jewish responses to catastrophe during the Second Temple period; memory and the Jewish Legion during World War I; German Christian Movement readings of the Hebrew Bible during the Third Reich. At ASU, he primarily teaches courses on Hebrew Bible and Jewish history.
---
Sponsored by the Center for Jewish Studies, The Jewish Studies Program, The Department of Religion and CLassics, The Susan B. Anthony Center and the Interfaith Chapel.
For more information, contact Professor Aaron Hughes at aaron.hughes@rochester.edu